QUEST RUMORS CONFIRMED: New Blueberry Muffin Quest Bar Has Arrived
Talk about a Stud Muffin
Heading out the door? Read this article on the new Outside+ app available now on iOS devices for members! Download the app.
It seems like we just reported on the newest Quest Bar announcement, but get ready … Quest is set to release the second new bar flavor this year as part of its Epic Flavor Trilogy. In July, we got a taste of Oatmeal Chocolate Chip, and it was well worth the wait. Just search the hashtag #OatEmGee and you'll see how much people are loving it.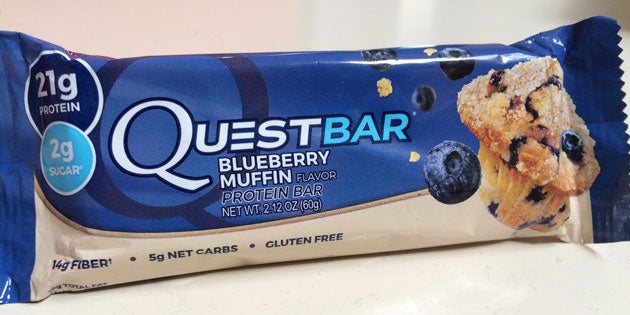 If these images are any indication, the next flavor coming out in September is the wildly popular Blueberry Muffin Quest Bar. Quest originally released the flavor as part of Quest Labs, an exclusive advance-purchase community for Quest fans. Even in its beta-testing state, Blueberry Muffin received praise for introducing real blueberries, sweet white chocolate inclusions and chunks of protein muffins mixed into the bar. Around the time of the Oatmeal Chocolate Chip Quest Bar release, the company pulled all three of its new bar flavors from Quest Labs. Those flavors were Oatmeal Chocolate Chip, Blueberry Muffin and Rocky Road. Does this mean Rocky Road will be next after Blueberry Muffin?
Participants in the Quest Labs forums should be very excited about this news. In fact, Blueberry Muffin was so popular when it was available that one member started an online petition to get the Blueberry Muffin bar back into Quest Labs after it was pulled.
Is Quest going to make that member's dreams come true when it officially announces the new flavor in the beginning of September? Rumor has it that they're eyeing a September 7 release date.
What are your thoughts on the new Quest Bar flavors? We know Blueberry Muffin is coming, and if it's half as tasty as the Oatmeal Chocolate Chip bar, it's a great time to be a Quest fan.