Back-Burner Workout
Show off a sculpted, sexy back with this superset circuit.
Heading out the door? Read this article on the new Outside+ app available now on iOS devices for members! Download the app.
Ana Delia De Iturrondo IFBB Pro athlete and 30-time cover model, prides herself on innovative and creative programming, such as this back workout that supersets strength moves with interval bursts for the ultimate fat-blasting circuit.
Do each move in the superset for one minute. Move quickly from one exercise to the next with no rest in between moves, sets or supersets to keep your heart rate elevated and amp your fat burn. (Exception: During Superset 4, you'll alternate continually between the moves for one minute, rest 30 seconds and repeat for a total of five sets as your final burnout.) Go through each superset three times if you're a newer athlete and up to five times if you're advanced.
Exercise
Sets
Sandbell Slam

– superset with –

TRX Inverted Row (pronated grip)

3
Renegade Plank Row to Side Plank

– superset with –

Mountain Climber

3
Seated Hand-Over-Hand Sled Pull

– superset with - 

Barbell Deadlift

3
Standing Sled Row*

– superset with - 

Sled Push

5
Superset 1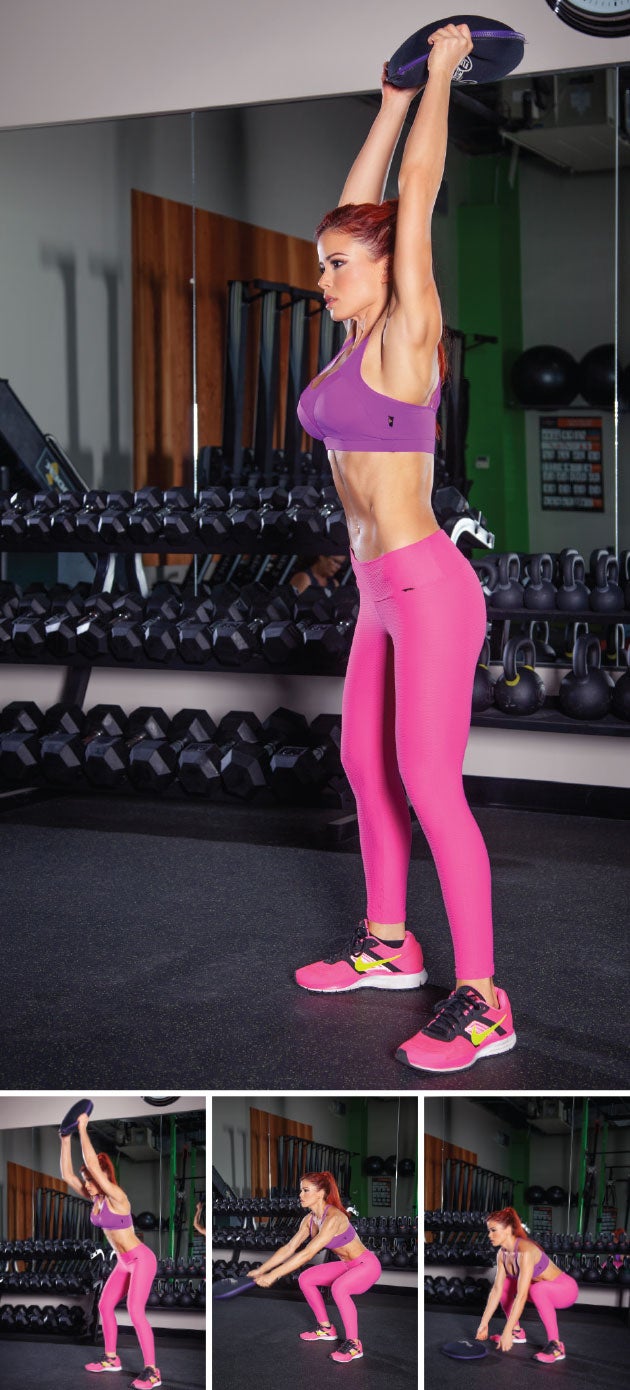 Sandbell Slam
Hold the sandbell on the sides with both hands and stand with your feet hip-width apart. Quickly lift the sandbell overhead, rising up onto your toes, then throw it to the ground in front of you with force, using your whole body. Pick it back up immediately and repeat.
Ana says: "When you throw the weight down, really use your core. Crunch down with your abs and push it hard."
Tips: Choose a weight with which you can move quickly but that is still challenging enough that you're pretty gassed at the end of the minute. No sandbell? Use a Dynamax-style (i.e., large/soft/not bouncy) medicine ball instead!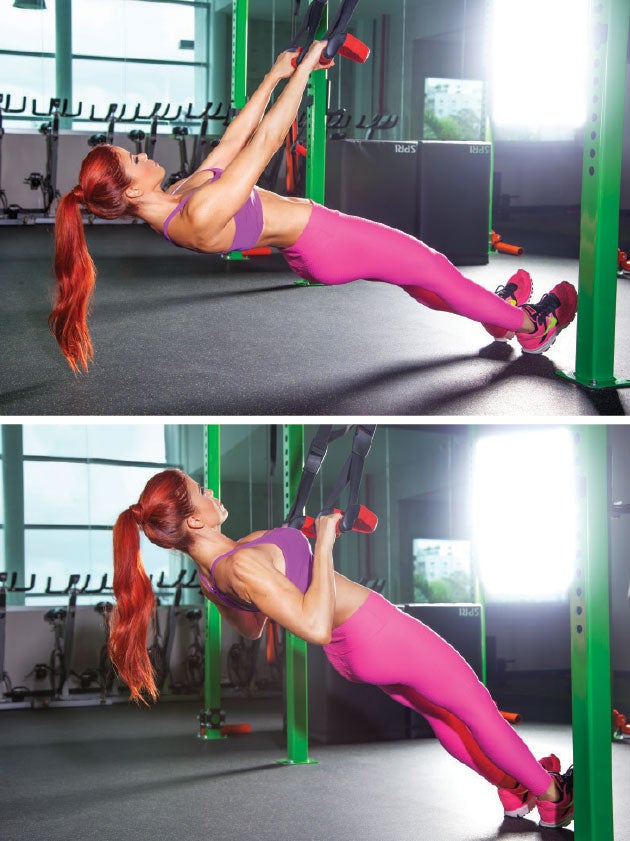 TRX Inverted Row (pronated grip)
Adjust a TRX so the handles are even and grasp a handle in each hand, turning your palms to face downward. Extend your arms, then walk your feet underneath the TRX until your body is at an angle to the floor. Keep your hips, head and heels in line. Drive your elbows down and back, pulling your chest up between the TRX handles. Pause a moment at the top, then slowly lower to the start.
Ana says: "To make it harder, walk your feet forward so you're almost parallel to the floor. If you want less intensity, walk your feet back underneath you so you're more vertical."
Tip: Never let your hips sag or your knees bend. Maintain your rigid and solid position throughout the rep.
Superset 2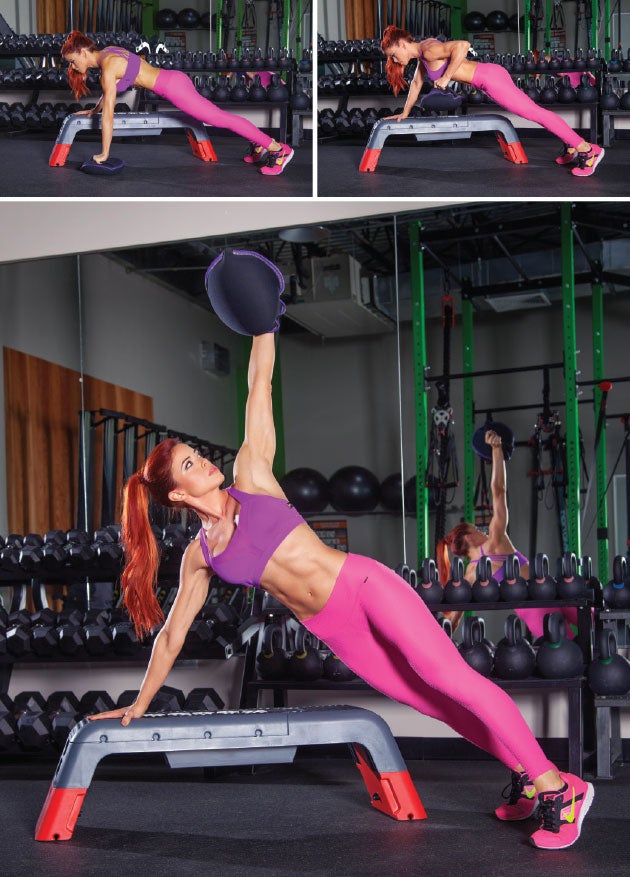 Renegade Plank Row to Side Plank
Stand next to a flat bench or step about knee height and place your right hand on the bench, arm extended. Step your legs behind you into plank with one hand on the bench. In your opposite hand, grasp a sandbell (or dumbbell) and allow your arm to extend completely toward the floor. Drive your left elbow up and back while keeping your shoulders square. Pause at the top and squeeze, then open your arm and chest to the side, raising the sandbell toward the ceiling so your arm is perpendicular to the floor. Hold in side plank for one breath. Reverse the steps to return to the start. Complete all reps on one side before switching.
Ana says: "I really like this version of a row because it gives me a bigger range of motion for my arm while also challenging my core in a unique way."
Tip: Actively drive back through your heels to ground your feet and keep you steady when lifting the weight above you in side plank.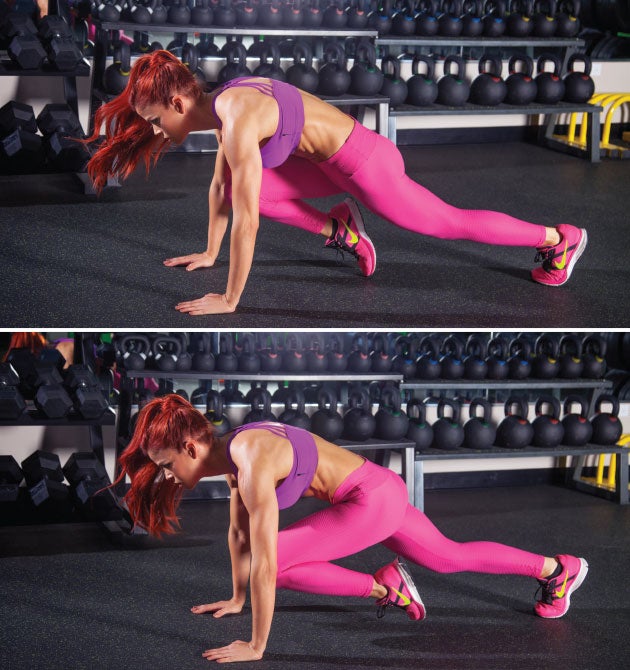 Mountain Climber
Get into plank with your hands underneath your shoulders and your head, hips and heels in line. Alternately drive your knees in toward your chest, keeping your hips low and your chest over your hands.
Ana says: "Adjust the pace to your ability, using more speed if you're more advanced and pacing yourself accordingly if you're a newer athlete."
Tip: Make your leg movement controlled and even, like pistons shooting forward and back.
Superset 3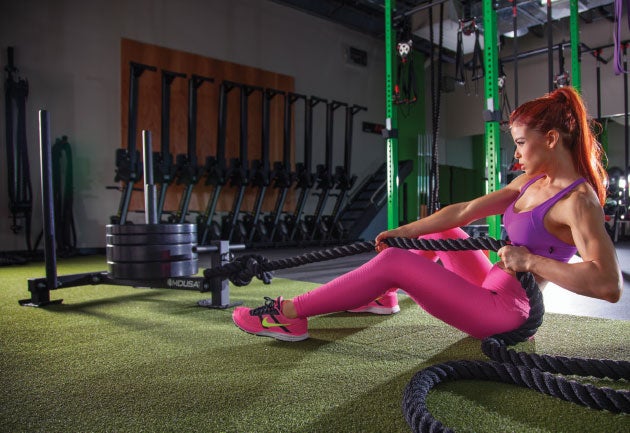 Seated Hand-Over-Hand Sled Pull
Position a loaded sled in a flat area and secure a battle rope to the frame. Extend the rope along the floor and sit at the end of the rope with your knees bent, heels braced, back straight. Using a hand-over-hand motion, pull the sled toward you with the rope using an even pace. When the sled reaches your feet, stand up, push it back to the start and repeat.
Ana says: "As you begin to pull, you'll naturally incline back away from the sled; this is fine — just keep your back straight."
Tip: Use your legs as well as your back for this move, digging your heels in with each pull to stabilize your body and give you more torque.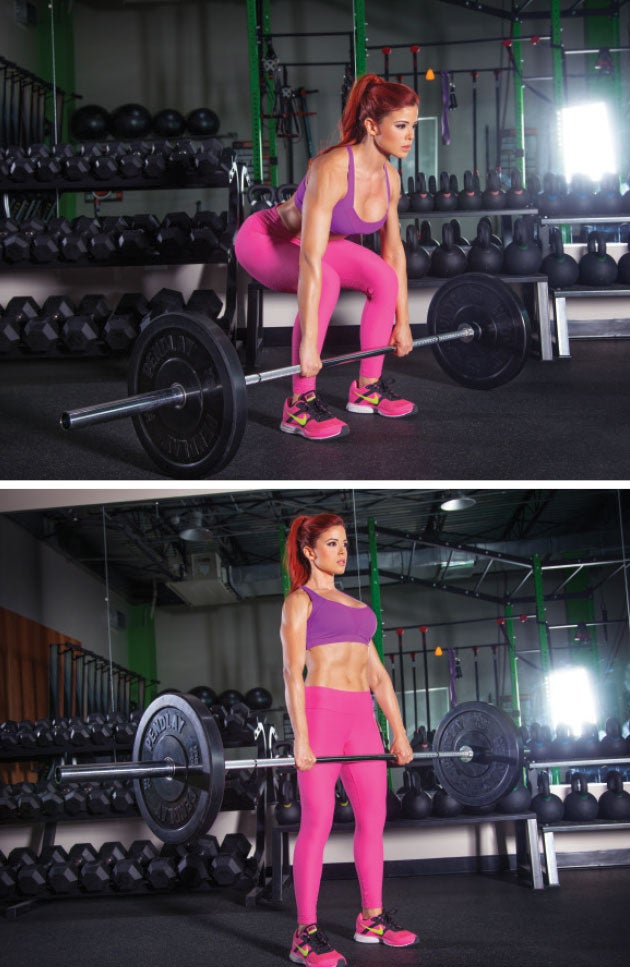 Barbell Deadlift
Stand behind a loaded barbell with your feet hip-width apart and your toes under the bar and turned out slightly. Kick your hips back and shift your weight into your heels and drop down to grasp the barbell on either side of your knees. Your shins should be perpendicular to the floor, hips higher than your knees, back straight, head neutral. Extend your knees and hips and pull the barbell up in a straight line, keeping it in close to your body and rising until you're standing completely. Then slowly reverse the steps to return to the start.
Ana says: "Be mindful of your back — keep your back straight and your core braced. You should not look like a human rainbow!"
Tip: Work the negative portion as well as the positive for best benefits.
Superset 4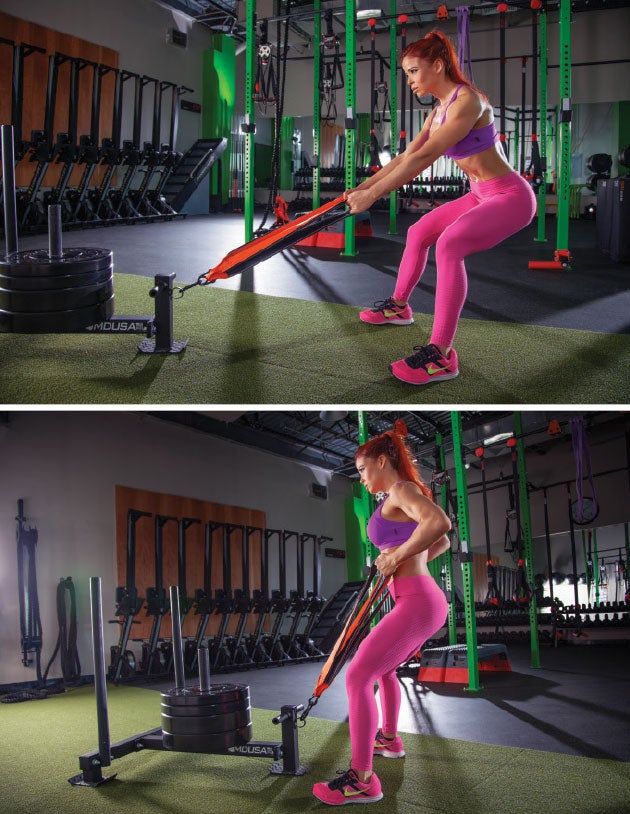 Standing Sled Row
Attach a TRX or other canvas/nylon handle apparatus to a loaded sled and hold a loop in each hand. Take a step away from the sled so your arms are extended, feet hip-width apart. Bend your knees and lower your hips slightly against the weight of the sled, and brace your core. Drive your elbows up and back and pull the sled toward you with force. Take a step backward and away and do another rep. Continue across the floor for time.
Ana says: "Don't use your bodyweight or momentum to pull the sled; set yourself into position — almost as if you were going to do a standing dumbbell row, then do the move."
Tip: Use a lighter weight on the sled because this is a burnout superset and is designed to move quickly.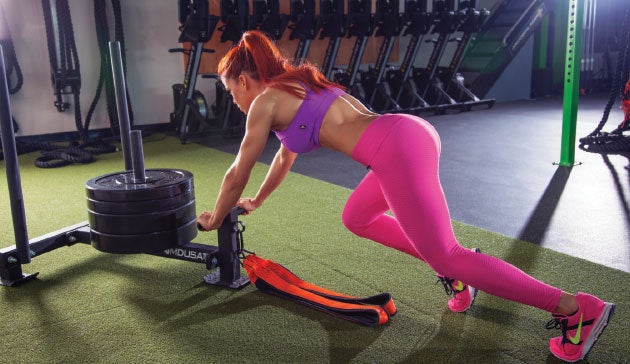 Sled Push
As soon as you've pushed the sled across the floor, drop the straps and place your hands low on the sled with your arms straight and your hips low. Push the sled forward deliberately yet quickly, using your legs and glutes to drive it forward. Once you reach the end, pick the handles up and continue with the pulling motion.
Ana says: "Make sure your arms are straight so the power goes from your legs to your hands."
Tip: Try to generate forward momentum rather than pushing downward onto the sled by placing your hands low and getting your lower body behind your shoulders and arms.