4 Spookily Healthy Halloween Recipes
Don't let empty calories and weight gain haunt your every move this holiday season.
Heading out the door? Read this article on the new Outside+ app available now on iOS devices for members! Download the app.
There's more than just creepy ghosts and goblins lurking in the shadows this Halloween — empty calories and weight gain are also haunting your every move. For many, Halloween candy is the beginning of the rapid decline in willpower that lasts straight through New Year's Eve. Sure, it can start off innocently with a handful of candy corn, but once you get that sweet tooth revved up, you might not even notice you ate most of the candy meant for your trick-or-treaters. Oops.
If this sounds all too familiar, we've got the answer to your scary Halloween nightmare: four recipes that will allow you to enjoy the flavors of the season without getting caught in the inevitable downward spiral or feeling left out of the festivites. Alexandra Catalano, a holistic nutritionist, graduate of the Institute of Integrative Nutrition and creator of the popular lifestyle brand Eat Cute, shares her favorites.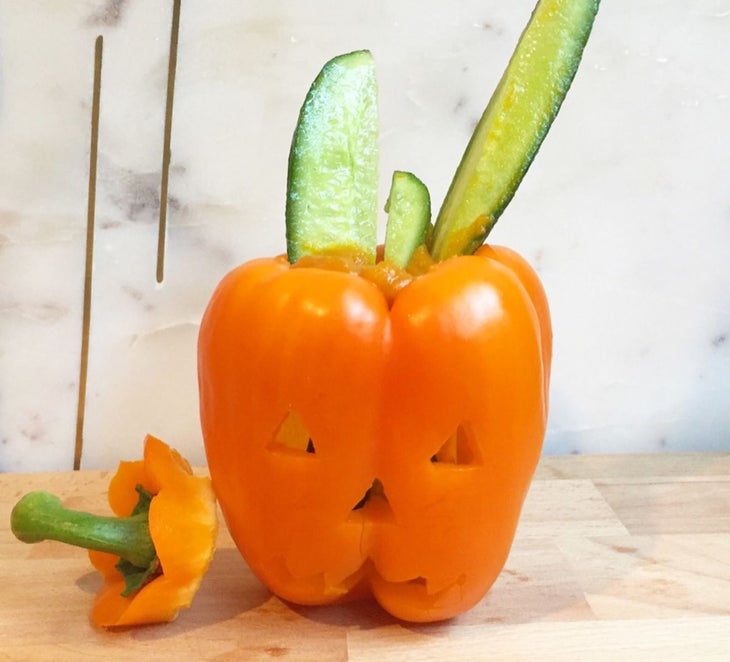 Jack-O'-Lantern Hummus Bowls
This Pinterest-worthy recipe is not only festive for Halloween but also rich in vitamins and minerals. "Pumpkins are rich in vitamin C, and raw bell peppers are rich in enzymes and fiber," Catalano says. "Plus, chickpeas are a good source of protein. What I love about this hummus is it's made fresh without any additives and makes a great party snack." Serve this as an appetizer and everyone will be jealous of your creativity but thrilled you created a sensible treat without any tricks.
Ingredients
3 large orange bell peppers, tops removed and saved
½ cup pumpkin puree
2 cloves roasted garlic
1 can organic chickpeas, drained and rinsed
½ tsp sea salt
rosemary garnish, chopped
2 tbsp purified water
2 tbsp coconut or olive oil
Directions for Pepper Jack-O'-Lantern
Cut tops off orange bell peppers.
Scoop out seeds and clean.
Carve bell peppers into jack-o'-lantern with eyes, nose and mouth. You can get as creative or fancy as you'd like.
Directions
Roast garlic in small saucepan with coconut oil or olive oil for 20 minutes on very low heat.
While garlic is cooking, puree pumpkin, salt and chickpeas in food processor.
Add olive oil or water, as needed, to make hummus creamy.
Add garlic to mix and blend.
Stir in rosemary to finish.
Scoop hummus into pepper jack-O'-lanterns and serve.
Pumpkin Banana Muffins
"These muffins are made without flour or gluten, plus they are free of refined sugar and are rich in omega-3s," Catalano says. "The omega-3 fatty acids found in flax are good fats that have been shown to have heart-healthy properties and antioxidant qualities." Finally, a yummy muffin that will keep you full for hours.
Ingredients
2 large bananas, mashed
½ cup organic pumpkin puree
2 dates, pitted
2 eggs
3 tbsp coconut oil
¾ cups coconut flour
¼ cup flax meal
1 tbsp pumpkin pie spice
¾ teaspoon baking soda
1 tbsp raw cacao
Directions
Preheat oven to 350 degrees and line muffin tin with 10 liners.
In medium bowl, combine all ingredients.
Divide batter between 10 muffin liners, filling about three-quarters full.
Bake at 350 degrees for 20 to 24 minutes, depending on your oven. They are done when the tops seem slightly springy and your finger doesn't leave an indentation if you press down on them lightly.
Remove from muffin tin and let cool on wire rack.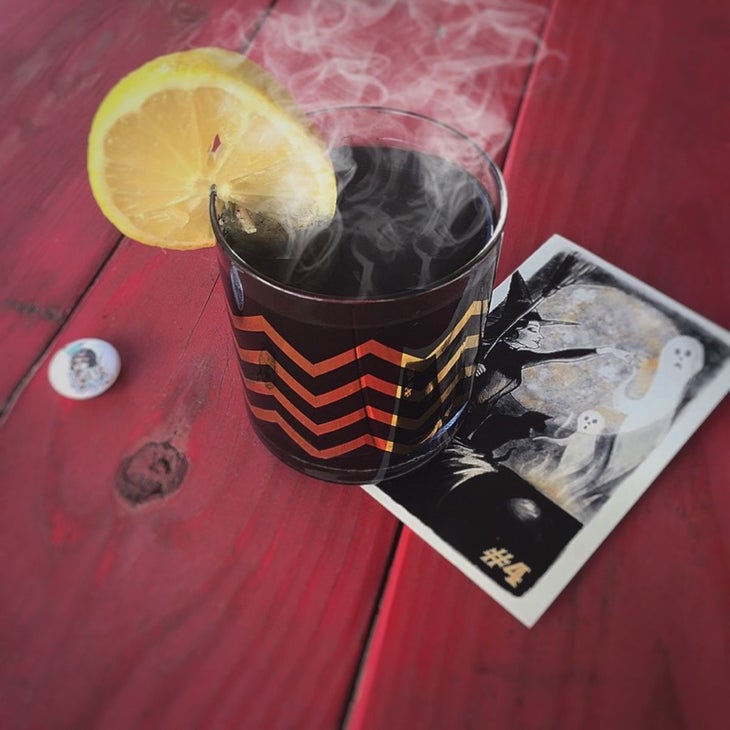 Detoxifying Witches Brew
This witchy concoction is a fun way to get into the Halloween spirit while cleansing and detoxifying your body. "Charcoal is incredibly absorbent and is very alkaline," Catalano says. "Activated charcoal holds a negative charge. Its millions of tiny pores are able to effectively bind themselves to the positive ions of toxins and draw them out of the body. Now if that's not witchcraft, I don't know what is!"
Ingredients
16 oz spring water
1 organic lemon, juiced
1-2 tbsp of Manuka honey
1-2 capsules activated charcoal
1 pinch of pink sea salt
sprigs of fresh herbs, like rosemary, basil and thyme or lavender, bruised (pounded just enough to release their aromatic oils)
hot ice
Directions
Add lemon juice to your purified spring water.
Add honey and sea salt.
Mix together and pour into glass Mason jar with ice.
Open activated charcoal capsules and pour powder into your drink. Mix well.
Garnish with fresh herbs.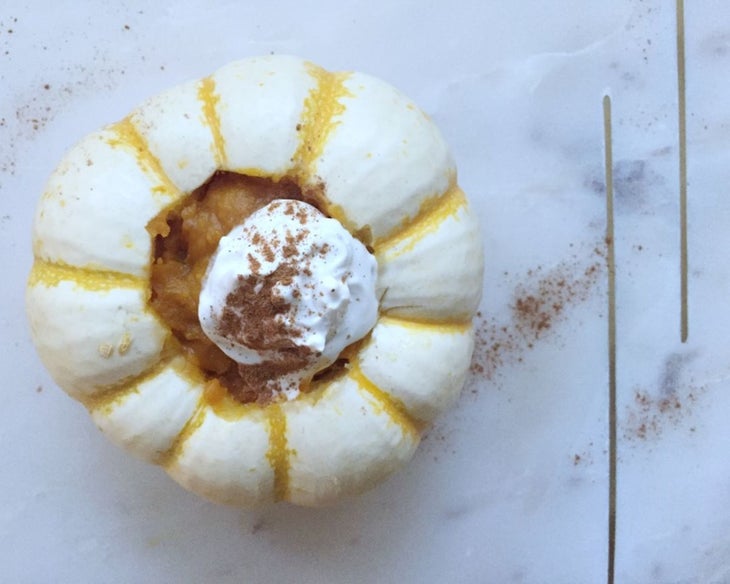 Mini Pumpkin Pie Pudding With Coconut Whipped Cream
"One of my favorite things about fall is pumpkin pie," Catalano says. "Not only do I love the smell of pumpkin spice and cinnamon filling my kitchen, but it's a fall dessert that reminds me of home. However, a traditional slice of pumpkin pie can have 323 calories. Yikes!" This fall, however, you can have your pie and eat it, too. This delicious recipe will indulge your taste buds without compromising your health because it's made without refined sugars and with clean, healthy fats.
Ingredients
1 can organic pumpkin puree
1 can unsweetened coconut cream
1 tbsp cinnamon (sprinkle on top)
2 mini pumpkins
2 tbsp pumpkin pie spice
2 pitted dates
Directions
Place can of unsweetened coconut cream in refrigerator overnight untill it becomes firm. Then place coconut cream in bowl. Let stand in refrigerator for 20 minutes to chill.
Place pumpkin puree, pumpkin pie spice and dates into blender and mix till smooth.
Take coconut cream out of fridge. Whip coconut cream with egg beater on medium-high (like you are making whipped cream) until it gets light and fluffy. Do not over-whip.
Fold coconut whipped cream into pumpkin-puree mixture and refrigerate for 15 minutes. (Save extra coconut whipped cream to garnish on top when you are finished.)
While you wait, remove pulp and seeds from inside pumpkins.
After 15 minutes, scoop mixture into mini pumpkins and top with extra coconut whipped cream.