5 Healthy Takes on Your Favorite Comfort Foods
Satisfy your cravings with these modern comfort food recipes.
Heading out the door? Read this article on the new Outside+ app available now on iOS devices for members! Download the app.
Sometimes when life beats you down, it's all you can do to resist diving headfirst into a vat of mac and cheese — or other comfort food — but eating your feelings need not widen your waistline.
With some stealth ingredient swaps and a few delicious cooking twists, you can have the best of both worlds when it comes to your favorite feel-good foods. Use these recipes in place of your habitual vices, and take comfort in the fact that you're doing your body good.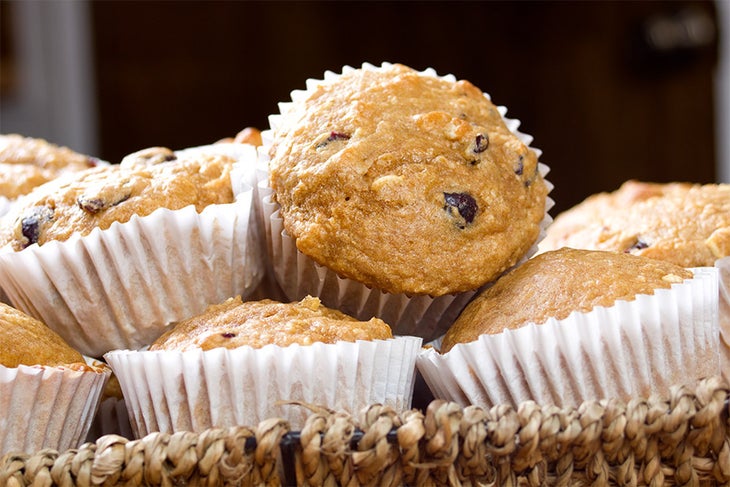 French Toast Muffins
Hands-On Time: 20 minutes
Cook Time: 20 minutes
Makes: 4 servings
French toast — meet muffins. Muffins — meet French toast. Blending these iconic breakfast staples and trading out some of the less-healthy ingredients makes these portion-perfect muffins a new favorite.
Flip Out: White bread, butter, heavy cream, a gallon of syrup
Flip In: Whole-grain sourdough bread, fresh berries, walnuts, yogurt
Nutrition Upgrade
Sourdough is higher in iron and selenium as well as B vitamins, which help regulate metabolism, while Greek yogurt gives the muffins a much-needed protein kick. Walnuts up the ante with heart-healthy omega-3 fats, and blueberries deliver a payload of antioxidants, helping neutralize the DNA-damaging free radicals while lowering blood pressure.
INGREDIENTS
4 large eggs
½ cup 2% milk or unsweetened nondairy alternative
1 tsp vanilla extract
1 tsp cinnamon
6 cups sourdough bread, cubed
⅓ cup chopped walnuts
¾ cup blueberries
1½ cups plain Greek yogurt
2 tbsp maple syrup
DIRECTIONS
Preheat oven to 350 F. In a small bowl, lightly beat eggs and stir in milk, vanilla and cinnamon. Add bread cubes to a large bowl and pour egg mixture over top, using your hands to gently massage liquid into bread. Let sit 5 minutes and then fold in walnuts and blueberries. Divide mixture among 8 greased or paper-lined muffin cups and press down gently to compress. Bake 20 minutes and then let cool several minutes before removing from pan. In a small bowl, combine yogurt and maple syrup. Serve muffins topped with a dollop of yogurt-syrup mixture.
Nutrition Facts (per serving = 2 muffins): calories 338, fat 13 g, carbs 35 g, fiber 5 g, sugar 13 g, protein 22 g, sodium 283 mg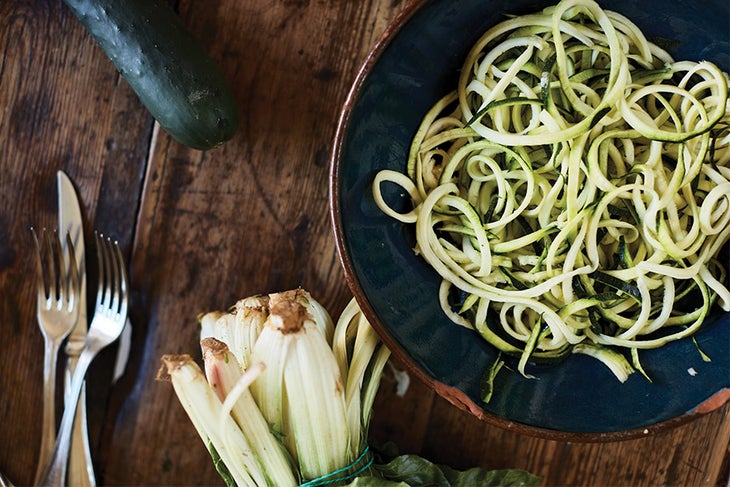 Chicken Zoodle Soup
Hands-On Time: 25 minutes
Cook Time: 30 minutes
Makes: 4 servings
There's no better way to take the chill out of winter than to cozy up to a steamy bowl of chicken noodle soup. This adaptation, featuring roasted chicken, fresh zucchini noodles and flavorful wine, guarantees you'll never go back to the gloppy canned version.
Flip Out: Starchy noodles, excess salt, bland chicken
Flip In: Zucchini noodles, beans, roasted chicken
Nutrition Upgrade
Trading refined pasta noodles for zucchini slashes the carb content, making each spoonful more midriff-friendly. The addition of beans pumps the soup full of quality plant protein and appetite-taming fiber, and the chicken thighs add a boost of flavor that white meat fails to provide.
INGREDIENTS
2 tbsp canola oil, divided
1 lb boneless, skinless chicken thighs
1 medium onion, chopped
2 medium carrots, chopped
2 celery stalks, diced
½ tsp salt
2 garlic cloves, chopped
1½ tsp Italian seasoning
½ tsp black pepper
¼ tsp red chili flakes
1 cup white wine
1 (14 oz) canned white beans, drained and rinsed
5 cups low-sodium chicken broth
juice of ½ lemon
2 medium zucchini
⅓ cup parsley
DIRECTIONS
Preheat oven to 400 F. Heat 1 tablespoon oil in an ovenproof skillet over medium-high. Add chicken and cook until browned on bottom, then flip and brown other side. Place skillet in oven and roast 20 minutes, or until meat reaches an internal temperature of 165 F. Remove and let rest 5 minutes before shredding. Meanwhile, add 1 tablespoon oil to a large saucepan over medium heat. Add onions, carrots, celery and salt and cook until veggies are tender, about 5 minutes. Add garlic and cook 1 minute. Add Italian seasoning, black pepper and chili flakes and cook another 30 seconds. Add white wine and cook 3 minutes. Add beans and broth and bring to a simmer. Cook 5 minutes, then turn off heat and stir in chicken and lemon juice. Use a spiralizer or serrated vegetable peeler to cut zucchini into "noodles." Divide zucchini noodles among serving bowls and ladle in soup. Serve garnished with parsley.
Nutrition Facts (per serving): calories 395, fat 13 g, carbs 31 g, fiber 8 g, sugar 5 g, protein 13 g, sodium 640 mg
You also can try spiraling other veggies such as sweet potatoes, carrots and parsnips.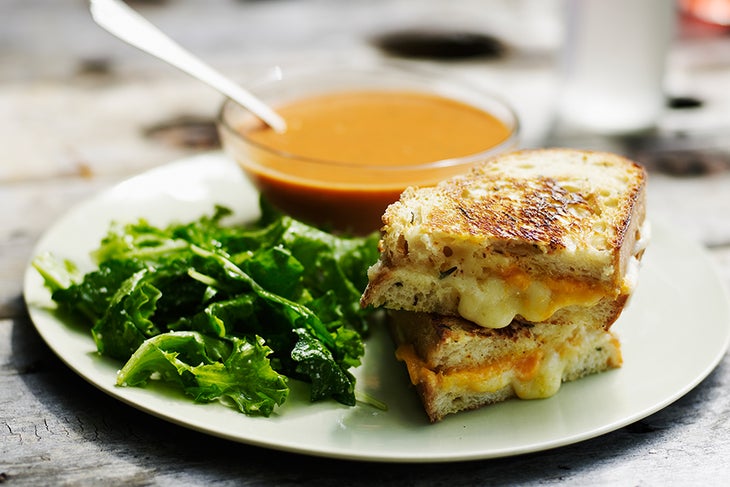 Tuna Caprese Grilled Cheese
Hands-On Time: 15 minutes
Cook Time: 6 minutes
Makes: 2 servings
This mash-up of two classic lunch favorites is a great grown-up way to craft a sammie — without worrying about fat and calorie overload.
Flip Out: White bread, processed cheese slices, ketchup
Flip In: Sprouted bread, tuna, freshly made cheese, greens, pesto
Sprouting partially breaks down the starch in the bread grains, giving it a lower carb content than other varieties.
Nutrition Upgrade
Sprouted bread trumps doughy white bread because it is higher in protein and fiber, and soft cheeses like fresh mozzarella contain more moisture, making them less calorie-dense than hard varieties. The tuna adds a protein punch, making this a more complete meal while also providing plenty of potassium, magnesium and iron.
INGREDIENTS
1 tbsp butter
¼ tsp salt
2 tbsp prepared pesto
4 slices whole-grain sprouted bread
1 (5 oz) can albacore tuna
2 oz fresh mozzarella, sliced into thin rounds
2 tsp balsamic vinegar
1 cup arugula
2 large slices tomato
DIRECTIONS
Melt butter and salt in a skillet over medium-low. Spread half the pesto on 2 slices of bread and top each with an equal amount of tuna and cheese. Drizzle with balsamic vinegar and top with arugula and a slice of tomato. Spread remaining pesto on remaining bread and place them on top, pesto side down. Place sandwiches in skillet and heat until bread is golden and crispy on the bottom, about 3 minutes. Press downward firmly on sandwiches with a spatula and then flip and cook another 3 minutes, or until cheese has melted and bread is crispy on the bottom. Press with spatula once more, then remove from skillet. Let cool 1 minute, then slice in half and serve.
Nutrition Facts (per serving): calories 441, fat 22 g, carbs 29 g, fiber 2 g, sugar 1 g, protein 30 g, sodium 668 mg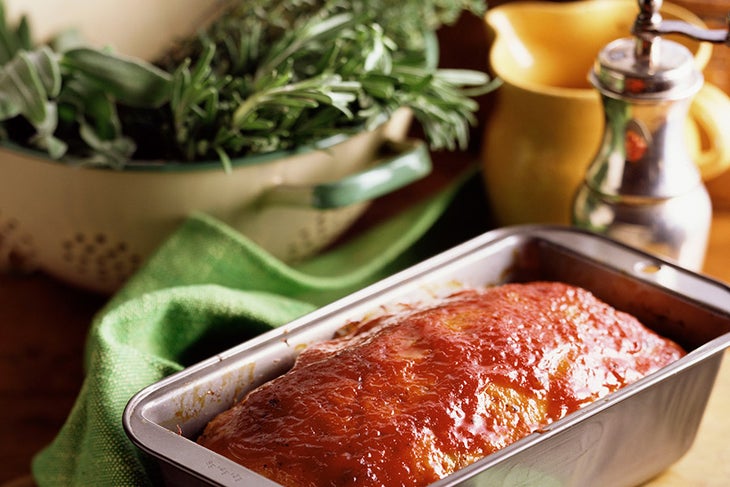 Turkey Meatloaf
Hands-On Time: 20 Minutes
Cook Time: 40 Minutes
Makes: 4 Servings
If you are going to reinvent the meatloaf, it'd better taste like home — deliciously moist and not at all "healthified." This version hits mom's meatloaf mark without weighing you down digestionwise.
Flip Out: Fatty ground beef, breadcrumbs
Flip In: Lean ground turkey, oats, sweet potato
Nutrition Upgrade
Using lean ground turkey reduces the fat calories found in regular ground beef by about 50 percent — without any protein compromise. Swapping out nutrient-poor breadcrumbs for whole oats boosts the fiber content to help reduce cholesterol, and sneaking in some sweet potatoes keeps the meatloaf tender while infusing the meal with some immune-boosting vitamin A.
INGREDIENTS
1 tbsp canola oil
1 cup yellow onion, diced
½ tsp salt
2 cups sweet potatoes, grated
1 lb lean ground turkey
2 large eggs, lightly beaten
¾ cup quick oats
3 tbsp tomato paste
1 tbsp Worcestershire sauce
1 tsp dried thyme
2 tsp garlic powder
¼ tsp black pepper
⅓ cup sugar-free barbecue sauce
DIRECTIONS
Preheat oven to 350 F, and grease a 9-inch-by-5-inch loaf pan. Heat oil in large skillet over medium. Add onions and salt and cook 5 minutes. Add sweet potatoes and cook 3 minutes, stirring occasionally. Add mixture to a large bowl with turkey, eggs, oats, tomato paste, Worcestershire sauce, thyme, garlic powder and pepper. Mix well and then spread mixture evenly in a loaf pan. Bake 30 minutes, then brush on barbecue sauce. Bake another 10 minutes, or until a thermometer inserted into the center reads 160 F. Let cool 5 minutes in pan before slicing.
Nutrition Facts (per serving): calories 333, fat 8 g, carbs 30 g, fiber 4 g, sugar 8 g, protein 33 g, sodium 439 mg
Chili Mac and Cheese
Hands-On Time: 25 minutes
Cook Time: 25 minutes
Makes: 6 Servings
This hybrid of two traditional comfort meals plays by the nutritional rules without sacrificing any savory flavor.
BONUS: It's all made in a single pan to streamline prep and cleanup.
Flip Out: White pasta, milk, butter, regular ground beef
Flip In: Whole-grain pasta, lean ground beef, spinach, mushrooms
According to research, mushrooms improve immunity and help prevent respiratory infections — the perfect antidote for flu season!
Nutrition Upgrade
Mushrooms and bell peppers up the veggie ante, delivering a healthy dose of selenium and vitamin D, and using lean ground beef eliminates gobs of saturated fat. Diced tomatoes infuse the dish with cancer-preventing lycopene, while kidney beans add a hit of tummy-trimming fiber as well as vitamin B1 for healthy cognition.
INGREDIENTS
1 tbsp canola oil
¾ lb 95% lean ground beef
1 large onion, chopped
½ tsp salt
1 red bell pepper, chopped
2 cups chopped cremini or button mushrooms
3 garlic cloves, minced
2 tbsp tomato paste
1 tbsp chili powder
1 tsp cumin powder
1 tsp dried oregano
½ tsp black pepper
1 (540 mL) can diced fire-roasted tomatoes
1 cup low-sodium beef or vegetable broth
1½ cups whole-grain macaroni
1 (14 oz) can kidney beans, rinsed and drained
4 cups spinach
1½ cups shredded sharp cheddar cheese
DIRECTIONS
Heat oil in a large saucepan or skillet over medium. Add beef and brown, breaking meat into 1-inch chunks as it cooks, about 5 minutes. Remove from pan and set aside. Add onions and salt to pan and cook until onions are soft and beginning to darken, about 5 minutes. Add bell peppers, mushrooms and garlic and cook 3 minutes. Stir in tomato paste, chili powder, cumin, oregano and black pepper and cook 1 minute. Add tomatoes, broth and macaroni and bring to a boil, then reduce heat to medium-low and simmer, covered and stirring occasionally, until pasta is al dente, about 12 minutes. Add beef and kidney beans and cook 3 minutes. Add spinach and stir until wilted. Divide among serving bowls and top each with ¼ cup cheese.
Nutrition Facts (per serving): calories 413, fat 16 g, carbs 41 g fiber 8 g, sugar 7 g, protein 29 g, sodium 747 g
Happy Endings
When nothing less than decadence will do, turn your frown upside down with one of these heathy(ish) store-bought treats.
FlapJacked Chocolate Chip Cookie Bar
Made with whole-grain oats, date paste, probiotics and whey protein, these soft-baked cookies are a guilt-free way to embrace your cravings while supporting gut health and muscle growth.
flapjacked.com or amazon.com, $25 (12-pack)
Alter Eco Superdark Chocolate Truffles
Rich and luscious, these one-bite gems feature less sugar and more organic dark chocolate per serving for a delicious antioxidant punch.
alterecofoods.com or amazon.com, $8
Base Culture Almond Butter Paleo Brownie
These grain- and gluten-free brownies have a deep cocoa flavor and a creamy finish courtesy of healthy nut butter.
baseculture.com or amazon.com, $35 (30-pack)
We independently source all of the products that we feature on oxygenmag.com. If you buy from the links on our site, we may receive an affiliate commission, which in turn supports our work.