5 Quick and Easy Blender Recipes
Blenders aren't just for making smoothies. This kitchen workhorse can help you prepare healthy meals from breakfast through dinner.
Heading out the door? Read this article on the new Outside+ app available now on iOS devices for members! Download the app.
The trusty countertop appliance known as the blender might be a champ at whizzing together your postworkout recovery shakes, but if you use it for little more than blitzing protein powder with frozen berries, you're seriously selling this gizmo short.
A blender can be a multitasking kitchen workhorse if there ever was one. From pancakes to burgers to waistline-friendly desserts, those blades are ready to help you whip up ultra-fast healthy and delicious around-the-clock meals that go way beyond frosty drinks. To bring you up to speed on the versatility of your blender, start by mixing up these recipes, which prove that it's a fit girl's BFF.
Salmon Burgers With Mango Salsa
Makes: 4 servings
Serving size: 1 burger
Total time: 25 minutes
Hands-on time: 20 minutes
Using a blender to whip up these burgers and salsa saves you a bunch of chopping time. And swapping out the beef for salmon helps you net a boatload of mega-healthy omega-3 fats — the superhero fats shown to help those who train hard reduce the severity of post-exercise muscle pain.
Mango breathes new life into salsa and infuses this dish with plenty of vitamin C. Needed for the production of carnitine, a compound involved in fat burning during exercise, vitamin C plays an important role in melting the chub.
INGREDIENTS
1¼ lb skinless center-cut wild salmon, chopped into 1-inch chunks
1 large egg
½ cup panko breadcrumbs
6 large basil leaves
2 tsp Dijon mustard
1 tsp lime zest
¼ tsp salt
¼ black pepper
1 mango, peeled and quartered
1 red bell pepper, quartered
2 green onions, cut into 1-inch chunks
1 jalapeño, seeded and sliced
1/3 cup cilantro
juice of ½ lime
¼ cup coconut flakes
1 tbsp grapeseed oil or canola oil
4 cups arugula
DIRECTIONS
Place salmon, egg, breadcrumbs, basil, mustard, lime zest, salt and black pepper in blender container and pulse several times until you have a chunky mixture. Form into four patties.
Wash blender container and place mango, red peppers, green onions, jalapeños, cilantro, lime juice and couple pinches of salt in container. Pulse several times until you have a chunky mixture. Do not puree. Stir in coconut flakes.
Heat oil in skillet over medium-high heat. Place salmon burgers in heated skillet and cook about three minutes on each side, or until crispy on the outside but just barely cooked through in the middle.
Divide arugula among serving plates and top with salmon burgers and salsa.
Nutrition Facts (per serving): calories 493, total fat 30 g, carbs 23 g, fiber 4 g, sugar 11 g, protein 33 g, sodium 355 mg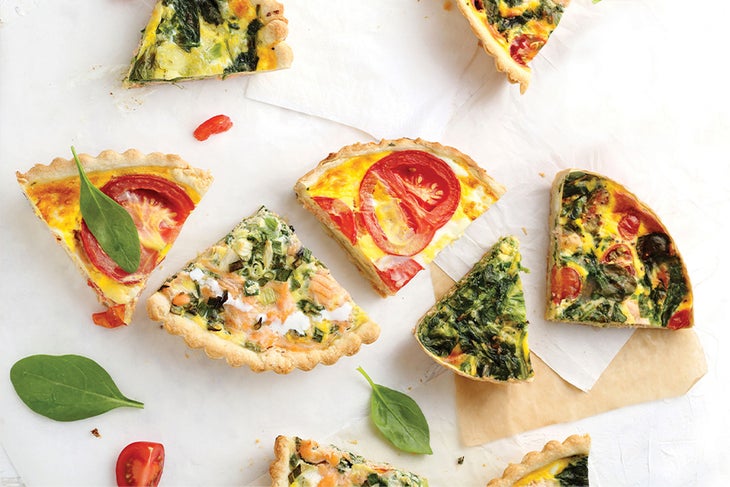 Chicken Spinach Egg Pie
Makes: 4 servings
Serving size: ¼ of pie
Total time: 40 minutes
Hands-on time: 15 minutes
Eggs and chicken team up to give each slice of this dinnerworthy savory pie enough protein to aid in building a lean, mean physique. And since an American Journal of Clinical Nutrition study found that eating eggs may boost brainpower, blending the orbs together for a quick meal seems like an even smarter idea.
Sending spinach for a ride in your blender can help you enjoy more birthdays. That's because it contains a wallop of vitamin K, a nutrient shown to help lessen the chances of falling prey to deadly diseases like cancer and heart disease. You also can use frozen spinach for this recipe — just make sure to thaw and squeeze out excess moisture.
This same recipe can be made using a muffin pan for individual (and portable) pies. Simply divide the mixture among greased or paper-lined standard-size muffin cups and bake in a 400-degree oven for about 20 minutes, or until eggs are set.
INGREDIENTS
6 large eggs
½ cup sour cream
3 cups spinach, ends trimmed
2 tsp Dijon mustard
½ tsp salt
½ tsp cayenne
¼ tsp black pepper
2 cups chopped cooked chicken
¼ cup chopped chives
1 cup cherry tomatoes
DIRECTIONS
Preheat oven to 400 degrees. Line bottom of 8-inch-round cake pan with parchment paper and grease sides.
Place eggs, sour cream, spinach, mustard, salt, cayenne and pepper in blender container and blend until spinach is pulverized. Pulse in chicken and chives.
Place egg mixture in prepared pan, scatter on cherry tomatoes and bake 25 to 30 minutes, or until center of pie is set. Let cool a few minutes before slicing.
Nutrition Facts (per serving): calories 266, total fat 12 g, carbs 6 g, fiber 1 g, sugar 5 g, protein 33 g, sodium 507 mg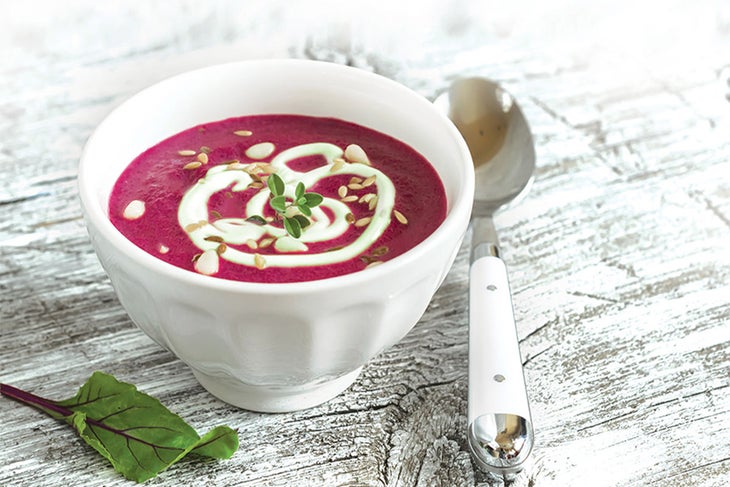 Beet Soup With Avocado Crema
Makes: 4 servings
Serving size: 5
Total time: 25 minutes
Hands-on time: 20 minutes
The naturally occurring nitrates in beets appear to improve blood flow, which can boost exercise performance and lower blood-pressure numbers. To cook beets, trim ends, place them in a shallow baking dish and add water until it reaches about ½-inch up the sides of the vegetables. Cover with foil, crimping edges to make a tight seal, and bake in a 400-degree oven until a skewer poked through the foil easily pierces flesh, 50 to 60 minutes. When cool enough to handle, rub off skins with a paper towel. Or you can now find precooked beets in most supermarket produce aisles.
For great health, it's a good idea to include more plant proteins like tofu in your daily menu. A study in the British Journal of Nutrition found that higher intakes of plant protein can be protective against developing diabetes, whereas higher intakes of animal protein — processed red meats like bacon in particular — can raise the risk for this disease. Tofu, beans and other plant proteins bring with them a powerful bundle of disease-thwarting nutrients and antioxidants.
INGREDIENTS
3 cups low-sodium vegetable broth
1 block soft tofu
3 medium-size cooked beets
1 cup jarred roasted red peppers
½ cup oil-packed sun-dried tomatoes, drained
2 tsp fresh thyme
2 tsp lemon zest
1 garlic clove, chopped
½ tsp salt
½ tsp chili powder
¼ tsp black pepper
1 small avocado
2 tbsp extra-virgin olive oil
juice of ½ lemon
¼ cup roasted pumpkin seeds
DIRECTIONS
Place broth, ½ block tofu, beets, roasted peppers, sun-dried tomatoes, thyme, lemon zest, garlic, salt, chili powder and black pepper in blender and blend until smooth. Transfer to saucepan and heat on medium until warmed through. If you have a powerful blender, you can let it run until the mixture is steaming hot.
Wash out blender container. Place ½ block tofu, avocado, olive oil, lemon juice and couple pinches of salt in container and blend until smooth. Add water, 1 tablespoon at a time, if needed, to help mixture blend into a smooth consistency.
Serve bowls of warmed soup topped with avocado cream and pumpkin seeds.
Nutrition Facts (per serving): calories 254, total fat 19 g, carbs 16 g, fiber 5 g, sugar 7 g, protein 10 g, sodium 273 mg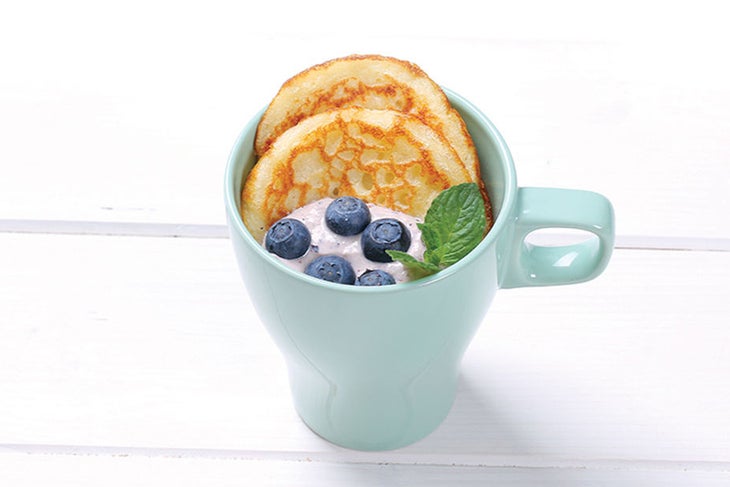 Sweet Potato Pancakes With Blueberry Yogurt
Makes: 4 servings
Serving size: 3 pancakes
Total time: 25 minutes
Hands-on time: 15 minutes
Pureed sweet potato lends a stack of pancakes natural sweetness, vibrant color and a wallop of beta carotene. In the body, beta carotene is converted to vitamin A, which works to improve immune health and fortify bone strength. Forgoing the butter and maple syrup treatment for a berry-yogurt sauce adds muscle-building protein and health-hiking antioxidants.
This batter can be made up to two days in advance. Whip everything together and then chill covered in the refrigerator until needed. It's best to let batter rest at room temperature for at least 30 minutes before using.
INGREDIENTS
1 medium-size sweet potato, peeled and cubed
¾ cup milk
2 large eggs
1 cup rolled oats
½ cup almond flour
1½ tsp pumpkin pie spice
1 tsp baking powder
½ tsp baking soda
¼ tsp salt
1/3 cup chopped walnuts (optional)
1 cup plain Greek yogurt
½ cup blueberries
DIRECTIONS
Place sweet potato cubes and 1 tablespoon water in microwave-safe bowl. Cover with plastic wrap and poke a few holes in plastic to allow for venting. Microwave on high six minutes, or until potato is easily pierced with a knife. Let potatoes cool a few minutes.
Place milk, eggs, sweet potato cubes, oats, almond flour, pumpkin pie spice, baking powder, baking soda and salt in blender container and blend until smooth. Blend in additional milk if mixture is too thick. Pulse in walnuts, if using.
Pour ¼ cup batter for each pancake into greased skillet and cook over medium heat for two minutes. Flip and cook an additional one minute. Keep prepared pancakes warm in a 200-degree oven while preparing remaining batter.
Wash out blender container. Place yogurt and blueberries in container and blend together. Serve pancakes topped with blueberry-yogurt sauce.
Nutrition Facts (per serving): calories 291, total fat 11 g, carbs 34 g, fiber 5 g, sugar 10 g, protein 16 g, sodium 75 mg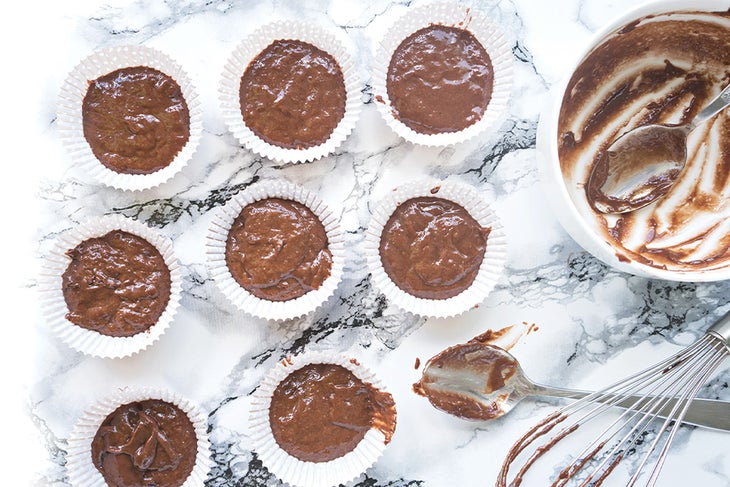 Mocha Black Bean Cakes With Cashew Cream
Makes: 12 servings
Serving size: 1 cake
Total time: 80 minutes
Hands-on time: 30 minutes
The stealth addition of beans to this guilt-free dessert gives the cakes a fudgy texture and hunger-quelling fiber. We promise there's enough rich chocolaty flavor and natural sweetness from the dates that you'll forget you blended beans into the batter in the first place.
When soaked and then blended with coffee, buttery cashews turn into a decadent cream that replaces the lofty saturated fat numbers with those from heart-boosting monounsaturated fat. A 2017 study found in the pages of The American Journal of Clinical Nutrition determined that adding about a daily handful of cashews to a typical American diet can trim cholesterol numbers.
INGREDIENTS
1 cup raw cashews
11/3 cups hot coffee
¾ cup pitted dates
¾ cup unsweetened (natural)
cocoa powder
2 large eggs
¼ cup canola oil or melted coconut oil
1 cup canned black beans, drained and rinsed
½ cup oat flour or whole-wheat pastry flour
2 tsp vanilla extract
1½ tsp cinnamon
½ tsp baking soda
¼ tsp salt
2 tbsp maple syrup
1½ cups raspberries
DIRECTIONS
Place cashews in bowl, cover with water and soak for at least two hours.
Place 1 cup coffee, dates and cocoa powder in blender container and let rest 30 minutes. Add eggs, oil, beans, flour, 1 teaspoon vanilla, 1 teaspoon cinnamon, baking soda and salt to container and blend until smooth, about one minute.
Preheat oven to 350 degrees. Divide mixture among 12 greased or paper-lined muffin cups. Bake 18 minutes, or until centers of cakes are just barely cooked through. Let cool a few minutes before unmolding and cooling further on metal rack.
Drain cashews and place in clean blender container along with 1/3 cup coffee, maple syrup, 1 teaspoon vanilla and ½ teaspoon cinnamon. Blend until smooth.
To serve, spread some cashew sauce on serving plate, top with warmed bean cake and scatter on raspberries.
Nutrition Facts (per serving): calories 197, total fat 11 g, carbs 23 g, fiber 5 g, sugar 9 g, protein 6 g, sodium 66 mg
Spik-and-Span
For speedy cleanup, let your blender wash itself. Add a squirt of dish soap to a dirty container, fill halfway with hot water, and then simply blend until sudsy and the food grime has been dislodged from container sides. Just make sure to rinse out any lingering soap so your next blended meal doesn't taste like Palmolive.
Rise of the Machine/Mix Master
If you plan on giving your blender daily workouts, forget the dated Oster. You want a machine with a bigger engine. From soups to pancake batters to DIY nut butters, the mega-powerful Vitamix Professional Series 750 is up to the challenge. Yes, its $600 price tag is hard to swallow at first, but once you tap into its horsepower several times a day for years to come to whip up nearly anything you can throw at it, the Mercedes-Benz of blenders seems like a bargain. It even comes with several nifty preprogrammed settings to handle frozen desserts and hot soups.
Follow the Leader
Dump stuff in the container, blend it and eat it. Right? Not so fast. To help make blending a breeze, place liquids like milk, broth and eggs in the blender container first followed by harder items such as vegetables, flour and nuts. This way, the liquid in the bottom will absorb the solids for, well, smoother blending and also keep the machine from overheating during tougher blending jobs (hello, smoothie bowls!).