Why You Should Be Eating Cranberries
Join the cranberry craze and incorporate more of these nutrient-dense, tart red berries into your diet! Hint: They're not just for Thanksgiving.
Heading out the door? Read this article on the new Outside+ app available now on iOS devices for members! Download the app.
With Thanksgiving right around the corner, you're probably already getting excited for a massive cheat day feast of turkey, green bean casserole, sweet potatoes, stuffing, pumpkin pie and, of course, cranberry sauce. But wait! Why are cranberries mainly associated with this time of year?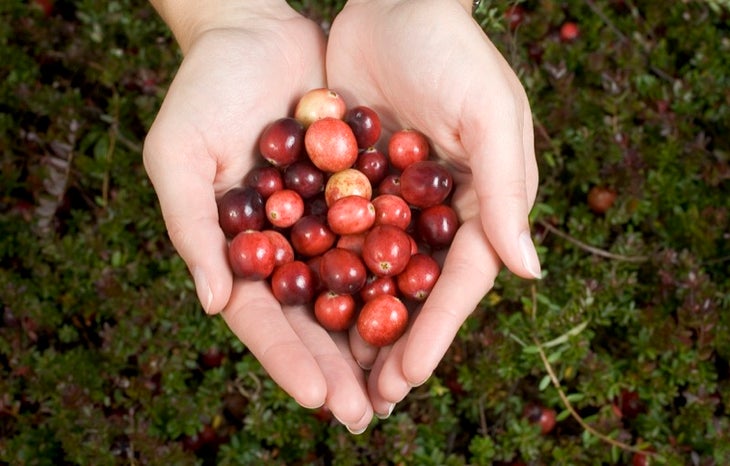 Giving Thanks for Cranberries
"Cranberry use by Native Americans dates to before the first European visitors came to North America in the early 1500s," says Jenna A. Bell, Ph.D., RD, senior vice president and director of food and wellness at Pollock Communications. She is also the co-author of Energy to Burn: The Ultimate Food and Nutrition Guide to Fuel Your Active Lifestyle (Wiley, 2009).
"Native Americans used cranberries in cooking and as medicine, a food preservative and dye," she says. "They passed their knowledge about cranberries to colonial settlers in the early 1600s. It was first planted commercially in 1816 in Massachusetts and is one of three commercially cultivated fruits native only to North America."
Wisconsin — which has been the No. 1 cranberry producer in the United States for 24 consecutive years — boasts more than 250 growers that produce cranberries on about 21,000 acres of land. And unlike what you may assume after seeing an Ocean Spray commercial, cranberries are not grown in water.
This perennial plant is grown on low-running vines in sandy bogs and marshes. Because cranberries float, Wisconsin marshes are flooded when the fruit is ready for harvesting, which happens from late September through October.
Cranberry Health Benefits
Bell says that cranberries are brimming with health benefits, including the following:
Immune booster. Polyphenols are naturally occurring plant compounds that protect us (and often the plants) from our hazardous environment — like oxidants, pollutants and pathogens. The abundant polyphenol found in cranberries is proanthocyanidin (PAC), which is known for its "anti-adhesion" power. That means it works to keep bacteria (like those that cause infections) from sticking to cell walls. Perhaps it's not a coincidence that these beautiful berries are readily available during cold and flu season.
Preworkout and postworkout boost. Cranberries — especially dried — are a quick and convenient way to deliver the glucose you need to help fuel your workout. Post-exercise, the glucose will help stimulate your body to replenish your glycogen stores (stored carbohydrates). This is especially helpful if you are doing bouts of exercise, especially high-intensity interval training or an activity during which you need bursts of energy, like soccer or sprints.
Improved recovery. Polyphenols also may provide protection from free radical damage associated with stress or exercise, which could help improve recovery from a tough workout and get you ready for your next one.
Heart health. Along with a plant-based diet and plenty of exercise, Bell says that hearts may benefit from cranberry consumption. One study found that compounds in cranberry juice improved blood flow and blood vessel function.
Cranberry Recipes
Instead of relegating them to the holidays, think of cranberries as a year-round superfruit that enhances a sweet or savory dish, adds a unique tartness and creates a festive pop of color.
"Cranberries are one of our go-to ingredients because of their fabulous flavor, diversity in usage, aesthetics, health benefits and local origin," says Amy Scheide, co-owner of Great Expectations, a popular lunch spot in Wisconsin Rapids, Wisconsin.
"Here, in the heart of cranberry country, we source from local farmers — many of whom are fourth- and fifth-generation growers — and add their flavor-packed punch to everything from beverages and our signature chicken salad to wild rice bread and desserts," she says.
Fresh cranberries (which freeze well for up to a year) are naturally low in sugar and high in acidity, like a lemon or rhubarb. If you want a little sweetness, try experimenting with various recipes, juice, sauces or enjoy them dried.
Recipes for Thanksgiving (and Beyond!)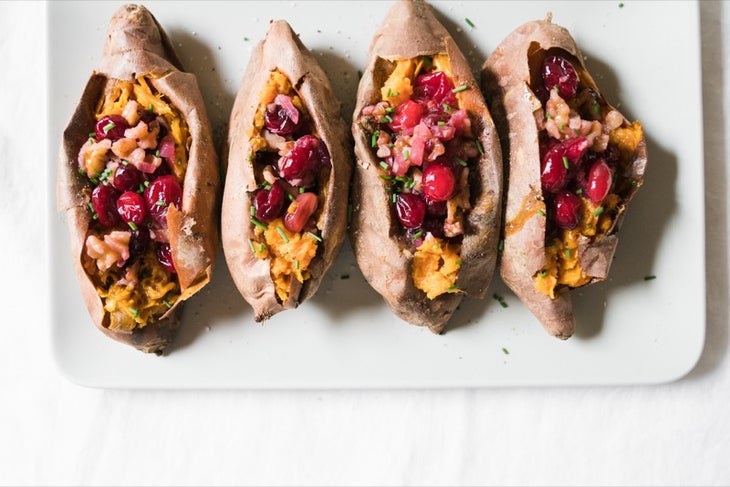 Cranberry Walnut Sweet Potatoes
Makes: 8 Servings
INGREDIENTS
4 large sweet potatoes
¼ cup finely chopped onions
1 tbsp butter
1 cup fresh or frozen cranberries
⅓ cup maple syrup
¼ cup water
¼ cup cranberry juice
¼ tsp salt, divided
½ cup chopped walnuts, toasted
1 tsp Dijon mustard
¼ tsp pepper
2 tbsp minced chives
DIRECTIONS
Scrub and pierce sweet potatoes. Bake at 400 F for 1 hour, or until tender.
In a small saucepan, saute onions in butter until tender. Add cranberries, syrup, water, cranberry juice and ⅛ teaspoon salt. Bring to a boil. Reduce heat. Cover and simmer 10 to 15 minutes, or until berries pop, stirring occasionally. Stir in walnuts and mustard; heat through.
Cut potatoes in half lengthwise. Sprinkle with pepper and remaining salt. Top each with 2 tablespoons cranberry mixture and sprinkle with chives.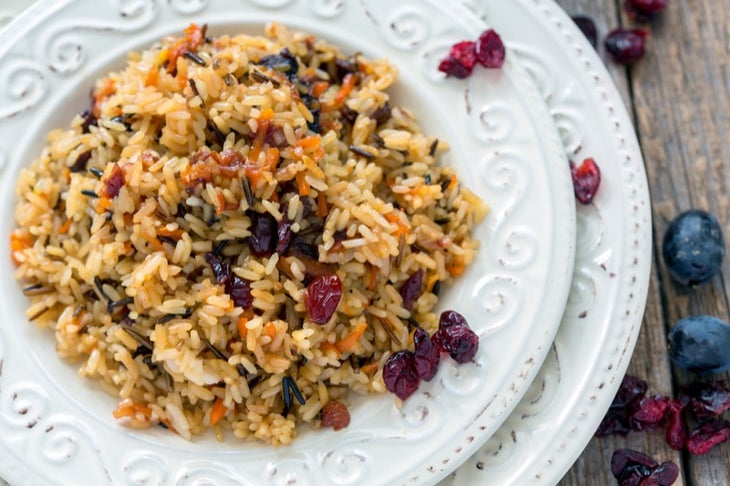 Cranberry Wild Rice Pilaf
Makes: 6-8 Servings
INGREDIENTS
¾ cup uncooked wild rice
3 cups chicken broth
½ cup pearl barley
¼ cup dried cranberries
¼ cup dried currants
1 tbsp butter
⅓ cup sliced almonds, toasted
DIRECTIONS
Rinse and drain rice and place in a saucepan. Add broth and bring to a boil. Reduce heat. Cover and simmer 10 minutes.
Remove from heat. Stir in barley, cranberries, currants and butter. Spoon into a greased 1½-quart baking dish.
Cover and bake at 325 F for 55 minutes, or until liquid is absorbed and rice is tender.
Add almonds, fluff with a fork and serve.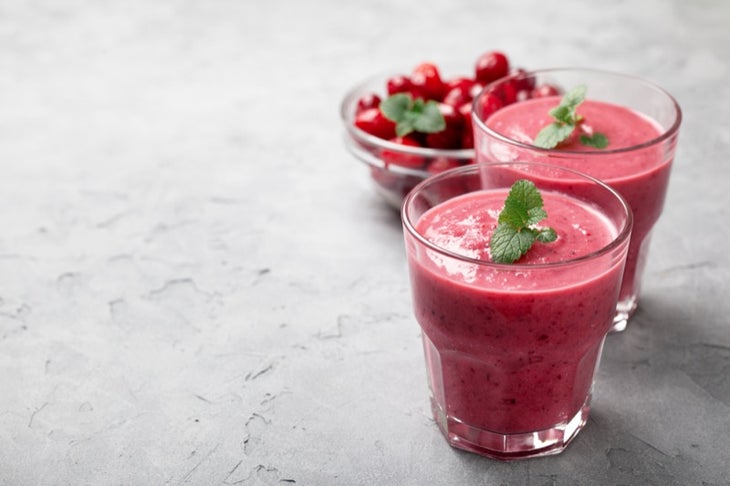 Cranberry Smoothie
INGREDIENTS
2 cups frozen cranberries
2 cups nonfat vanilla yogurt
2 cups 1% milk or almond milk
2 tbsp honey
2 tsp vanilla
DIRECTIONS
Mix in a blender until smooth. Makes 6 smoothies.
Leftover Cranberry Turkey Salad
DIRECTIONS
Combine shredded leftover turkey with just enough mayo to moisten the meat. Add onion powder, walnuts and chopped fresh cranberries (to taste).