Do You Have What It Takes to Be a Female Firefighter?
LAFD fire inspector and recruit trainer Gayle Sonoda shares what you need to succeed in the fire academy and on the job.
Heading out the door? Read this article on the new Outside+ app available now on iOS devices for members! Download the app.
In her 10 years on the job, Gayle Sonoda has seen hundreds of people come through the doors of the Los Angeles Fire Department to share his/her lifelong dream of becoming a firefighter.
However, not everyone understands the physical demands of the job, like climbing up massive ladders, lifting heavy (35- to 180-pound) equipment and patients off the ground, and carrying equipment overhead to and from the scene — just to name a few. Nonstop 24-hour shifts also increase your chance of injury, especially if your technique is wrong.
Many of her male counterparts send their female candidates to Sonoda because they don't feel comfortable giving them advice. Thankfully, she has plenty to offer.
While climbing the ladder to land a coveted fire inspector position, Sonoda helped to create the LAFD's Candidate Advancement Program (CAP), which caters to individuals interested in coming on board who aren't quite ready for the department's prerequisite: an intensive 20-week academy.
Fireground Application: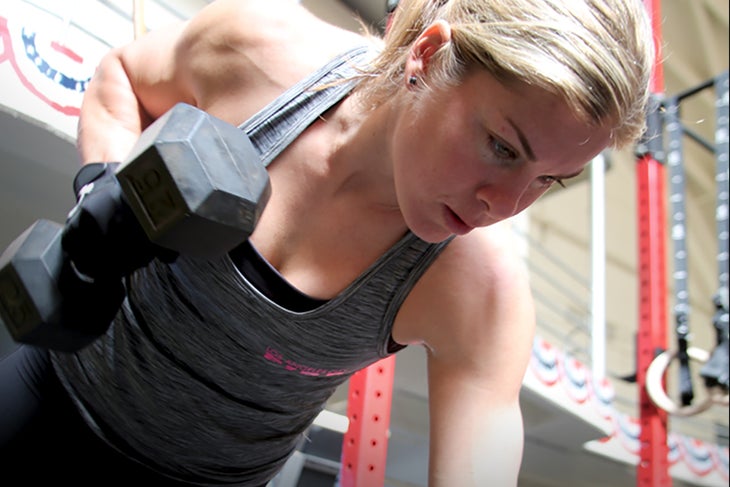 Renegade rows train and prepare the body of a firefighter for the following procedures in the field: forcible entry, starting equipment, ceiling breach and halyard raise.
Start Position: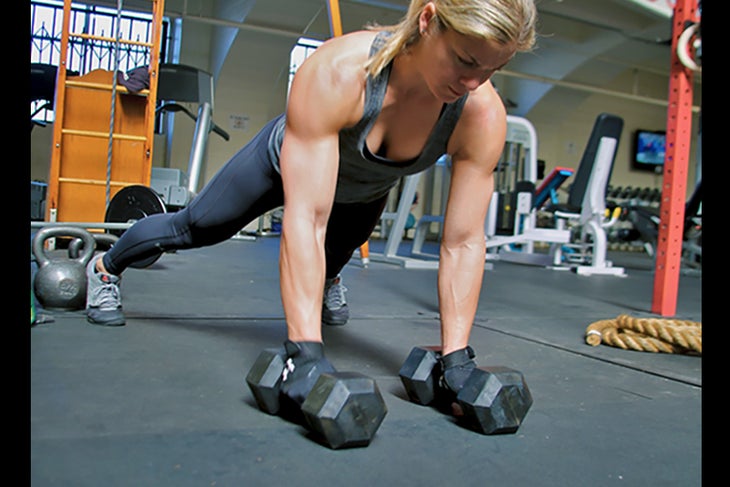 Enter into a push-up position with your arms directly under your shoulders.
Start Position: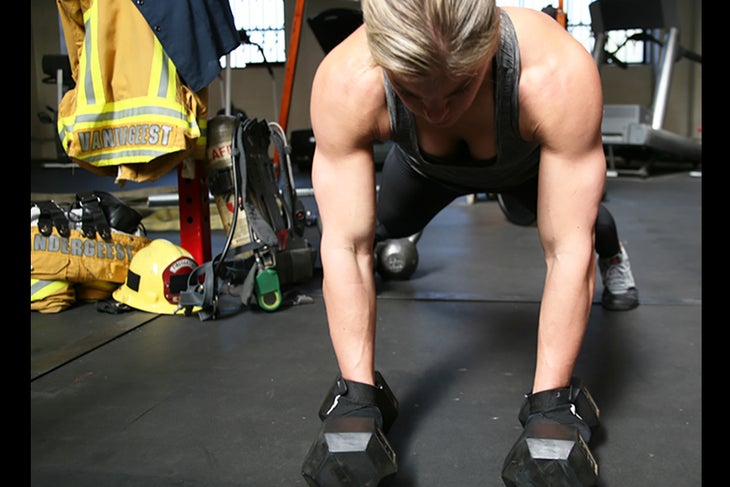 Your hands should be holding the dumbbells with your palms facing down and toward each other. Grasp the dumbbells with a strong and controlled grip.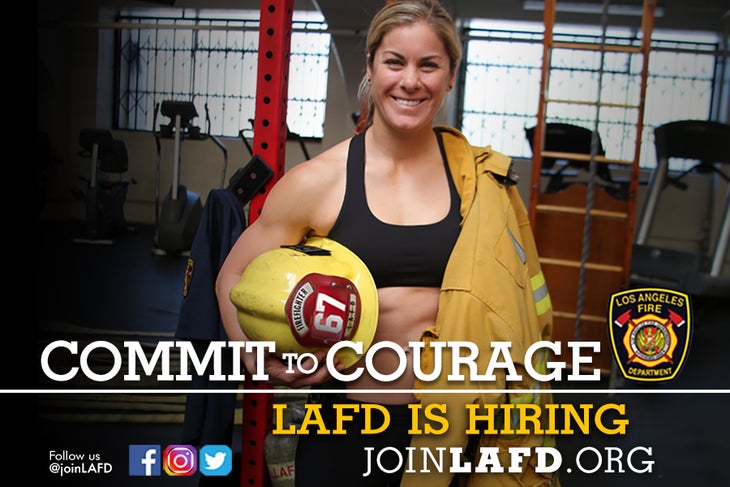 Procedure: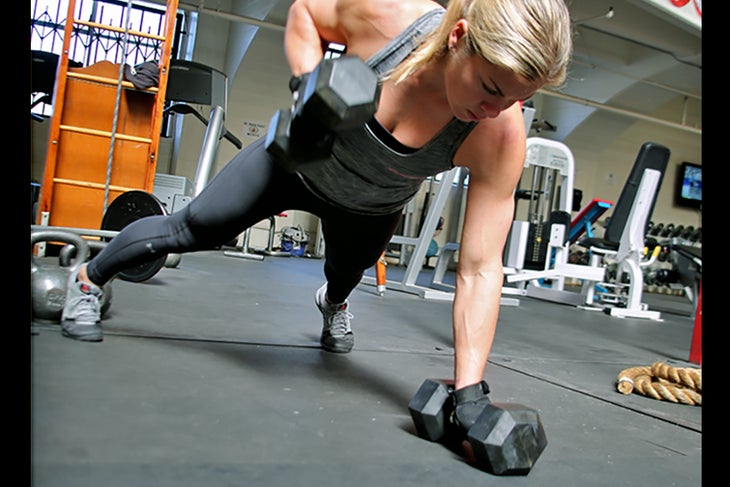 While keeping your core engaged and your legs outward for balance, row your arm up and back to the core of your body.
Procedure: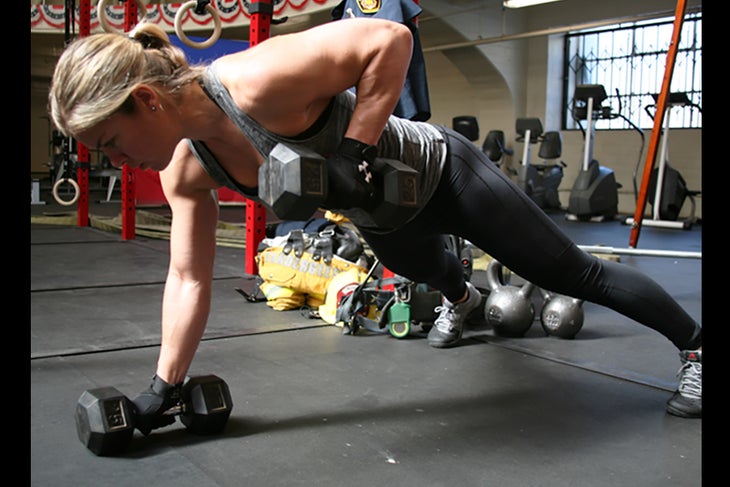 Your elbow should move toward the ceiling. Your shoulder should not move toward your ear. Hold the position, then slowly lower down to the floor.
Procedure: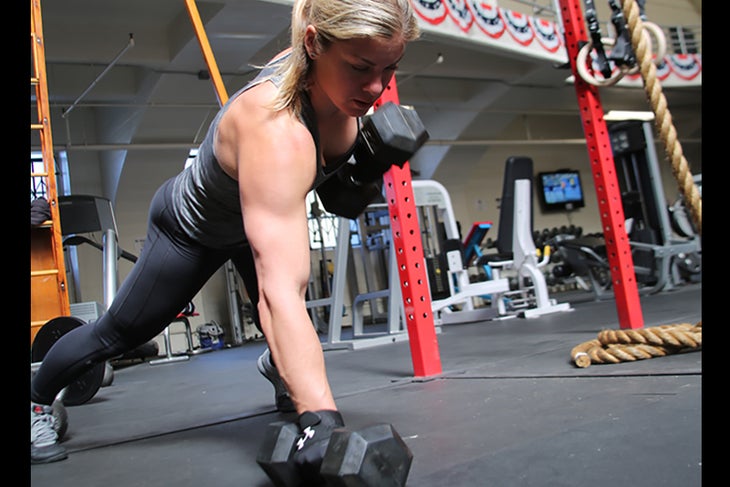 Alternate arms. Control your hips and core as your arms alternate, keeping your body in line.
Coach Tip: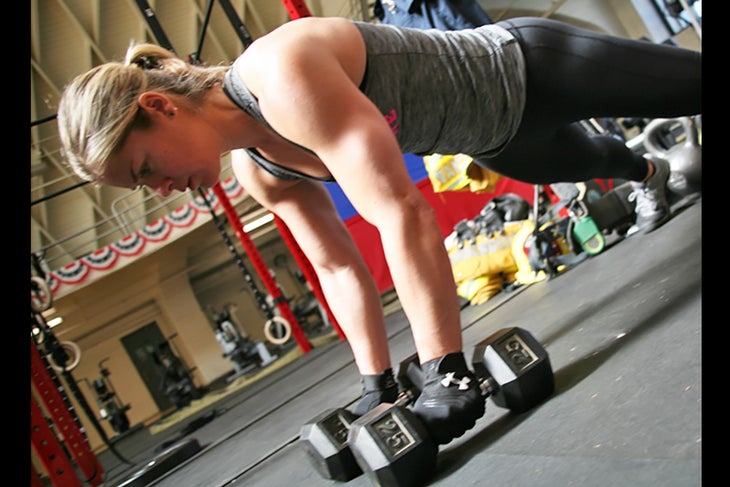 Keep your core engaged and hips facing the group.
The model performing the renegade rows is firefighter Mackenzie Vandergeest, an 11-year LAFD veteran who prides herself on maintaining a healthy body and mind.
"If we can teach people the right type of workout before they're hired, they're more likely to succeed in the academy," she says. "If they're out of shape, they're going to struggle."
In CAP, Sonoda and her team teach candidates correct lifting techniques, customized circuits, injury prevention and much more. They pass down lifesaving skills that are instilled in the academy and practiced in the field, with an emphasis on safety.
As a firefighter, you pick up a lot of heavy weight and put it down — over and over and over again — which is naturally taxing on the body. Sonoda points out the obvious: If you're lifting with bad form, you're setting yourself up for long-term damage.
Her message to women — or anyone who hasn't worked out at a high level before — applying to the LAFD: "No matter who you are, the weight of the equipment remains the same. You have to learn how to use techniques to lift what you need to lift. Many tasks within the fire culture incorporate strength, movement and technique."
Sonoda keeps it real with the ladies. Scientifically, male and female bodies are completely different, so she makes it clear that while we like to say that we're equal, training the same doesn't make sense. There are exceptions, of course, but for the most part, women have to figure out how to train better to do the same job.
In the academy and on the job, men and women have to lift the same. They have to hit the same benchmarks. But they don't have to hit goals in the exact same way. Women often have to get the job done smarter.
"If you work hard and smart, it's possible, but this job isn't for everyone," she says. "You need to work within your own limits and know your strengths and weaknesses. Guys will use their brute strength. I have to use my strength and creativity."
Sonoda is 5 feet 4 inches tall and entered the academy at 135 pounds. She had to put on 10 pounds of muscle — and keep it on. Over the years, she's learned how to use her body and technique to thrive on the job and avoid injury.
It doesn't hurt that she's always been an athlete and played basketball in college where she studied athletic training and sports medicine. Sonoda is one of the few women on the LAFD men's basketball team and was the first woman on the department's golf team.
She was also the first female representative on the Los Angeles Relief Association (LAFRA) board of trustees. And now with her more structured role as fire inspector, she can dedicate more of her time to CAP and wellness education.
Although she insists female firefighters don't think much about being a woman in a male-dominated career, Sonoda serves as a role model for her LAFD family — as well as young women in the Los Angeles community and nationwide.
When women come to Sonoda, she says with honesty, "Your mind should be strong, your passion should be there, but you have to be physically capable, too. Lift heavier. Practice more power movements. Work stronger."
Turn your passion into your career with the LAFD! Visit joinlafd.org or follow @joinLAFD on Facebook, Instagram and Twitter.