Candice Lewis-Carter's Mexican Stuffed Peppers
Dare to try this zesty low-carb entrée recipe from Next-Level Lifting Coach Candice Lewis-Carter.
Heading out the door? Read this article on the new Outside+ app available now on iOS devices for members! Download the app.
Who doesn't love a savory, low-carb dish that's also easy to make? Because I maintain a keto lifestyle to help manage my symptoms of polycystic ovary syndrome (PCOS), I'm always looking for tasty dishes that focus mainly on protein and vegetables.
I'm including one of my go-to recipes below: Mexican stuffed peppers. Feel free to get creative with the ingredients — for instance, I often use a mix of bison and beef, and I love playing around with different spices, too. Sometimes I'll even reheat any leftovers for breakfast and add an egg on top. I never get sick of this dish!
Ingredients
1 pound 90% lean ground beef
1 medium onion, chopped
24-ounce jar restaurant-style salsa
1 tsp chili powder
1 tsp cumin
1 cup long-grain white rice
2¼ cups water, divided
½ tsp kosher salt, divided
2 tbsp chopped cilantro, divided
6 bell peppers, stems and tops removed, seeded
1 cup shredded cheese, Mexican blend or cheddar
¼ cup sour cream (optional)
Instructions
Preheat oven to 350 F.
Brown ground beef in a large frying pan over medium-high heat for 5 minutes, or until cooked almost through.
Add onions and cook until softened, about 5 more minutes.
Stir in jarred salsa, chili powder and cumin.
Add white rice and 2 cups water, season with ¼ teaspoon kosher salt and bring to a boil, then reduce to medium-low. Cover and cook 20 minutes, stirring occasionally, until rice is tender, adding more water, if necessary.
When rice is tender, fold in ¾ tablespoon chopped cilantro, reserving the rest for garnish.
While meat and rice are cooking, cut off tops of peppers, spoon out the ribs and seeds, then rinse. Lightly sprinkle the inside of peppers with kosher salt and place in a microwave-safe dish with ¼ cup water. Cover with plastic wrap and microwave 5 minutes, or until they soften but still hold their shape.
Transfer peppers to a 3-quart baking dish. Fill peppers with hot meat and rice mixture.
Bake 18 to 20 minutes, or until peppers are tender. Sprinkle with cheese and heat for an additional 1 to 2 minutes, or until cheese has melted. Garnish with chopped cilantro and sour cream, if you'd like, and serve.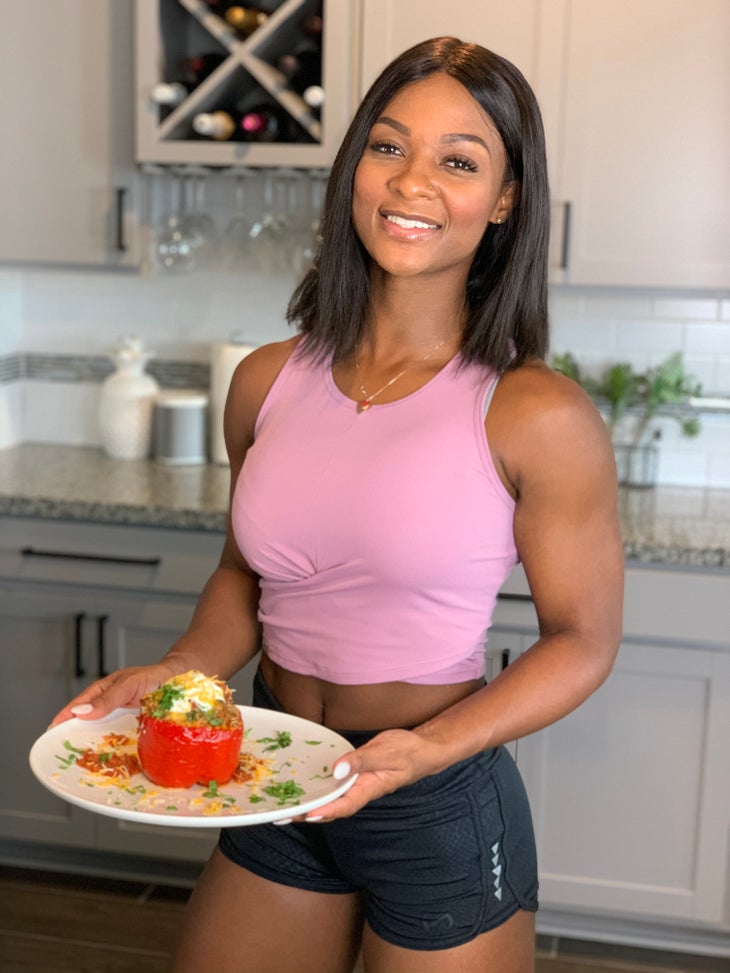 Have you been lifting for a while? Do you want to push your limits and see just how far you can go? Let Candice Lewis-Carter — a 13-time IFBB Figure champion, seven-time Olympia Figure champion, two-time Arnold Classic Figure champion and two-time Arnold Classic Australia Figure champion — be your guide. She's partnered with Oxygen to create Next-Level Lifting, an exclusive eight-week program for those looking to level up their fitness and their physiques. Sign up today!