Women Strong: Erin Stern Q&A
Discover how this IFBB elite pro competitor and social media icon rose to the top, not without obstacles and the support of other female athletes.
Heading out the door? Read this article on the new Outside+ app available now on iOS devices for members! Download the app.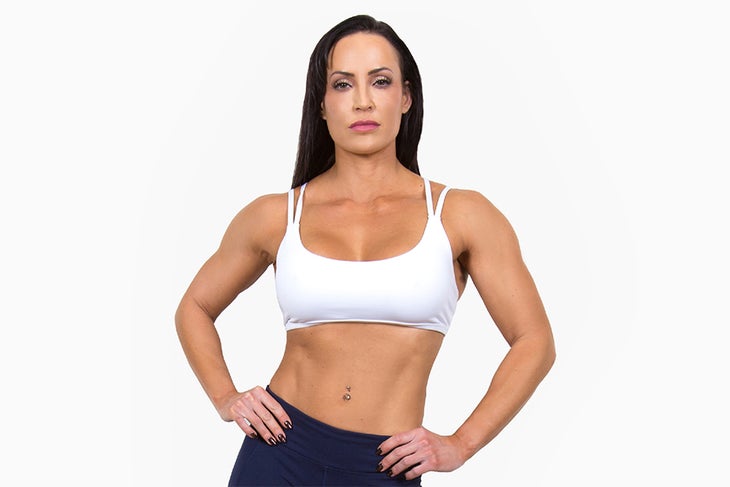 BIO
Name: Erin Stern
Hometown: Miami
Current residence: Tampa, Florida
Birth date: February 5, 1980
Height: 5'8"
Weight: 135
Instagram: @erinstern5
Facebook: @FitErin
YouTube: erinstern5
Competitive status/division: IFBB elite pro Body FitnessOxygen: What message do you hope this movement will convey?
Oxygen: What message do you hope this movement will convey?
ES: We were all put here with a certain look and with certain genetics. It's time to embrace this. We can love the way we look year-round, and this self-love is powerful.
Oxygen: How important as a female athlete is it to have a supportive tribe?
ES: A support system is key, especially in a world filled with airbrushed photos, filters and FOMO. Friends can help us see through the BS, boost us when we're down and celebrate our accomplishments. It's also fun seeing that we all have quirks and insecurities, in spite of what we see on TV or on social media.
Oxygen: Have you ever encountered any roadblocks during your career related to gender?
ES: We have a tough time making the same kind of money that male competitors make. Prize money for males, especially for larger shows, can be as much as 10 times what the ladies make! But you figure out another way and keep pushing forward. My solution was to create more opportunities out of competing — camps, shoots and seminars are especially effective ways to bring in additional income.
Oxygen: How did you get into fitness and working out?
ES: I really got into fitness when my life and career went into a tailspin. I needed the gym!
Oxygen: Were you athletic growing up? What sports did you play?
ES: I grew up riding horses and running track. I went on to run track at the University of Florida. I did high jump, pentathlon, heptathlon.
Oxygen: Did you have any strong female role models growing up?
ES: My grandma was very strong. She was an immigrant and raised five children. She stressed the importance of being tough and self-sufficient.
Oxygen: How did you become a fitness competitor?
ES: A friend suggested that I get into figure competitions. Not one for pageantry, I giggled at the thought of it but decided, why not? I won my first two shows and went on to win the overall title at NPC Nationals. I was a pro in less than three months!
Oxygen: What is your wish for female athletes in the future?
ES: Many female athletes should start by taking themselves more seriously. Build a brand. Work on your story. Focus on giving, teaching and helping others. When this happens, the good comes back around. I also wish that female athletes will be treated as equals to their male counterparts. This change must come from both the athletes and the industry.
Oxygen: If you could meet any female athlete in the world who would it be and why?
ES: I'd love to meet Jackie Joyner-Kersee. She was an amazing all-around athlete and maintained her own flair and style on the track. She won Olympic medals as a heptathlete, and it would be amazing to talk with her about training and mindset.
Oxygen: What is something that scares you that you are determined to overcome/try?
ES: I'm getting onstage again! It's scary and exciting, but I'm determined to do it because I want to show people that bodybuilding/figure is a lifelong sport — when done naturally.
Oxygen: What are your favorite empowering quotes?
ES: There is no satisfaction in "I tried." No glory, no victory, no do-overs. Attack your goal, strike hard, forge forward. In looking back if you can say, I gave it everything I had — body, heart, mind and soul, success will be yours.
Pick up your May/June issue of Oxygen (on stands now!) for Erin Stern's moving full story. We know you'll be inspired. And check out her Oxygen-exclusive Women Strong workout for some serious stimulation of your body and mind. Follow the slideshow or watch the video.