5 Nutrient-Dense Seafood Recipes
Your diet will go swimmingly using these easy-to-make recipes that feature sustainable, protein-packed fish.
Heading out the door? Read this article on the new Outside+ app available now on iOS devices for members! Download the app.
Fish have a stacked nutritional resume (hello, mega-healthy omegas and muscle-building protein) that should place them at the top of your meal-prep roster. And even though research shows that women of childbearing age who regularly nosh on fish are at a lower risk of developing heart disease, very few women eat the recommended amount — of just 8 ounces per week!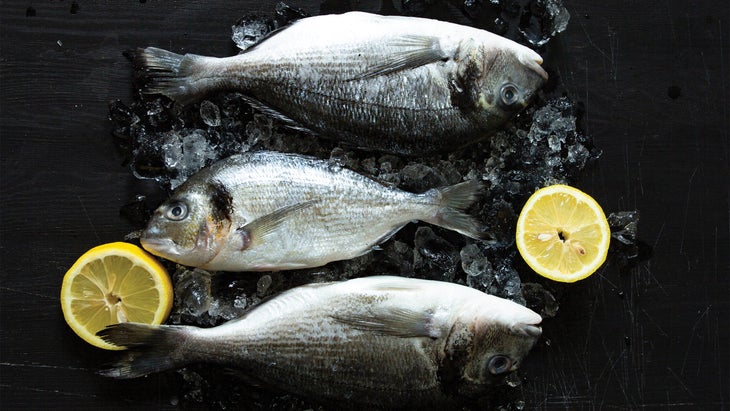 Perhaps you're concerned about contaminants and sustainability issues like overfishing or are worried that your paucity of fish-cooking skills means you'll butcher that pricey halibut. Then there are the counter-side decisions you don't know how to make: Should you buy wild or farmed? Frozen or fresh? Large fish or small?
Here's the help you need to navigate these murky waters. Try these foolproof recipes using the healthiest, most sustainable fish and follow the fish-buying guidelines and you will never have to throw your meal overboard.
Cod
With 15 grams of high-quality protein per 3-ounce serving, cod is awesome muscle fuel. Cast your line for this swimmer and you'll reel in a range of must-have nutrients, including phosphorus, selenium and potassium, as well as B6, which plays an essential role in dozens of enzymatic reactions in the body.
ECo-Smart: The most ocean-friendly choice is Pacific wild cod from icy Alaskan waters where measures are taken to prevent overfishing and the use of destructive fishing methods. Take a hard pass on Atlantic cod, which suffer from depleted stocks and which are permitted to be caught with high amounts of by catch — fish or other marine species that are caught unintentionally with the target fish — which is often allowed to die and be discarded.
In the Kitchen: When it comes to cooking delicate fish like cod, it's full-steam ahead. The liquid below your fish vaporizes, carrying heat to your meal and cooking it quickly but gently. Gussy up your steaming water with flavoring agents like citrus zest, ginger and herbs.
Bait-and-Switch: Good substitutes for cod are Pacific halibut, sole, lingcod, U.S. catfish, U.S. tilapia, barramundi and sablefish.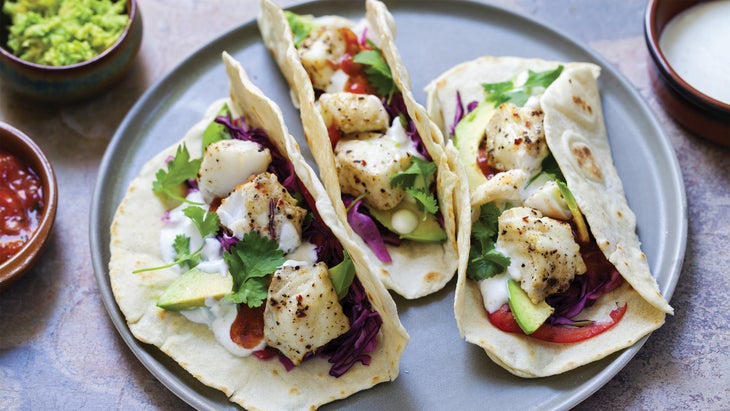 Cod Tacos With Strawberry Salsa
Hands-On Time: 20 Minutes
Cook Time: 7 Minutes
Makes: 4 Servings
INGREDIENTS
1 cup hulled strawberries, diced
1 yellow or orange bell pepper, diced
1 jalapeño or serrano pepper, seeded and chopped
½ small red onion, chopped
1/3 cup chopped basil or mint
juice of ½ lemon
1 cup water
1 tsp orange zest
juice of 1 orange
3 garlic cloves, peeled and smashed
1-inch piece ginger, peeled and sliced
1¼ lb Pacific cod
¼ tsp salt, plus a couple of pinches
¼ tsp black pepper
¼ tsp cayenne
8 corn tortillas, warmed
½ cup sour cream
DIRECTIONS
In a large bowl, toss together strawberries, bell peppers, chili peppers, red onions, basil/mint, lemon juice and couple of pinches salt. Cover and refrigerate at least 30 minutes. To a medium-size pan or pot, add water, orange zest, orange juice, garlic and ginger. Line a steamer tray with parchment paper. Arrange fish fillets on tray and season with salt, pepper and cayenne. Set tray in pan/pot, making sure it rests above the liquid, then cover tightly. Bring liquid to a boil and steam until cod is just barely cooked through in the center, about 7 minutes. (Alternately, steam fish in an electric steamer.) Transfer steamed fish to a cutting board and allow to cool, then gently break flesh apart into 1-inch pieces. To serve, place cod on tortillas and top with strawberry salsa and dollops of sour cream.
Nutrition Facts (per serving): calories 288, fat 4 g, carbs 34 g, fiber 4 g, sugar 7 g, protein 30 g, sodium 283 mg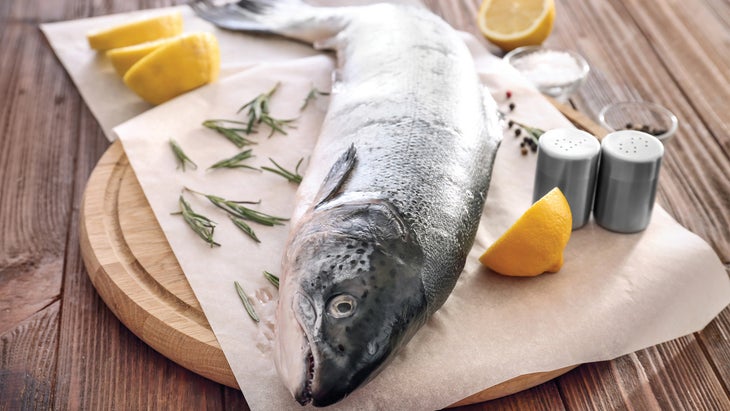 Trout
Rainbow trout has a mild taste and is a good swap for people who find salmon too "fishy." Its rosy flesh is a top-notch source of omega-3 fats, which research shows can slash the risk for diabetes and heart disease. A palm-size serving of trout also gives you a quarter of your daily need for phosphorus, an important building block of strong bones. And since it's a smaller fish, the risk of ingesting too many contaminants like mercury is low.
Eco-Smart: The trout you buy is almost certainly farmed, but fret not. The land-based tanks and raceways (man-made channels of flowing water used to mimic natural habitats) employed by most North American trout farmers cause fewer environmental woes than oceanic farming, which tends to sully wild waters with fish waste and which spreads diseases to wild fish populations.
In the Kitchen: One of the great worries about working with fish like trout and salmon is the fear of overcooking. Using lower cooking temperatures in the oven increases the time it takes to cook the fish, which means you can keep closer tabs on it, and the end result is a delicate texture and juicier meat.
Bait-and-Switch: Use trout in place of wild salmon and arctic char.
Recipe Hack: Use the leftover almond sauce on grain bowls, or thin it with some olive oil and use it as a salad dressing.
Trout With Herbed Almond Sauce
Hands-On Time: 15 Minutes
Cook Time: 15 Minutes
Makes: 4 Servings
INGREDIENTS
1/3 cup unsalted roasted almonds
¼ cup buttermilk (or milk)
½ cup plain Greek yogurt
1 shallot, chopped
1 cup baby spinach
1 cup parsley
1/3 cup fresh mint
1 tsp lemon zest
1 tbsp fresh lemon juice
¼ tsp cayenne
¼ tsp salt
¼ tsp black pepper
1½ lb rainbow trout fillets
DIRECTIONS
Place almonds in a food processor and pulse into small pieces. Add buttermilk, yogurt, shallots, spinach, parsley, mint, lemon zest, lemon juice, cayenne and salt and process until smooth. Chill 30 minutes. Preheat oven to 300 F and line a baking sheet with parchment paper. Season trout with salt and pepper and place skin-side down on sheet. Bake 15 minutes, or until just barely cooked through in the thickest part of the flesh. Divide into servings and top with almond sauce.
Nutrition Facts (per serving): calories 334, fat 15 g, carbs 6 g, fiber 2 g, sugar 3 g, protein 42 g, sodium 262 mg
Rainbow trout is a good source of selenium, a trace mineral that promotes brain function, healthy immune system and fertility. When combined with vitamin e, selenium can act as an antioxidant to reduce the risk of cancer.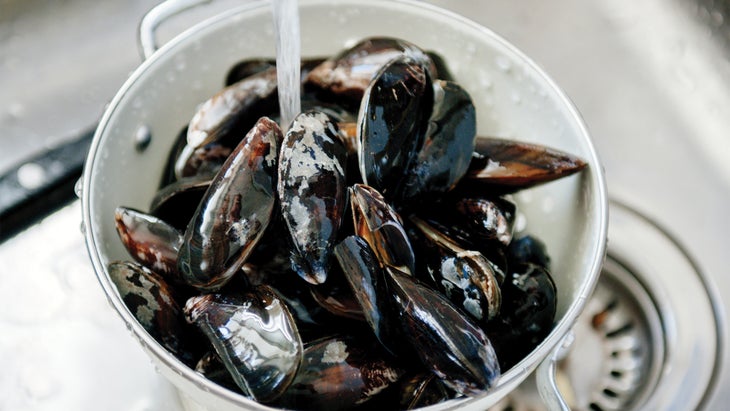 Mussels
Nutritionally, this poor man's oyster delivers a boatload of benefits, including quality protein, omega-3 fats and selenium. They also contain vitamin B12, which is vital for the health of your nervous system.
Eco-Smart: Farmed mussels are sustainable superstars with zero input aquaculture. Unlike farmed shrimp or salmon, which can require tons of feed and antibiotics to grow, mussels don't need food or drugs. Moreover, they filter particulates from the water, actually making it cleaner, and don't mind being packed tightly together so you can grow a lot of nutrition in a very small space.
In the Kitchen: Some people consider mussels a restaurant dish, but unlike most seafood, they are cheap and nearly foolproof to prepare. Most mussels are sold debearded and pre-cleaned to minimize teeth-rattling grit, and they keep well for a couple of days in your refrigerator in a bowl and covered with a damp paper towel. They're sold alive, so never keep them in a plastic bag, which suffocates them.
Bait-and-Switch: Use clams or cockles in place of mussels.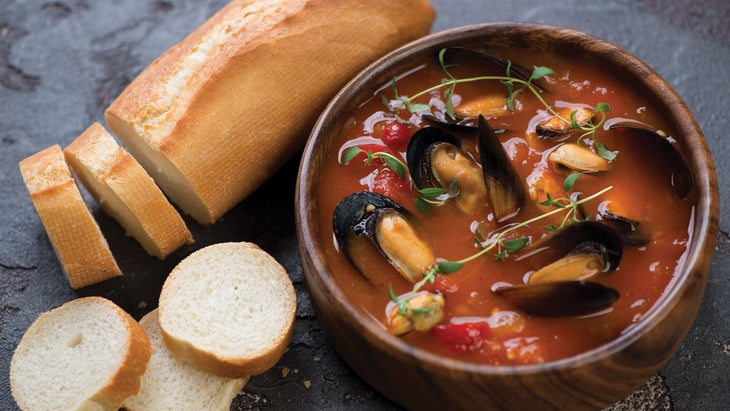 Italian Mussel Soup
Hands-On Time: 30 Minutes
Cook Time: 40 Minutes
Makes: 4 Servings
INGREDIENTS
1 cup farro
4 cups water, divided
½ tsp salt, divided
1 tbsp olive oil
1 tbsp unsalted butter
1 medium yellow onion, chopped
1 large carrot, chopped
2 garlic cloves, thinly sliced
1 tsp fennel seeds
½ tsp red chili flakes
¼ tsp black pepper
1 cup dry white wine
1 (28 oz) can fire-roasted tomatoes
1 tbsp fresh thyme
2 lb mussels
2 tbsp red wine vinegar
¼ cup sliced Kalamata or black olives (optional)
1/3 cup flat-leaf parsley, coarsely chopped
DIRECTIONS
Bring farro, 3 cups water and ¼ teaspoon salt to a boil. Reduce heat to medium-low, cover and simmer 25 minutes, or until grains are al dente. Drain excess liquid. Heat oil and butter in a large saucepan over medium heat. Add onions and carrots and cook until soft, about 5 minutes. Add garlic and heat 1 minute. Add fennel, red chili flakes, remaining salt and black pepper and heat 30 seconds. Add wine, bring to a boil and simmer 3 minutes. Add tomatoes, 1 cup water and thyme. Bring again to a boil, then add mussels. Reduce heat to medium, cover and cook 3 minutes, or until shells pop open. Use a slotted spoon to remove mussels from soup; discard any that have not opened. Stir farro, red wine vinegar and olives (if using) into soup. Remove mussels from shells and add flesh and their juices to soup. Serve garnished with parsley.
Nutrition Facts (per serving): calories 515, fat 12 g, carbs 47 g, fiber 9 g, sugar 5 g, protein 42 g, sodium 726 mg
Catfish
More flavorful than tilapia, the under-appreciated catfish has a mere 130 calories per 3-ounce serving, making it very waistline-friendly. Nutritional perks include vitamin B12, selenium and phosphorus as well as thiamine, which is
vital for your metabolism.
Eco-Smart: According to the Monterey Bay Aquarium Seafood Watch program, U.S. farmed catfish is a green-light choice because indoor farming tanks minimize environmental impact. Wild blue catfish caught in the Chesapeake Bay is also a good choice, but send imported catfish from Asia overboard because of questionable farming methods.
In the Kitchen: A quick braise helps keep delicate catfish fillets tender and moist, and greatly reduces the chances of overcooking it into rubber. This is harder to do with direct heating methods like pan-searing.
Bait-and-Switch: Use cod, lingcod, Pacific halibut, sole, U.S. tilapia, barramundi or sablefish in place of catfish.
Salsa Verde Braised Catfish
Hands-On Time: 20 Minutes
Cook Time: 35 Minutes
Makes: 4 Servings
INGREDIENTS
1 cup long-grain brown rice
2 tsp grapeseed or canola oil
1 cup white onions, thinly sliced
¼ tsp salt
2 garlic cloves, minced
½ tsp cumin
¼ tsp black pepper
1 cup low-sodium chicken broth
1½ cups salsa verde
4 (4-6 oz) catfish fillets
juice of ½ lime
¼ cup unsalted roasted pumpkin seeds (pepitas)
½ cup cilantro, chopped
DIRECTIONS
Cook rice according to package directions. Remove from heat, cover and set aside for 5 minutes, then fluff with a fork. Meanwhile, heat oil in a large heavy-bottom skillet. Add onions and salt and cook 4 minutes. Add garlic and cook 1 minute. Add cumin and black pepper and heat 30 seconds. Add broth and salsa verde and bring to a boil. Reduce heat and carefully place fish fillets in pan, spooning sauce over the top. Cover and simmer gently over low heat until fish is cooked through, flipping once, about 8 minutes. Squeeze lime juice over the top and remove from heat. Divide rice among plates and top with catfish. Spoon salsa verde sauce on top. Scatter on pumpkin seeds and cilantro.
Nutrition Facts (per serving): calories 478, fat 20 g, carbs 44 g, fiber 2 g, sugar 7 g, protein 28 g, sodium 636 mg
Tip: For a a fresher sauce, make your own salsa verde: Pulse together husked tomatillos, white onions, jalapeño peppers, garlic, cilantro, lime juice and a couple of pinches of salt in a food processor until chunky.
Salmon
There are very few sources of omega-3 fats that are better than salmon, and a recent study from Tufts University found that people are more likely to age without health problems and disabilities when they have higher blood levels of anti-inflammatory omega-3s. Salmon also contains plenty of vitamin D and astaxanthin (which gives it its rosy hue), which is being studied for its cancer-fighting properties. Bonus: The National Academies of Sciences, Engineering and Medicine names salmon the best omega-3-to-mercury-ratio fish of any option at the fishmonger.
Eco-Smart: Salmon farming is becoming more eco-friendly, but issues such as antibiotic use persist. When possible, opt for wild Alaskan salmon like chinook or sockeye. These species are healthy with no overfishing or notable contaminant risks. Feasting only on krill and tiny crustaceans, wild salmon also have a healthier fatty-acid profile than their farmed counterparts, and their rich, buttery flesh can't be beat.
In the Kitchen: Believe it or not, nuking your salmon is a guaranteed fast, delicious meal. Microwaving the fish in parchment packets traps steam to add moisture and promises meltingly tender flesh — without making your kitchen smell like low tide.
Bait-and-Switch: Try rainbow trout, arctic char or catfish in place of salmon.
Salmon Broccoli Parcels With Horseradish Sauce
Hands-On Time: 15 Minutes
Cook Time: 5 Minutes
Makes: 2 Servings
INGREDIENTS
1 cup red onions, sliced
3 cups broccoli florets, sliced
2 (5-6 oz) skinless salmon fillets
salt and pepper, to taste
1 medium orange, peeled and sliced into ½-inch rounds
¼ cup plain yogurt
1 tbsp prepared horseradish
2 tbsp finely chopped fresh dill
2 tsp creamy Dijon mustard
2 tsp cider vinegar
DIRECTIONS
Fold two 14-inch-by-18-inch sheets of parchment paper in half. Open sheets and place equal amounts of red onions and broccoli on one side of each sheet. Place salmon on top of vegetables and season with salt and pepper (to taste). Top with orange slices. Fold parchment sheet over fish and vegetables and crimp shut. Microwave packets on high for 5 minutes. Open a corner to check that salmon is cooked through in the thickest part. If not, microwave in 30-second intervals until cooked. Let packets rest, sealed, 5 minutes. In a small bowl, whisk together yogurt, horseradish, dill, mustard and cider vinegar. Open packets and serve fish topped with horseradish sauce.
Nutrition Facts (per serving): calories 361, fat 13 g, carbs 25 g, fiber 6 g, sugar 14 g, protein 37 g, sodium 159 mg