7 Smart and Healthy BBQ Swaps
Transform your end-of-summer barbecue menu with these healthy swaps guests will love.
Heading out the door? Read this article on the new Outside+ app available now on iOS devices for members! Download the app.
As summer winds down, there seem to be a lot of "lasts" — the last few carefree days before school starts, the last of the warm weather and sunshine, and the last barbecue of the season.
Whether you're hosting a Labor Day barbecue or bringing a dish to someone else's party, you'll want the meal to be as unforgettable as the summer memories you're leaving behind. How about giving the same old menu a healthy twist without taking away the yummy traditions guests expect?
"Food triggers an emotional response for many of us, especially on holidays and family gatherings," says April Dearden, a certified nutritionist, wellness coach and author of 8 Weeks to Your New Normal Lifestyle: A Journal for Building Healthy Habits (BookBaby, 2014). "There is a comfort and familiarity that comes with the food at these events. Swapping out fats and sugars for herbs and spices creates dishes that are healthy yet don't leave us feeling deprived. My goal is to make dishes that look and feel like the original version but are so full of flavor that people won't even know it's healthy — because it's just delicious."
Below, Dearden shares her recipes for revamping your entire menu — from side dishes to desserts.
Ditch Mayo-Based Coleslaw and Switch to: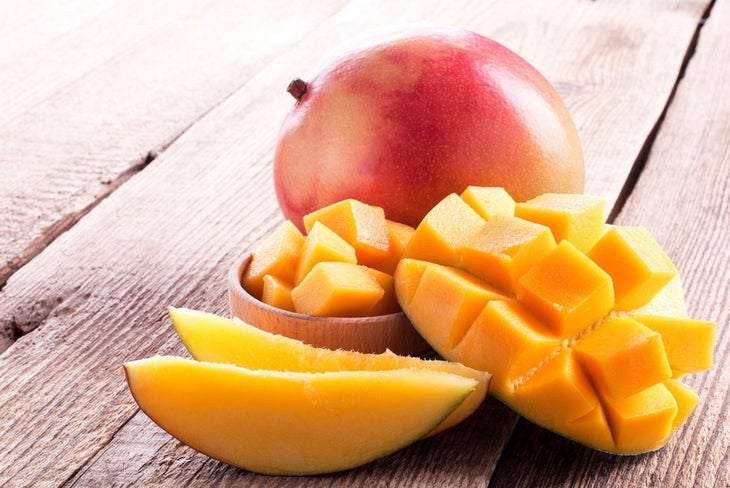 Mango Slaw
The main ingredients of a good slaw are so healthy — shaved cabbage, broccoli and carrots are high in fiber, vitamins and minerals. But then you go and mix in mayonnaise, which not only can add extra calories to your dish, but it also doesn't keep well in the heat. No host wants to risk a guest becoming ill. Instead, mango slaw is made with a delicious vinaigrette. You'll get a hint of sweet from the mango and a little heat from the jalapeño.
INGREDIENTS
1 bag pre-cut slaw with broccoli
1 mango, cut into slices
½ red onion, sliced thin
1 jalapeño, sliced thin
¼ cup cilantro, chopped
Dressing
¼ cup olive oil
¼ cup apple cider vinegar
splash of water
1 tbsp Dijon mustard
DIRECTIONS
Place all salad ingredients into bowl. Pour dressing ingredients in small Mason jar and shake. Then pour dressing over ingredients and toss. Let sit 10 to 20 minutes in refrigerator.
Ditch Iceberg Salad and Switch to:
Red, White and Blue Kale Salad
Don't be the person who tosses a bag of iceberg lettuce with some cucumbers and carrots, throws on some store-bought ranch dressing and calls it a day. This festive red, white and blue kale salad is perfect for Labor Day and loaded with nutrients from several superfoods. Kale's antioxidant value is more than three times higher than iceberg lettuce. It's high in vitamin K and iron. This anti-inflammatory also has cardiovascular benefits. Berries are another superfood that can help lower cholesterol, improve cardiovascular function and reduce inflammation. Feta cheese is lower in fat and calories than other cheeses. The small amount used in this salad allows for a little creamy texture without adding tons of calories. Just a squeeze of fresh lemon juice lets all the natural flavors in this salad shine.
INGREDIENTS
4 cups kale, chopped
2 cups strawberries
2 cups blueberries
½ cup feta cheese
juice of 1 lemon
salt and pepper, to taste
DIRECTIONS
Wash all produce under warm water. Pat dry with clean cloth. Remove spine from kale and chop into bite-size pieces. Remove stems from strawberries and cut in quarters. Crumble feta cheese. Add kale, strawberries, blueberries and feta to large bowl. Squeeze fresh lemon juice over salad. Sprinkle salt and pepper (to taste). Toss and serve.
Ditch Store-Bought Barbecue Sauce and Switch to: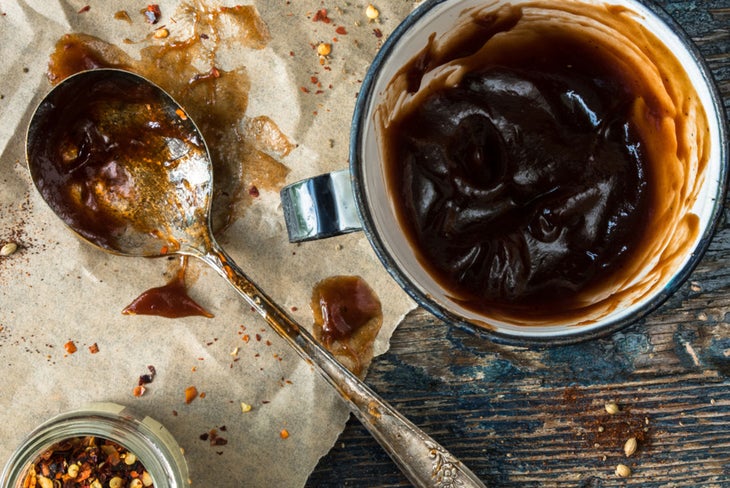 Homemade Barbecue Sauce
Store-bought barbecue sauce often has preservatives, added sugar and hydrogenated oils. But it's not a barbecue without a really good sauce! So take control of the ingredients and make your own in less than five minutes. This tangy sauce is sweetened with maple syrup. Be sure to use a high-quality maple syrup (not a pancake syrup, which is highly processed). Maple syrup is extracted from the tree and has been boiled down to concentrate the sugar. It has more nutrients than table sugar, and we'll only use 1 tablespoon in the entire recipe.
INGREDIENTS
6-oz can tomato paste
¾ cup balsamic vinegar
1 tsp kosher salt
1 tsp garlic powder
1 tsp onion powder
1 tsp smoked paprika
½ tsp pepper
1 tbsp Worcester sauce
1 tsp Dijon mustard
1 tbsp maple syrup
DIRECTIONS
Add all ingredients into medium bowl. Whisk together until well-combined. Coat your protein of choice and grill.
Ditch Potato Salad and Switch to: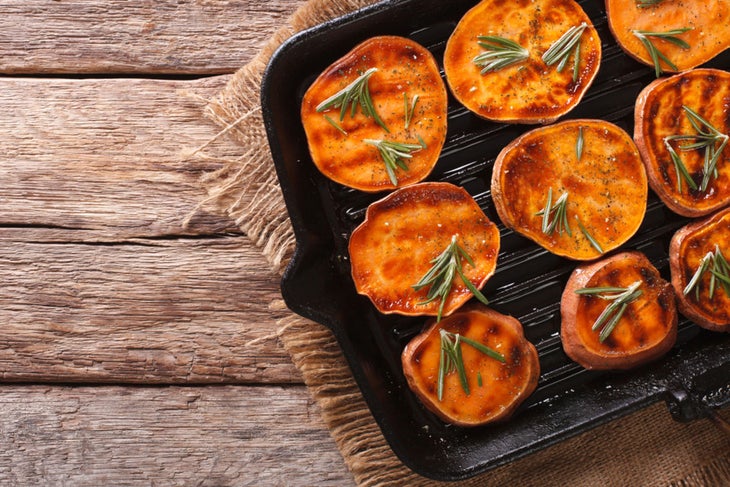 Grilled Sweet Potatoes
You'll always find potato salad on the table at a barbecue. Unfortunately, it's usually made with white potatoes and mayonnaise. White potatoes are high in sugar and therefore spike your blood sugar. Sweet potatoes, however, are lower on the glycemic index and are a superfood high in vitamin A, C and beta carotene and rich in fiber. They also can help boost your immune system. Throw them on the grill for a few minutes, toss with olive oil and you have a simple side even the kids will love.
INGREDIENTS
2 sweet potatoes
2 tbsp olive oil
2 tbsp fresh rosemary, chopped
salt and pepper, to taste
DIRECTIONS
Peel sweet potatoes. Using a mandolin or sharp knife, cut sweet potatoes into ¼-inch-thick wedges lengthwise to make ovals. Grill two to three minutes on each side until tender but not mushy. Remove from grill and toss with olive oil, rosemary, salt and pepper. Serve warm or at room temperature.
Ditch Baked Beans and Switch to:
Three-Bean Salad
Baked beans are a favorite barbecue item, but they are typically loaded with sugar (and fat if you add bacon). Swap baked beans for a delicious three-bean salad that's high in fiber and protein. This recipe has an Asian flair, with hot Chinese mustard, sesame oil and ginger. Ginger has anti-inflammatory and antioxidant properties. It's amazing for your digestive system — it can help with nausea, regularity and cramps. This salad is perfect as a side dish and great as a protein source for your vegetarian guests.
INGREDIENTS
15 ½-oz can black beans
15 ½-oz can red beans
15 ½-oz can garbanzo beans
3 scallions, chopped
¼ cup extra-virgin olive oil
⅓ cup white balsamic vinegar
2 tsp toasted sesame oil
1 tbsp Chinese style hot mustard
1 tsp dried Chinese ginger
2 tsp liquid aminos
2 tbsp water
DIRECTIONS
Drain and rinse beans. Add to medium-size bowl. Finely chop scallions, including greens. Add to beans. In small jar with tight lid or bowl, combine all remaining ingredients. Shake or whisk together. Pour ⅔ of the dressing (or to taste) over beans and scallions. Toss with large spoon. Reserve any remain dressing in refrigerator for up to a week.
Ditch Traditional Cookies and Switch to: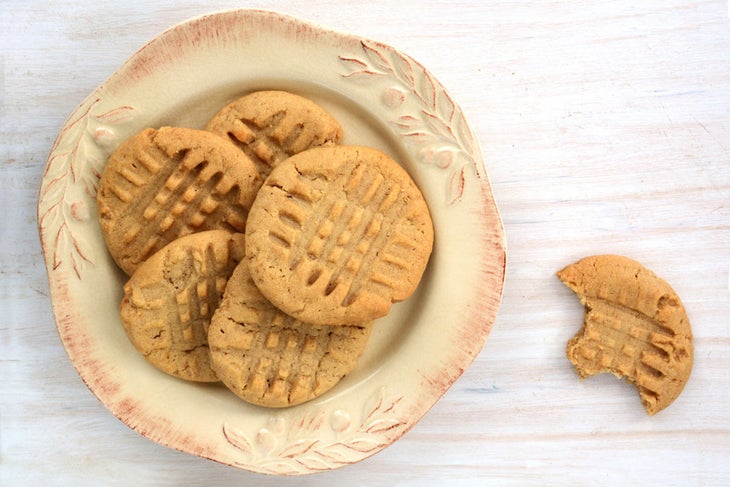 Flourless Peanut Butter Cookies
Cookies and brownies are full of refined sugar and white flour that gunk up your digestive system. White flour and sugar are metabolized at a faster rate and spike your blood sugar. They also lack any nutritional value. Swap out these high-sugar treats for flourless peanut butter cookies. A natural peanut butter (read the labels and find one with no added sugar) is a good source of protein and healthy fat. Refined table sugar has been replaced with coconut sugar, which is lower on the glycemic index and has added nutrients that regular table sugar is lacking.
INGREDIENTS
1 cup natural peanut butter (or nut butter of choice)
1 cup coconut sugar
1 large egg, slightly beaten
1 tsp vanilla extract
sea salt
DIRECTIONS
Preheat oven to 350 degrees. In medium bowl, mix peanut butter, coconut sugar, egg and vanilla until well-combined. Spoon 1 tablespoon of mixture about 1 inch apart onto ungreased baking sheet. Flatten mounds with tines of fork, making crosshatch pattern on cookies. Sprinkle with sea salt. Bake until golden brown around edges, about 15 minutes. Switch position of tray every five minutes. Transfer to cooling rack.
Ditch Beer and Wine and Switch to: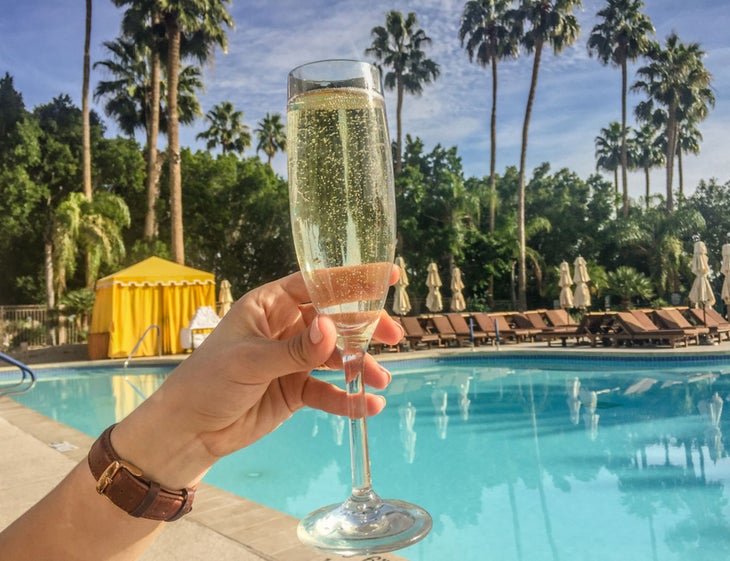 Prosecco Spritzer
Beer and wine go hand in hand at a barbecue — along with empty calories, sugar and carbohydrates. Here's an adult beverage that is refreshing and won't completely throw you off your game. Prosecco is lower in calories than most other alcohols. Cutting that even further with seltzer water helps reduce the sugar content in your cocktail, as well. Add in some fresh fruit and the juice of your favorite citrus for added flavor. Pour over ice and enjoy!
INGREDIENTS
1 bottle Prosecco
16 oz unsweetened seltzer water (can be flavored)
fresh-squeezed juice of 1 lemon, lime and orange
1 cup Granny Smith apple
1 cup frozen peaches
1 cup seedless red grapes
fresh mint for garnish
DIRECTIONS
Wash apples and grapes under warm water and pat dry with clean cloth. Core apple and cut into ¼-inch cubes. Add apples, grapes and frozen peaches to clear pitcher. Slowly pour Prosecco into pitcher. (If you tilt pitcher and pour Prosecco so it goes down the side of glass, it will keep bubbles from overflowing.) Add seltzer using the same technique as the Prosecco. Pour over ice and garnish with sprig of fresh mint.