Think Outside the Box
Did your Opens suck in February? You've got one more chance to change that for 2019.
Heading out the door? Read this article on the new Outside+ app available now on iOS devices for members! Download the app.
Over the last year, you've been building your squats, deadlifts and snatches and are now strong AF with all things barbell. Your PRs have never been better, and you're killing it in your daily WODs. Then the Opens roll around and Dave Castro, in typical malevolent form, chooses dumbbells as a primary resistance modality for several of the Open workouts, and suddenly it's as if you've never touched a weight and your scores are lame AF.
Whether you've got a shot at the CrossFit Games or are simply trying to better your ranking within your box or age group, it might behoove you to sideline the barbell for a few months in favor of alternative programming to gear up for round two of the Opens in October and have a shot at redemption.
Here is where The Oxygen Challenge 5 comes in.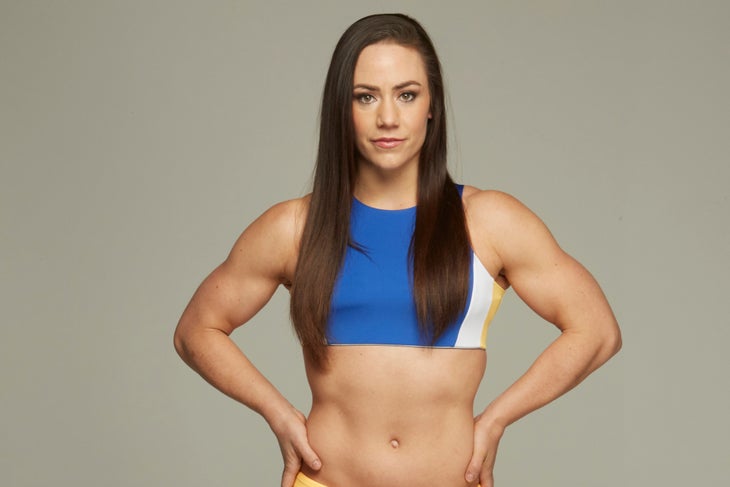 CrossFit Games champion and renowned coach Camille Leblanc-Bazinet has programmed 90 days of barbell-free CrossFit-style workouts to take your performance to the next level. Her video demonstrations are clear and concise, and what's more, these workouts can be done anywhere, making them the perfect take-along training WODs for your summertime travel.
Camille implements familiar equipment such as dumbbells, kettlebells, boxes and a jump rope, but she also uses bands and kick-ass bodyweight moves to reinforce and bulletproof your body's infrastructure. This ironclad framework is key to any and all barbell moves, and the stronger it is, the stronger you are.
She also provides you with more than 40 recipes using healthy, clean foods to fuel your training, build your strength and stamina, and increase your power output, all while maintaining a lean physique. These are recipes Camille uses herself — right now — as she endeavors to qualify for the Olympics in powerlifting.
Whether you choose to follow along with this program for 90 consecutive days or instead pepper these workouts throughout your week as supplemental training is up to you. Regardless, you're guaranteed to get stronger and more confident as you train alongside the Fittest Woman on Earth, and come October, you'll be ready for anything.
So bring it, Dave Castro.
Now in its fifth year, The Oxygen Challenge has helped thousands of participants all over the world transform their bodies and their lives. This summer, we are bringing you two of the most badass coaches of all time: lifetime athlete and CrossFit Games champion Camille Leblanc-Bazinet and All-American track competitor and body-positive trainer Amber Dodzweit Riposta.
So what are you waiting for? Start transforming your life and body now with this 90-day training and nutrition program designed exclusively for Oxygen — it's guaranteed to awaken your inner athlete, buoy your spirit and empower your life!