Cardio and Resistance Training: Water Workout
Take advantage of the warm end-of-summer weather with this pool-based routine.
Heading out the door? Read this article on the new Outside+ app available now on iOS devices for members! Download the app.
The kids are back to school, Labor Day has passed and pumpkin lattes are already making their seasonal appearance. But, according to your local weather forecast, it's still very much so summer outside. This never-ending heat can take a toll on your workout mojo and make it hard to find your stride.
So what's a girl to do? Don't sweat it. A pool-based exercise program is the perfect workout solution for these dog days of summer. And after you're done, you'll have no guilt about lounging on a raft and soaking up some rays.
Water Ways
Not only are water workouts a refreshing option, but they also offer plenty of other benefits.
"A water-based workout promotes weight loss, increased flexibility and range of motion, and better balance and posture. It also strengthens muscles and builds stamina," says Gretchen Spiridopoulos, an AFAA-certified personal trainer who holds water certifications from WaterArt, the National Exercise Trainers Association and the Aquatic Exercise Association, and she also works as a water aerobics instructor at Hilton Head Health. "It even protects the heart by lowering blood pressure."
Spiridopoulos lists other benefits, including the following:
Extra resistance. Think of any land aerobic or workout class and imagine doing the same routine in the water. The benefits are magnified because of the water's density, so you are actually working against the water.
Posture pleasing. Water is liberating. As soon as you walk into a pool, the water is helping to hold you erect and immediately you feel the benefit to your posture.
Less pressure. The impact of moves in water is so much less than on land, keeping your joints happy.
Feel good. Like all forms of exercise, water workouts also release endorphins, which assist oxygen flow to your muscles and help regulate your breathing.
Few restrictions. Water workouts work for everyone, from expectant moms to seniors and also those who are significantly overweight. That's why so many rehabilitation programs are done in the water. Plus, water workouts may even prevent many injuries in the first place.
Cross-training. As conditioning workouts in the water can be designed to work the entire body or specific segments, many professional athletes incorporate water workouts into their workout regimen.
For those who cannot swim or have a fear of the water, Spiridopoulos advises starting in very shallow water and getting used to moving in different depths over time. "Anyone new to water aerobics should just be mindful of the properties of water," she says. "The deeper the water, the less your body weighs. For those with injuries, advise your instructor or therapist so that modifications may be made."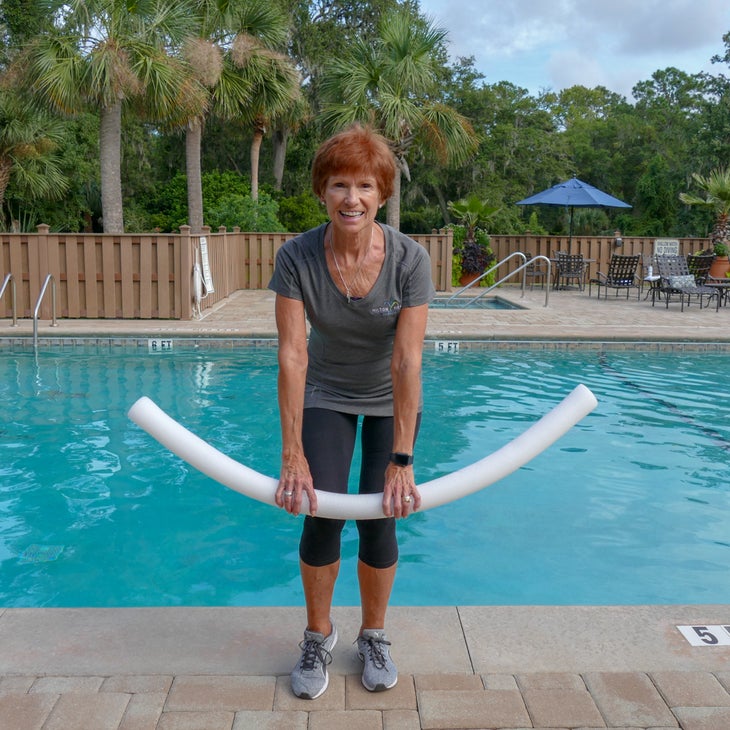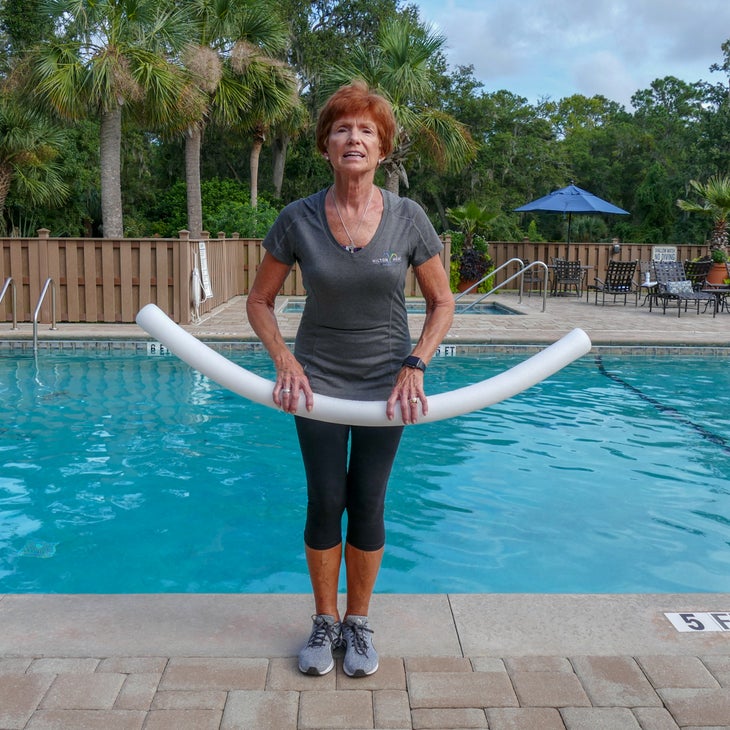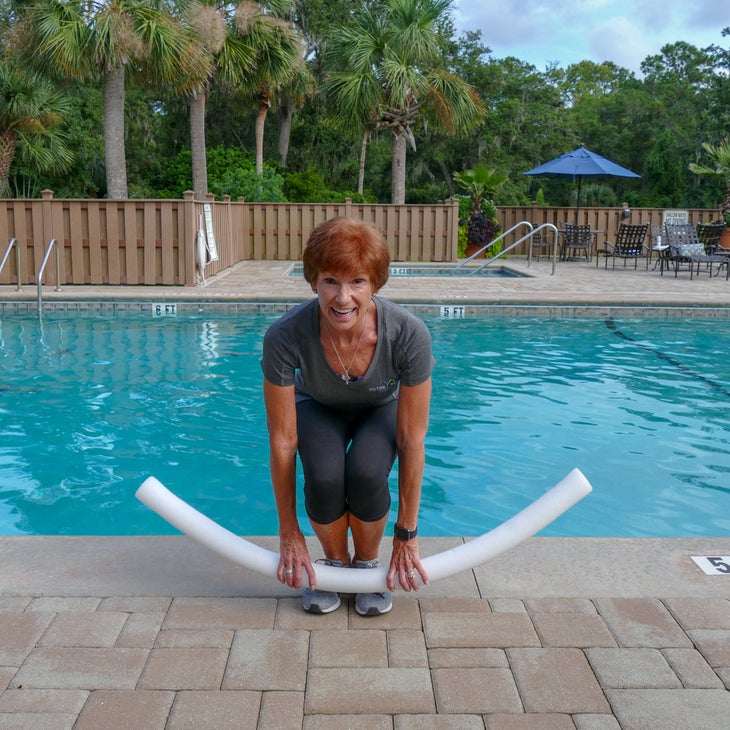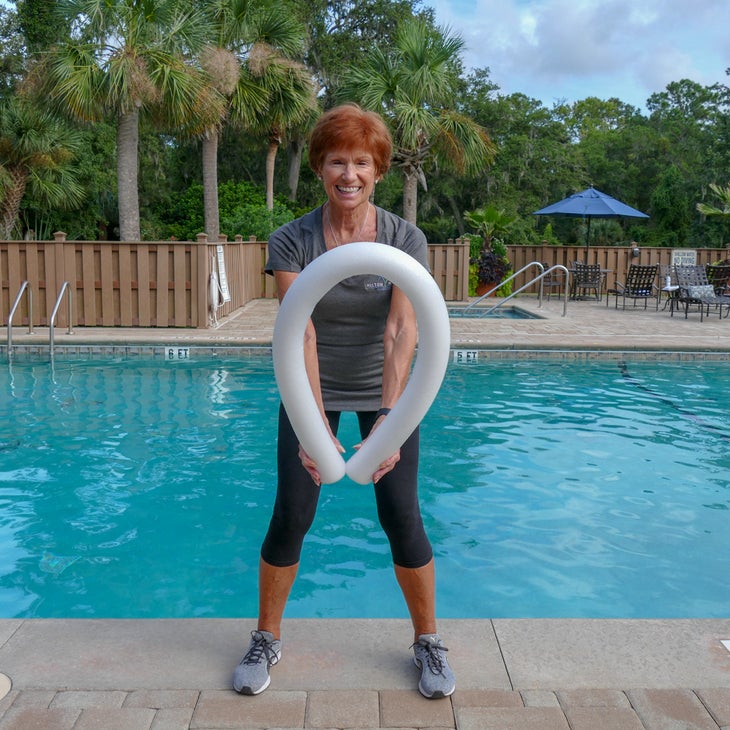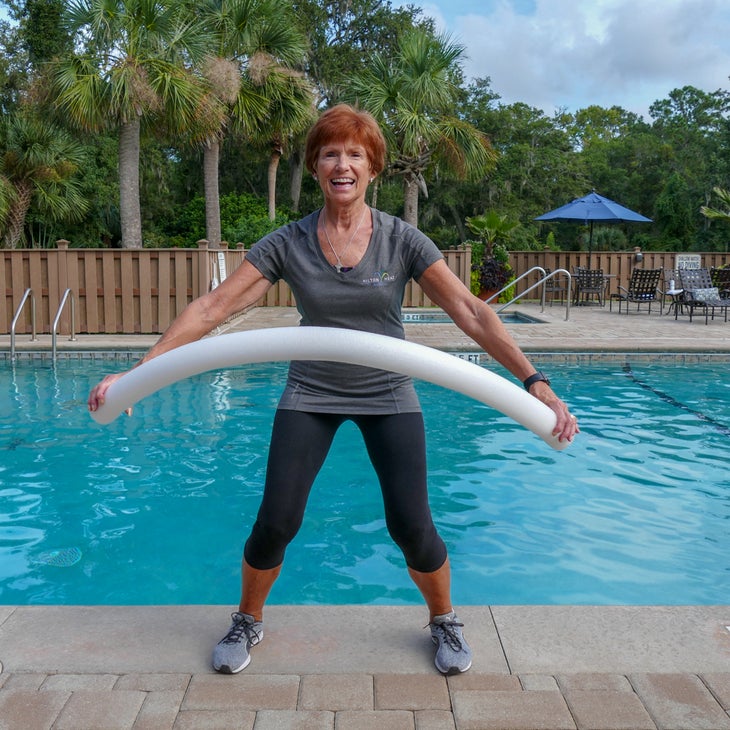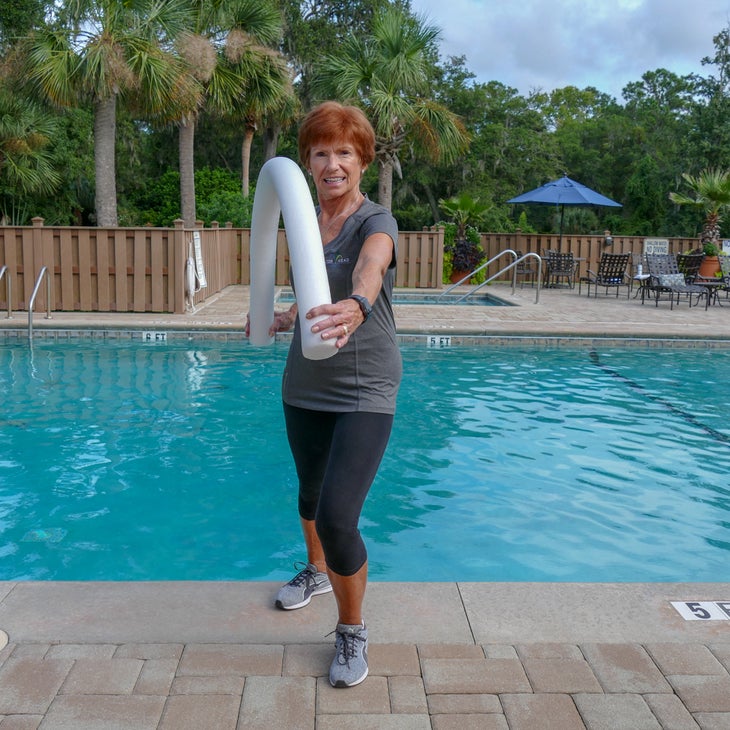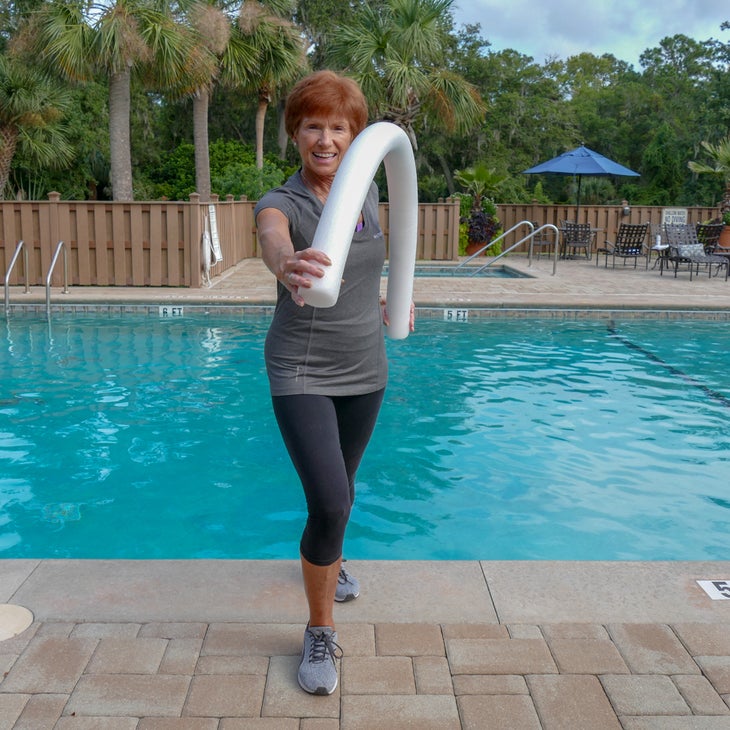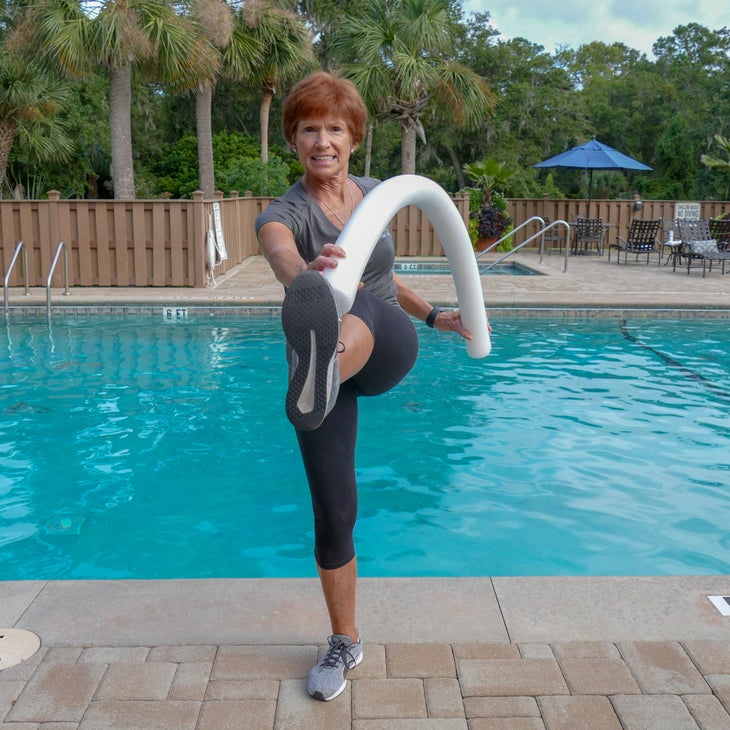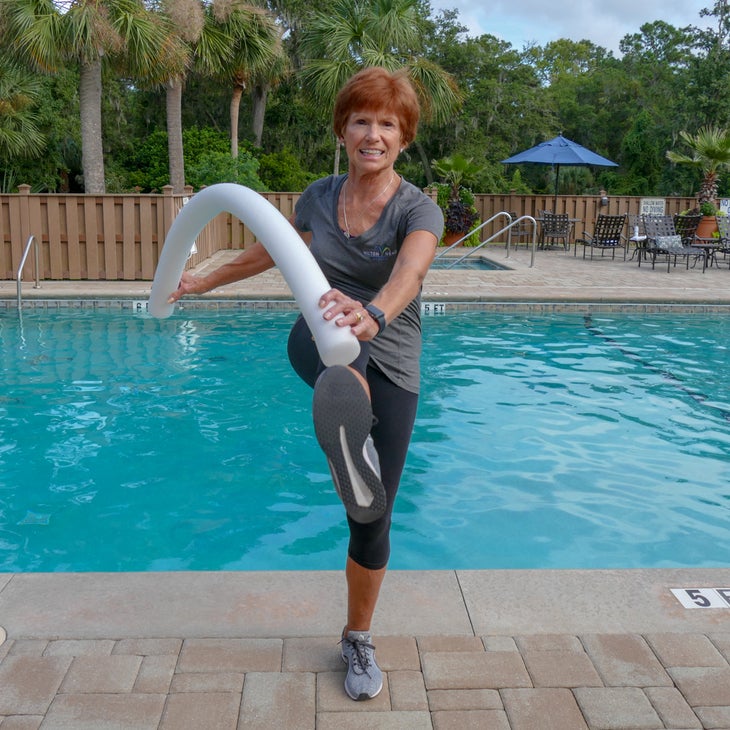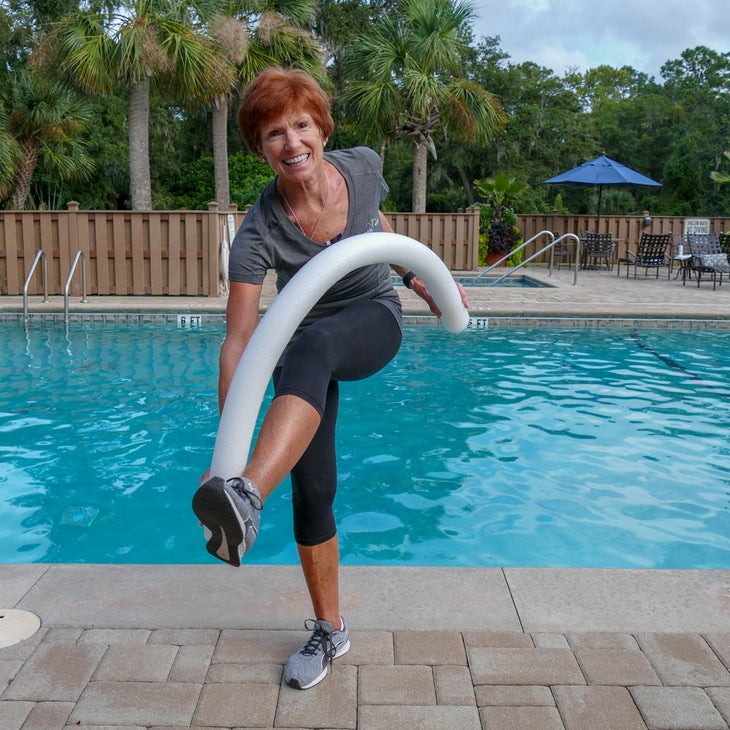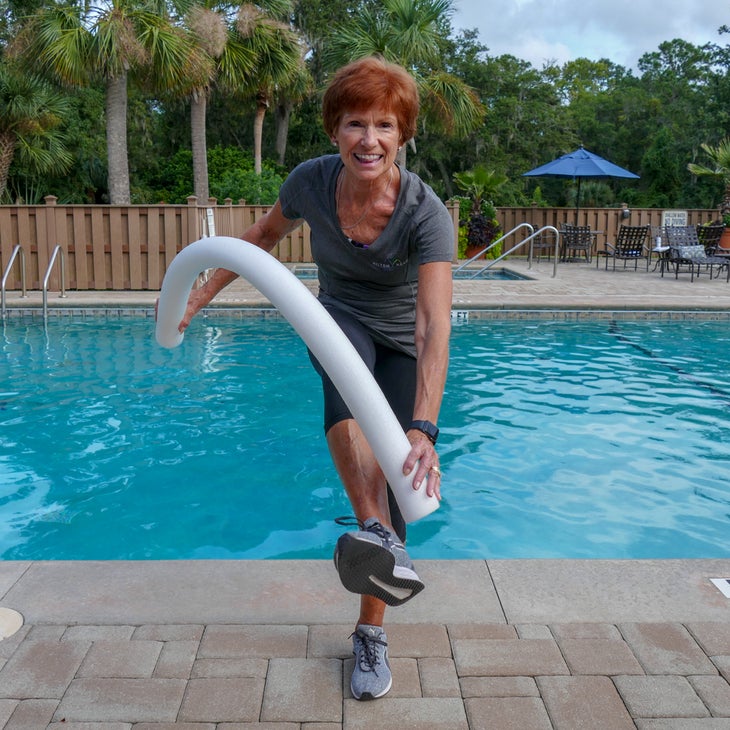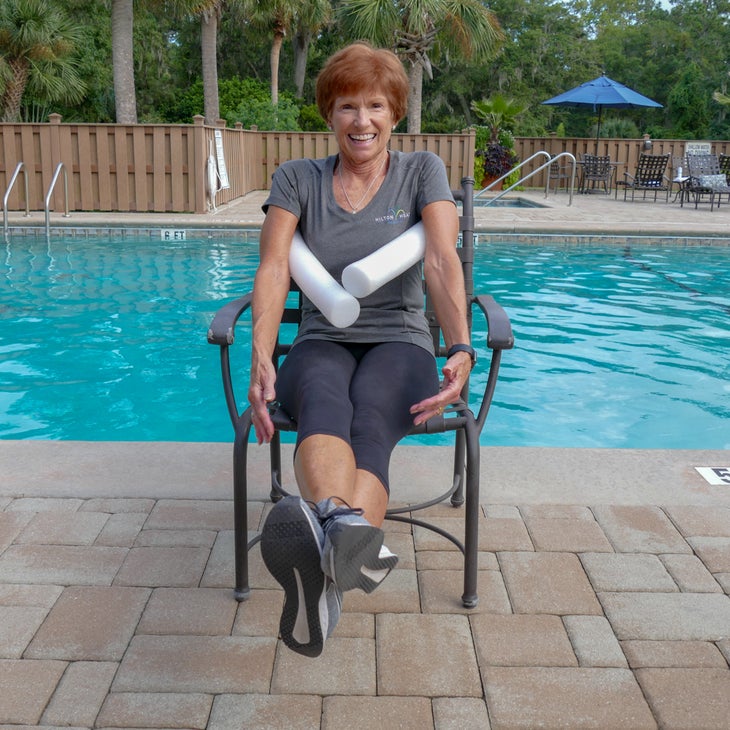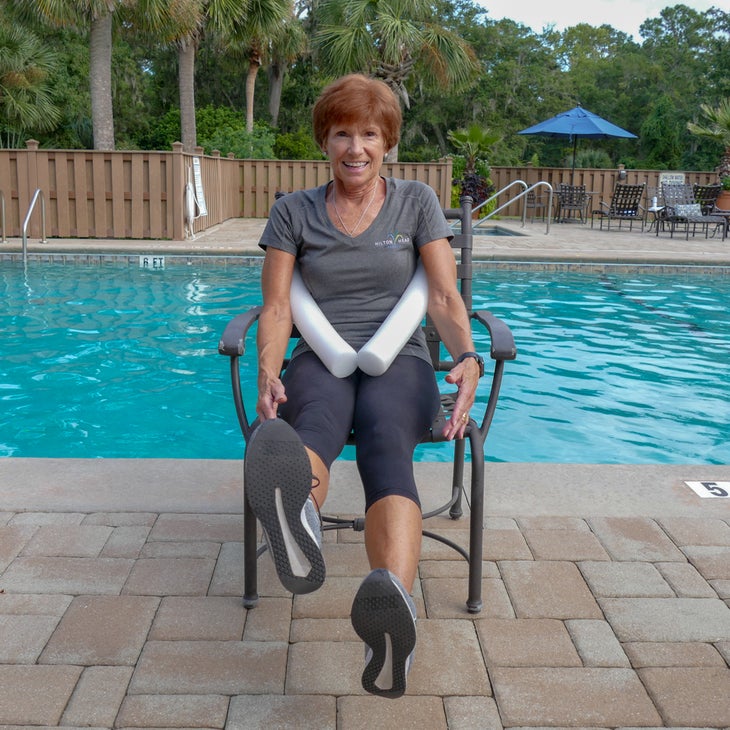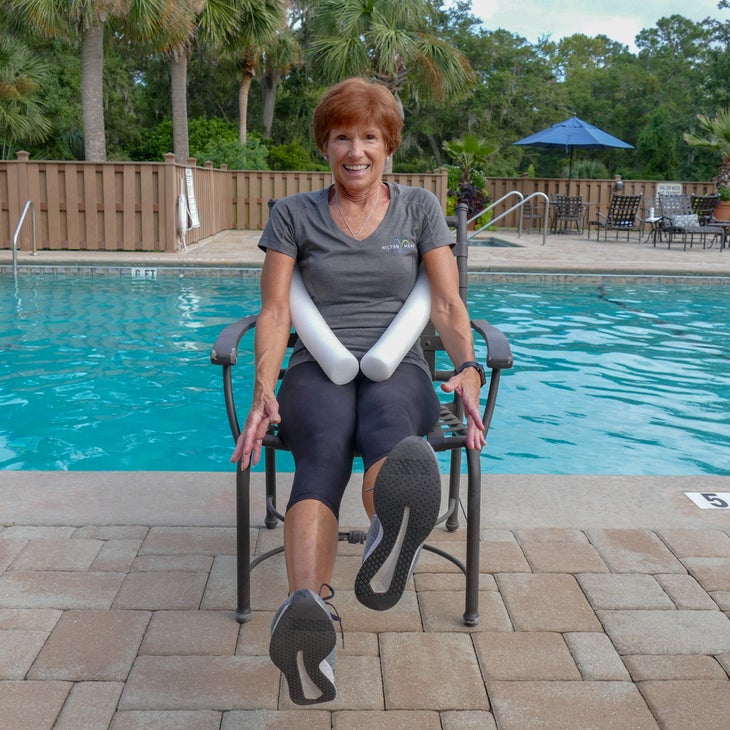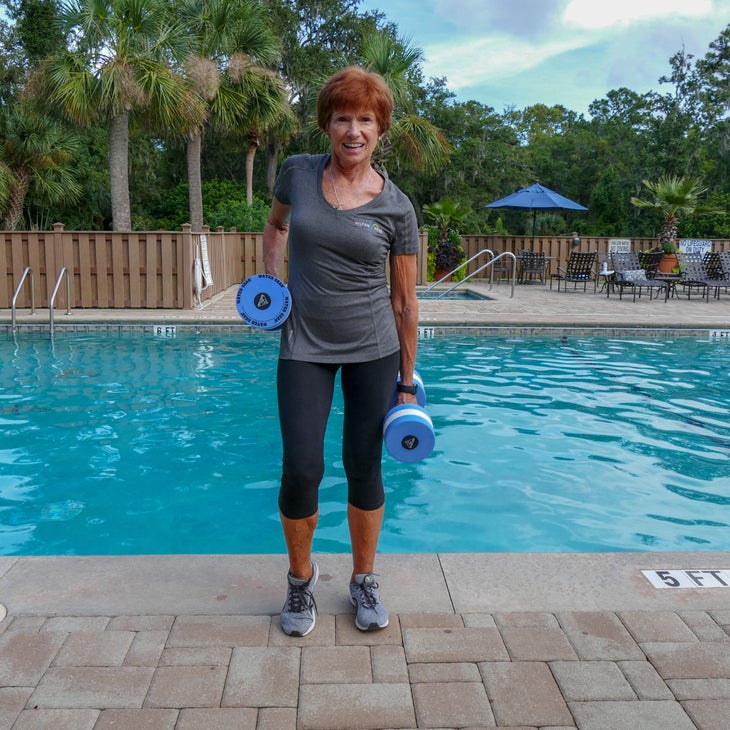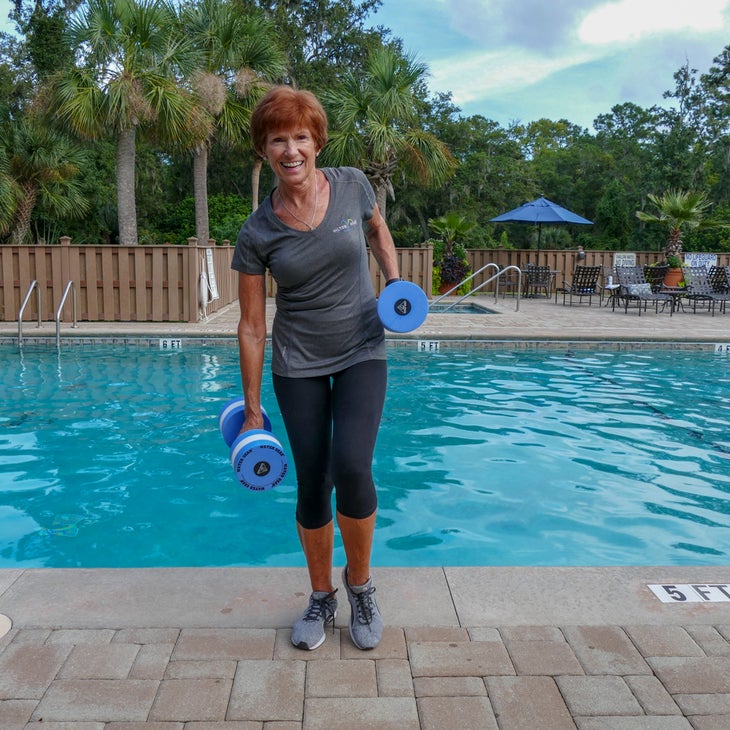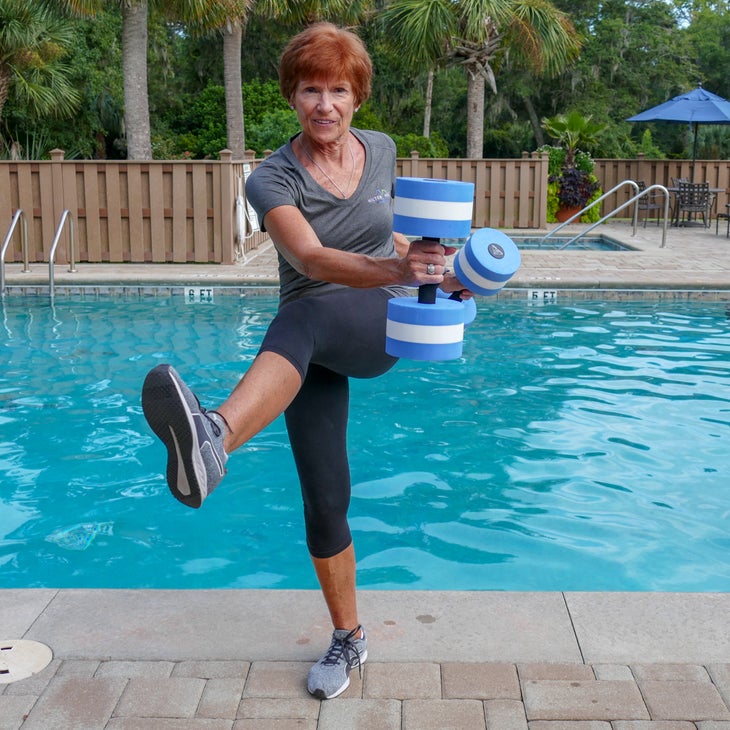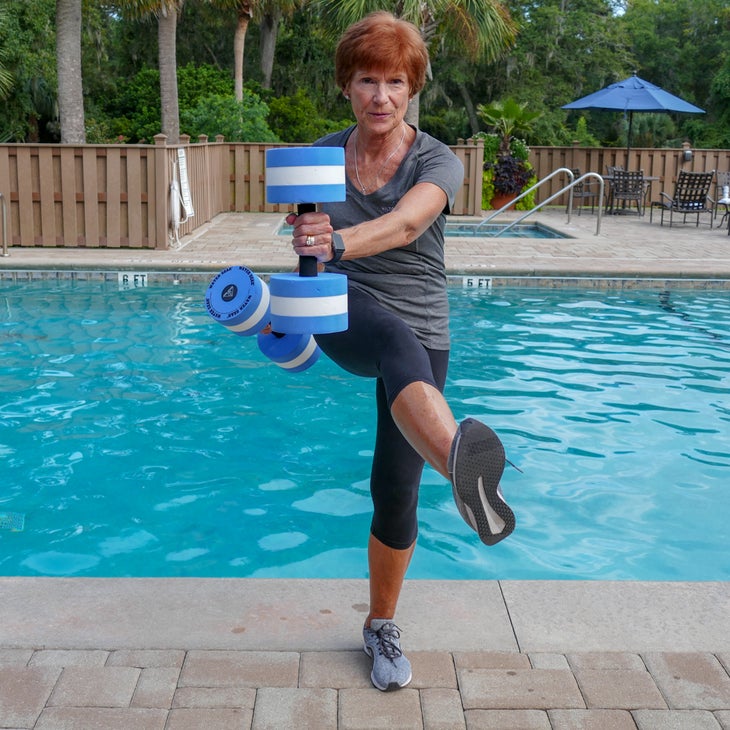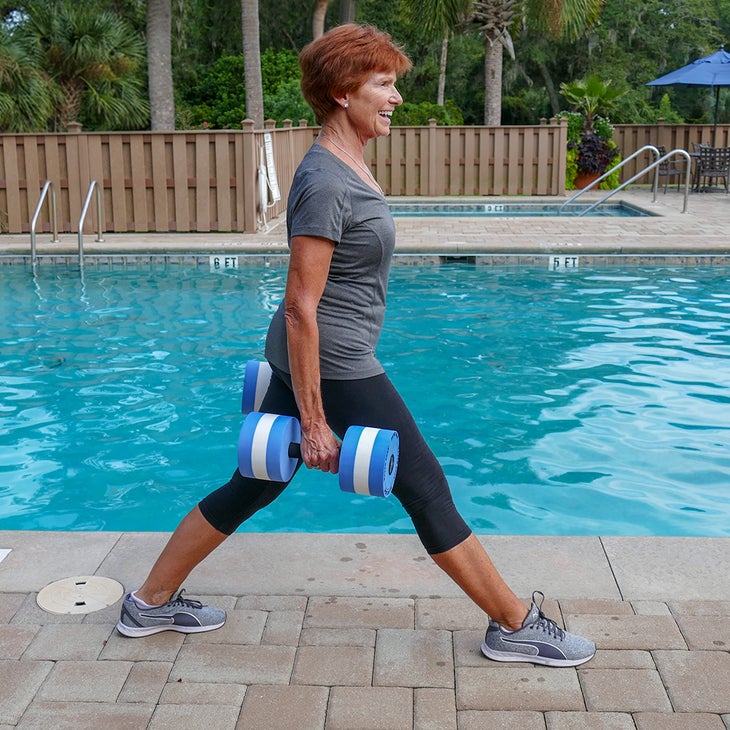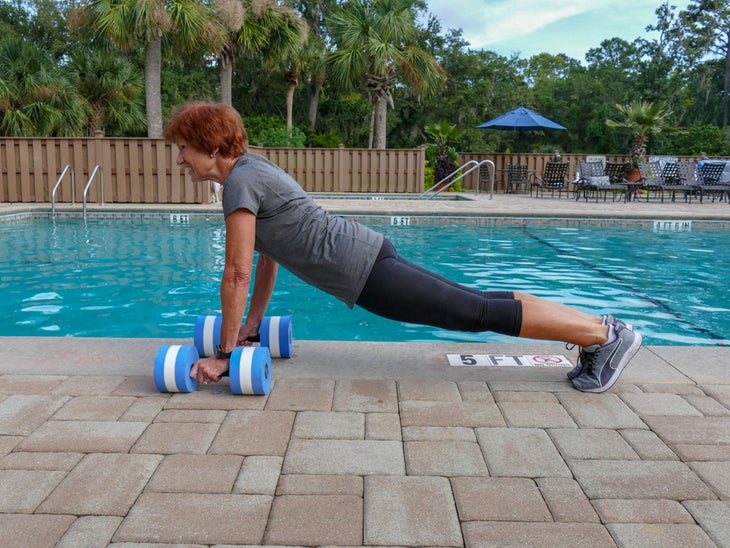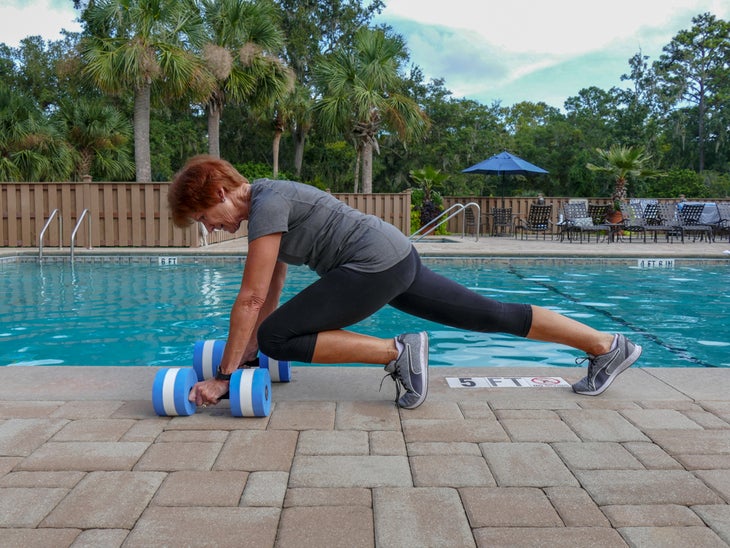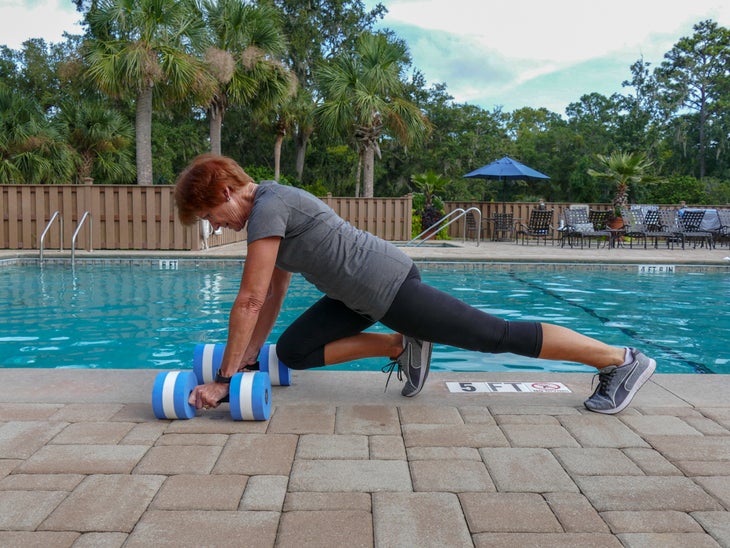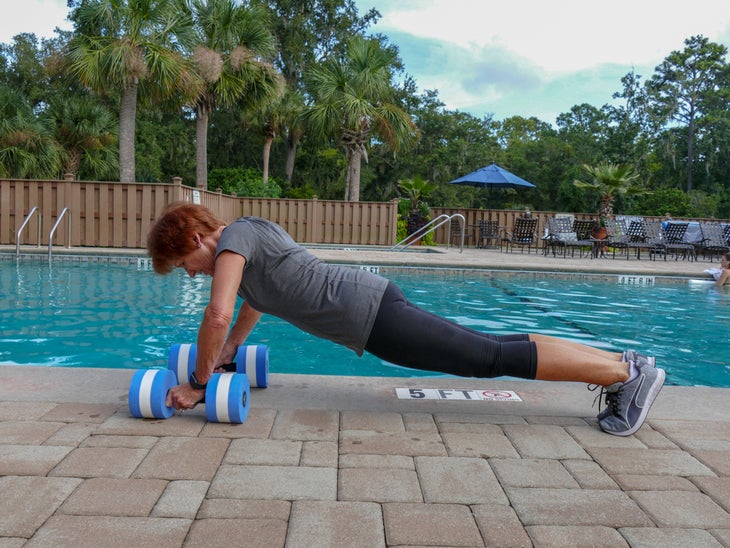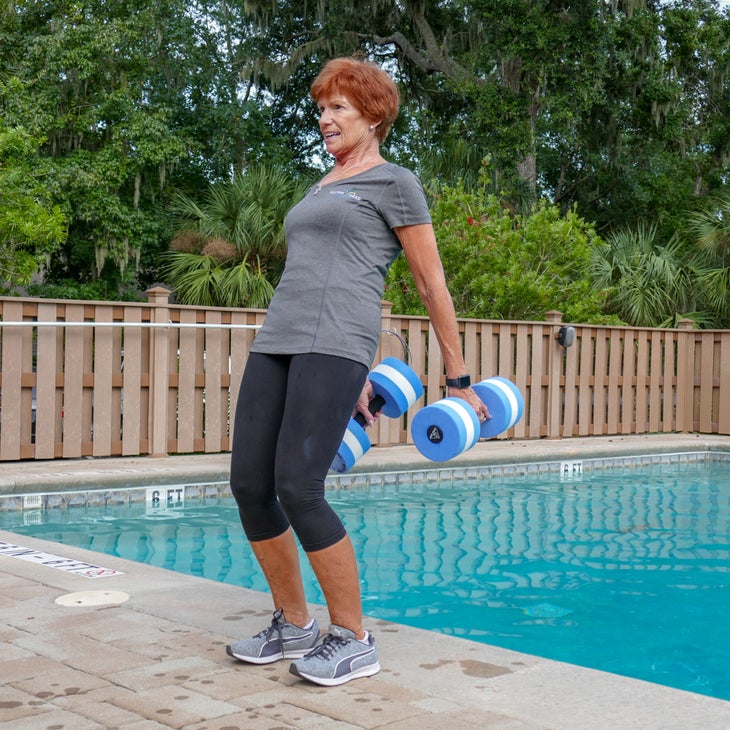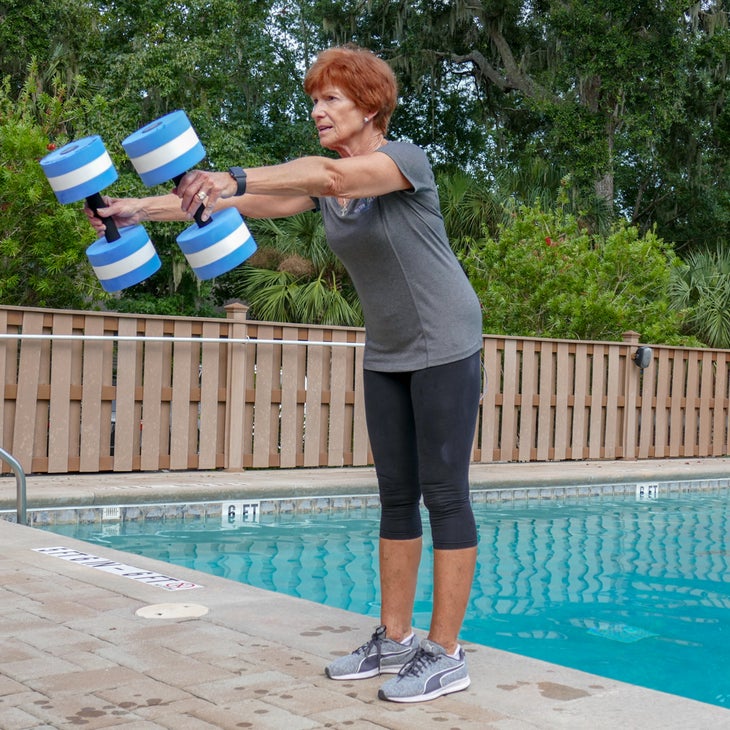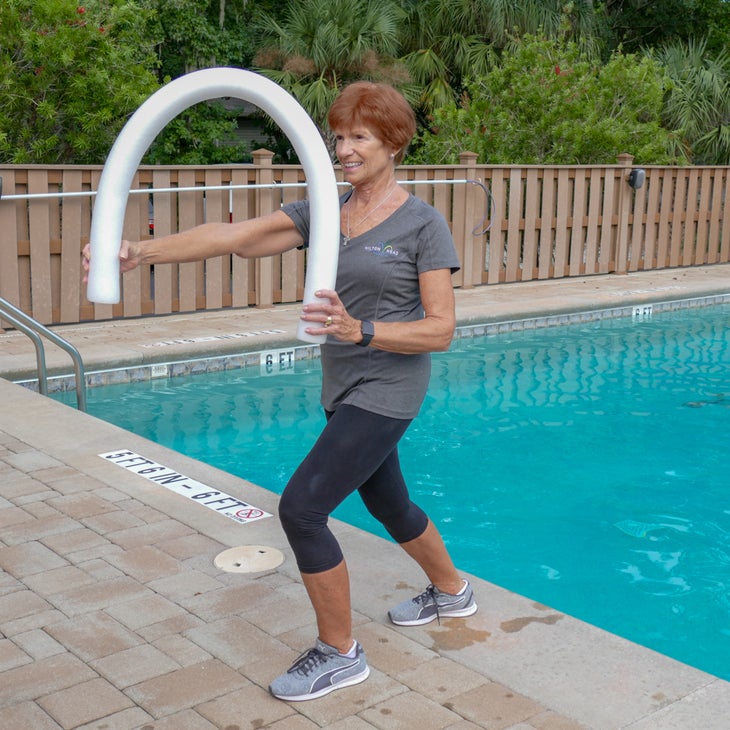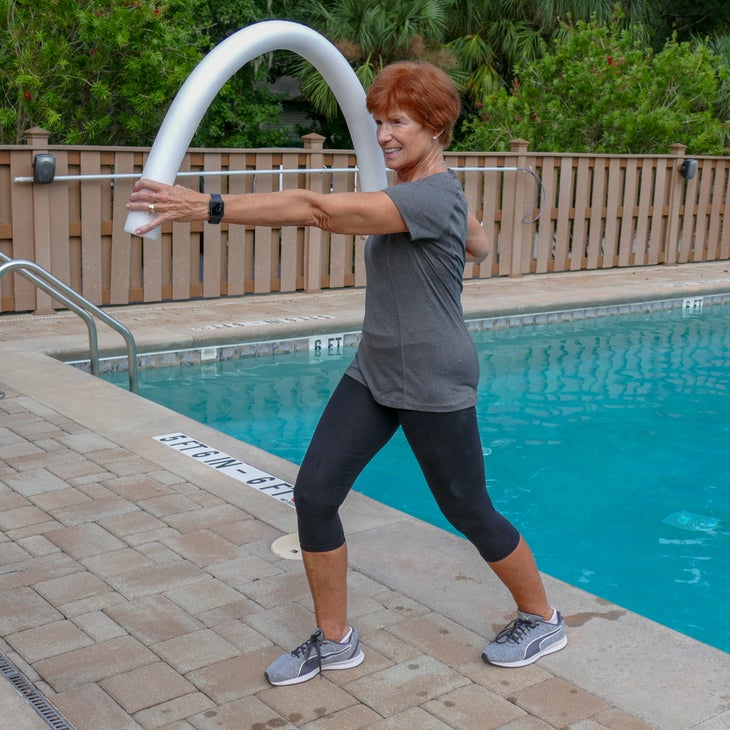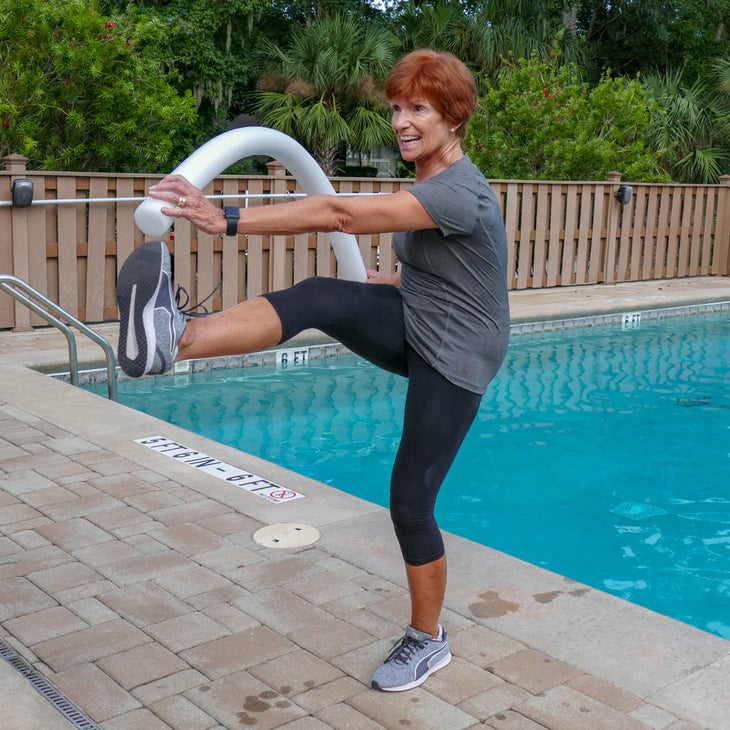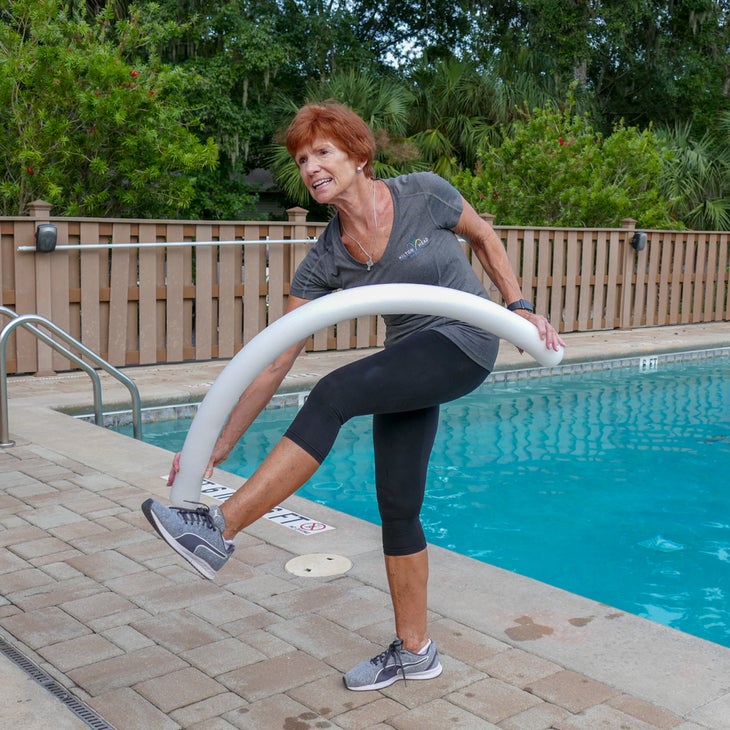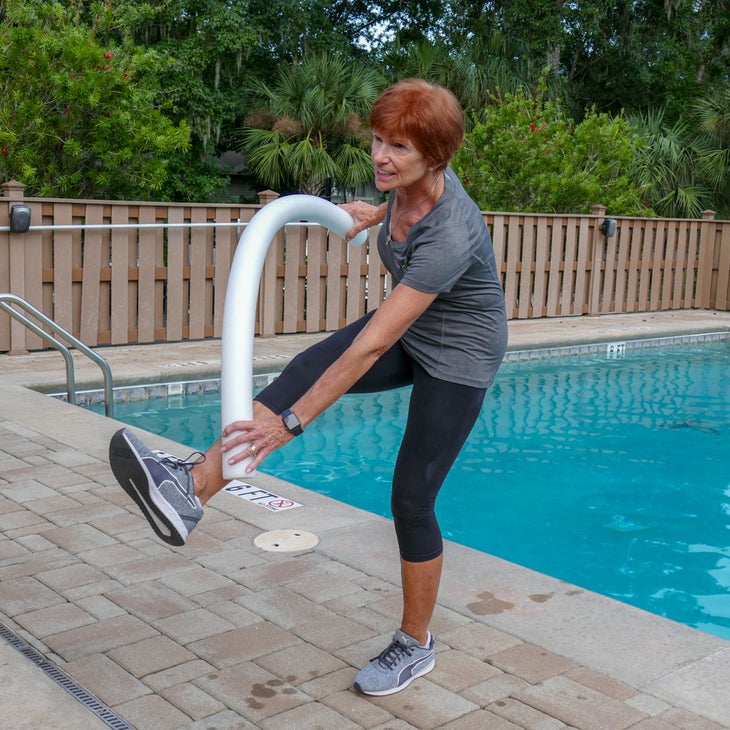 Sample Workout
Warm Up Into Cardio:
Jog across the pool without your arms assisting, forward and backward.
Jog across the pool with "breaststroke arms," forward and backward.
Jump hurdles across the pool.
Do straight leg kicks with alternating straight arms — done like a toy soldier with no bounce and/or as a Rockette!
Cross-country ski forward with straight arms, pushing your palms back, legs straight (but knees relaxed), feet flat (eight times).
Reverse direction, skiing backward with your palms pushing forward (eight times). Repeat twice.
Do jumping jacks with your arms pushing out and in (turn palms), legs straight but knees relaxed.
Take the jacks sideways across the pool (doubles the resistance).
Do jumping jacks into frog jacks.
Do jumping jacks into tucks (knees into chest between each jack landing).
With Noodles:
While jogging, push the noodle down in front of your body with both hands on the noodle shoulder-distance apart. Tuck-jump and touch your toes with the noodle.
Holding the noodle by the ends and using straight arms, push out and pull in beneath the water. Add jacks.
Holding the noodle by the ends, cross-country ski and twist torso.
High-kick your legs to touch the opposite end of the noodle, and low-kick your legs while pushing the noodle down to your opposite inner ankle.
Put the noodle behind your back and under your arms.
Crunches: Pull your legs up until they are straight out in front of your body. Tread your hands under your knees, which forces you to lean forward a bit. Then lift your feet up and let them go back down to water level. Use your core; do not lie back. Several iterations of these crunches include crossed ankles, feet shoulder-distance apart, slowly marching one foot at a time. Try to do at least 100 crunches.
With Water Weights:
While jogging, push weights down on your outer thighs, leaning into the pushdown (oblique work). Cross-punch (12 times) and add a cross-kick (24 times).
Holding weights down on your outer thighs, perform splits (suspended in water). Go at high speed, then stop midsplit for balance work, continue again.
Holding weights down in the water in front of your shoulders, perform a plank (body in a straight line, legs straight, pelvis pushed forward, toes gripping the floor) and do push-ups (12 times), then mountain climbers (20 times).
Then swing weights back while swinging your legs forward, ending on your back, then swing the weights forward and end on your tummy. Keep your arms and legs straight and core in tight. Repeat 10 times.
Cool-Down (10 minutes)
Plank: Hold weights together on top of the water, hands on top, arms straight out in front of your body at shoulder height, toes gripping the floor. Squeeze your entire core as you stand up slowly, maintaining a straight body (three times).
Suntan/Superman: Keep weights out to your sides at your shoulders, lie on your back (suntan), pull your knees in to your chest, tuck and roll to your tummy (Superman). Repeat twice.
While floating on your back: With weights out at your shoulders, pull both knees into your chest, then take both knees to the right and look over your left shoulder and hold for eight counts. Repeat on left.
Stretching: End with calf, hamstring, quad, biceps and triceps, and oblique stretches.