Nathalia Melo's Postpartum Workout and Nutrition Plan
Fitness expert and mother of two Nathalia Melo couldn't find a postpartum plan for moms who wanted to get strong — so she created one.
Heading out the door? Read this article on the new Outside+ app available now on iOS devices for members! Download the app.
Being strong has been a lifelong priority for NFPT-certified trainer and Bikini Olympia champion Nathalia Melo, who purchased her first gym membership at age 14. Of course, the Brazilian native continued to exercise throughout both of her pregnancies, which occurred just 14 months apart. Melo took courses in prenatal and postnatal training and used what she learned to make smart modifications to her workouts. "After I had my son, I was able to adjust my training and get back into shape fairly quickly — not because I just 'snapped back' but because I did the correct things," she says.
Other women noticed her remarkable rebound and began asking for advice. Melo quickly realized the marketplace was void of well-researched, expert-backed exercise programming for moms who actually cared about their health and fitness — and not just about aesthetics. And so was born the Mother Strong League.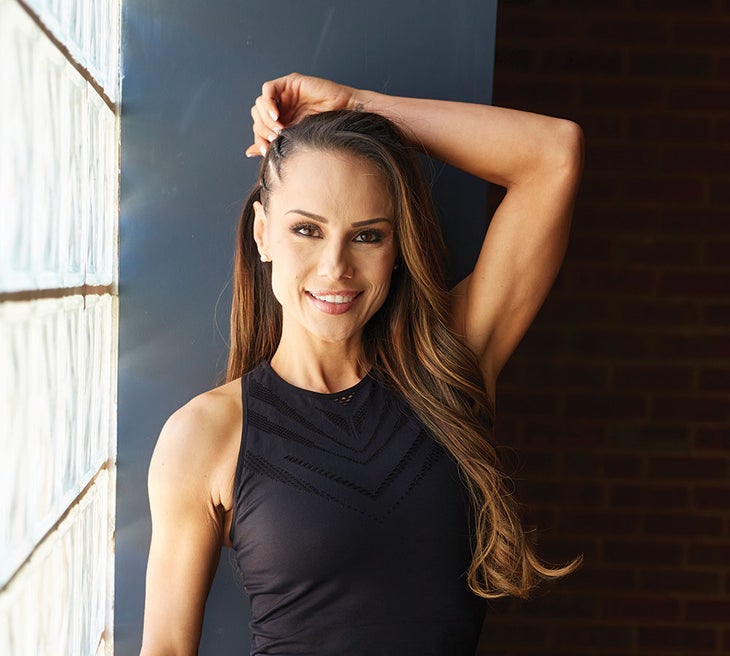 The Mother Strong League
Unlike many other postpartum nutrition and workout plans, the Mother Strong League doesn't take a one-size-fits-all approach. Detailed questionnaires help Melo's team — which includes pelvic floor specialists, OB-GYNs and other certified experts — decide which of the five program phases is most appropriate for an individual's needs. Factors such fitness goals, when the member gave birth, whether she's breast-feeding and pelvic health concerns determine the best approach for a specific member.
Once she joins, a member gradually works her way through the carefully programmed phases that best suit her needs. "When you're recovering from pregnancy, you're basically recovering from an injury," says Melo, who explains that the early program phases take more of a rehab approach and primarily deal with the pelvic floor and abdominal separation (diastasis recti). From there, the women progress safely and gradually, a progression that Melo notes is missing from most postpartum workouts, which often implement protocols such as high-impact exercise, aggressive abdominal workouts and calorie-restrictive diets. All these can have long-term negative effects on a woman's body as well as her self-esteem.
Postpartum Support
Melo learned from her own experience as a mom that her workouts had to be adaptable for her ever-changing body — as well as flexible and realistic. "I came from an 'intense or nothing' mentality, but after I had kids, I realized that that type of training wouldn't suit the life that I had now," Melo says. So she designed interchangeable, time-efficient workouts that could be done either at home or in the gym.
A restrictive diet plan didn't work for Melo postpartum, and therefore she knew it wouldn't work for her community either. "A lot of coaches tell you to eat six meals a day, but for women who have kids and who work, that isn't realistic or sustainable," she says. "I teach members how to create a meal plan that fits their lives and not the other way around."
Moreover, new moms and moms-to-be need support, and to that end, Melo is personally available to every member of her community. She hosts live Q&As on her Facebook page and answers every single question that's submitted. And though she admits her involvement has a tendency to take over her life, the personalization it affords her members is worth it. "I take a lot of pride in it," she says.
Energy Abounding
For Nathalia Melo, supplements play an important role in postpartum health. "Sleep-deprived moms are always asking me, 'How do you have the energy?' That's when I think supplements can play an important role," Melo says. She often recommends Dymatize PreW.O. for energy and ISO100 protein powder for fuel. "Women often struggle to reach their protein intake for the day, so that's when I encourage them to use a protein shake," she says, noting that breast-feeding women should consult with their doctors before taking any supplements.