5 Heart-Healthy Valentine's Day Recipes
There's nothing more romantic than treating your ticker right during American Heart Month.
Heading out the door? Read this article on the new Outside+ app available now on iOS devices for members! Download the app.
What's the most iconic symbol for Valentine's Day? Hearts, of course! Whether they are cut out of red foil, drawn with a crayon or texted with a "<3," they all represent love and affection. And while we're on the subject of hearts, February 14 serves as a great reminder to do everything you can to protect your heart — not from potential heartbreak but from heart disease. Smoking, high cholesterol, high blood pressure, obesity, physical inactivity and even stress all contribute to cardiovascular disease. After all, it can't be a coincidence that February is also American Heart Month.
"Following a heart-healthy diet can be easy and tasty, if you follow a few simple rules," says Patricia Bannan, MS, RDN, a nutritionist in Los Angeles. "Get plenty of fruits and vegetables, and choose whole grains most often since these foods give you plenty of heart-healthy vitamins and fiber. It's also important that you choose the right kinds of fats: Oils such as olive oils and the fats in nuts and seeds and avocados give you heart-healthy monounsaturated fats, and fatty fish, such as salmon and sardines, provide omega-3 fatty acids that can lower triglycerides and blood pressure."
So on this day dedicated to love, whether you have a sweetheart to cook a romantic meal for or you just want to give yourself the gift of self-love, whip up these delicious recipes that will warm your heart this Valentine's Day.
Breakfast: Sunny-Side Up Avocado Toasts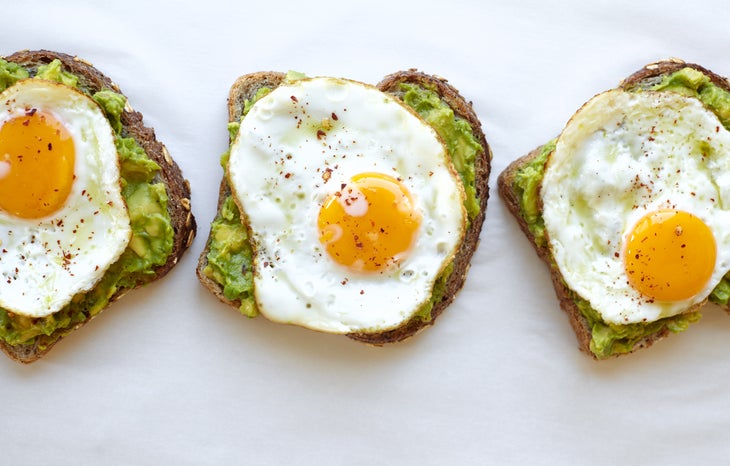 One high-fat food you might want to include on your cholesterol-lowering menu is avocado. Researchers at Penn State University put participants on different diets during which they controlled their fat intake — and one of those groups was given one avocado a day. Even among groups that consumed the same amount of fat, the group that ate an avocado a day reduced their blood cholesterol levels more than the group that wasn't eating avocado. "Try swapping avocado for mayonnaise on your sandwich, topping off your omelet with avocado slices or putting it on toast before you hit the gym," Bannan suggests. The eggs provide good quality protein and heart-healthy nutrients, such as folate and omega-3 fatty acids. Bannan says choosing DHA-fortified eggs will further reap the omega-3 benefits for your heart. Finally, she says whole grains, including 100 percent whole-grain bread, are rich in protein, fiber, B vitamins and many other nutrients that help lower blood pressure and promote heart health.
Ingredients
½ large avocado, mashed
2 large eggs
2 tsp extra-virgin olive oil
2 slices 100% whole-grain bread
¼ tsp sea salt for sprinkling
1 green onion, thinly sliced (optional)
1 radish, thinly sliced (optional)
¼ tsp red chili flakes (optional)
Directions
In a small bowl, mash avocado and set aside.
In a small skillet, add oil and fry each egg until your desired doneness. Meanwhile, toast sliced bread.
Add some mashed avocado to each slice of toast and top with fried egg. If desired, garnish toast with a few sliced green onions, radishes and red chili flakes. Serve right away.
Serves: 2
Recipe by Patricia Bannan, MS, RDN
Lunch: Banh Mi-Style Flatbread With Grapes
You already know red wine is good for the heart (hallelujah!) — but what about grapes? "The heart-healthy polyphenols found in red wine, including resveratrol, are also found in grapes of all colors," Bannan says. "In addition, fresh grapes — with no fat, no cholesterol and virtually no sodium — are also a natural source of other heart-protective nutrients, including vitamin C, vitamin K and potassium, which may help promote healthy blood flow." Plus, she says cooking with heart-healthy fats, like olive oil, which is high in unsaturated fats, can improve your blood cholesterol levels.
Ingredients
1 (14-ounce) package prepared pizza dough
1 tbsp olive oil
1 tbsp minced garlic
1 tbsp lemongrass paste
12 ounces chicken breast, cut into ½-inch pieces
2 tbsp low-sodium soy sauce
½ cup shredded carrots
pinch sugar
1 tbsp rice vinegar (unseasoned)
2 cups halved green seedless California grapes
¼ cup coarsely chopped fresh cilantro
1 jalapeño pepper, very thinly sliced (remove seeds for less heat)
Directions
Roll pizza dough into a 10-inch-by-14-inch oval on a lightly floured board. Transfer it to a baking sheet. Bake at 450 F for 8 to 10 minutes, or until lightly browned.
Meanwhile, heat oil in a medium skillet, and stir in garlic and lemongrass paste; cook 1 minute. Add chicken and soy sauce. Stir-fry over medium-high heat until chicken is cooked through.
Place carrots in a small bowl and stir in a pinch of sugar and vinegar.
Spread chicken mixture over baked dough, then sprinkle it with carrots, grapes, cilantro and jalapeño slices. Cut flatbread into 8 square pieces.
Serves: 4
Recipe by Patricia Bannan, MS, RDN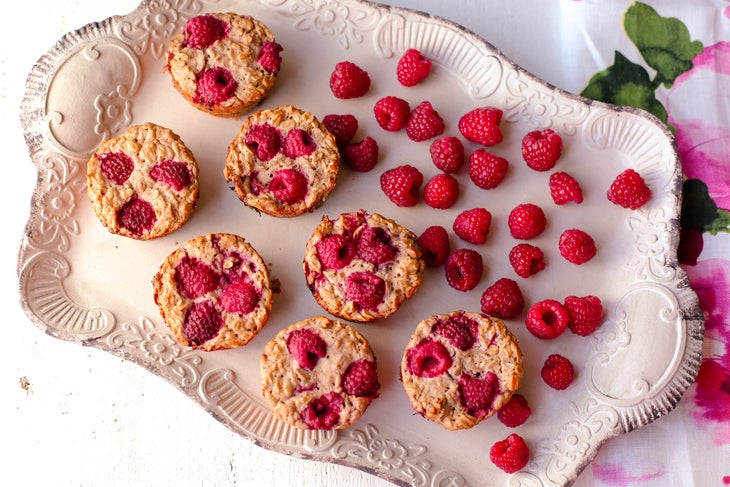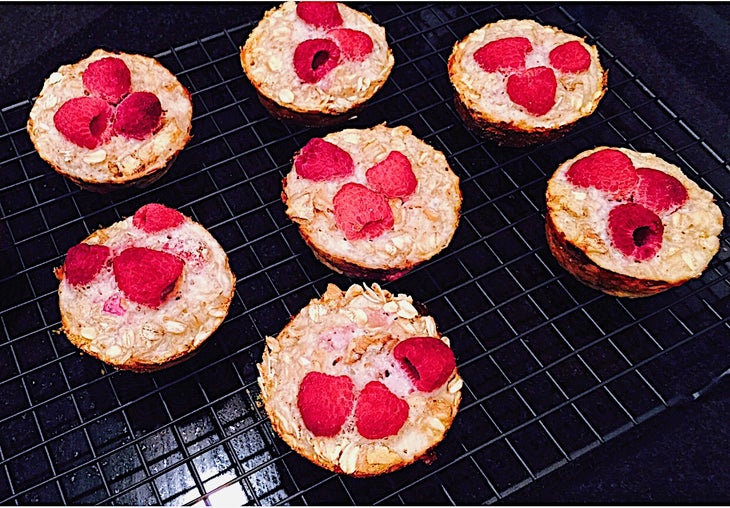 Preworkout Snack: Baked Raspberry Oatmeal Muffins
Fuel your workout with heart-healthy and energy-packed ingredients, like these grab-and-go muffins. The inclusion of milk and Greek yogurt in this recipe are important because a study recently published in The Lancet reveals consumption of dairy is associated with reduced risk for cardiovascular disease. "Fruits, like the raspberries included here, contain a variety of phytochemicals called flavonoids, which may reduce blood pressure and prevent atherosclerosis," says Gabrielle Fundaro, Ph.D., CISSN, CHC, a certified sports nutritionist, ACE-certified health coach and consultant for Renaissance Periodization. "Finally, the oats are whole grains that provide soluble fiber, which can help reduce the risk of cardiovascular disease."
Ingredients
coconut oil spray
1.5 cups old-fashioned oats
½ tsp fine sea salt
1 cup 2% milk
1 tsp vanilla
1.5 rounded scoops vanilla whey protein powder
⅓ cup toasted walnuts, chopped
½ tsp baking powder
½ tbsp cinnamon
½ cup Greek yogurt
2 tbsp liquid egg whites
3 tbsp sugar-free coconut syrup
½ tbsp coconut oil (liquid form)
2 cups raspberries
Directions
Preheat oven to 350 F.
Spray a 12-cup muffin tin with coconut oil spray.
In a mixing bowl, combine oats with sea salt.
In a 2-cup measuring cup, combine milk with vanilla.
Stir wet ingredients into dry ingredients, stirring until combined. Fold in 1 cup raspberries.
Divide batter among pans and top with remaining cup of raspberries. Bake 25 to 30 minutes.
Yield: 12 muffins
Recipe by Lori Shaw, Renaissance Periodization cookbook author
Dinner: Pan-Seared Salmon on Arugula Salad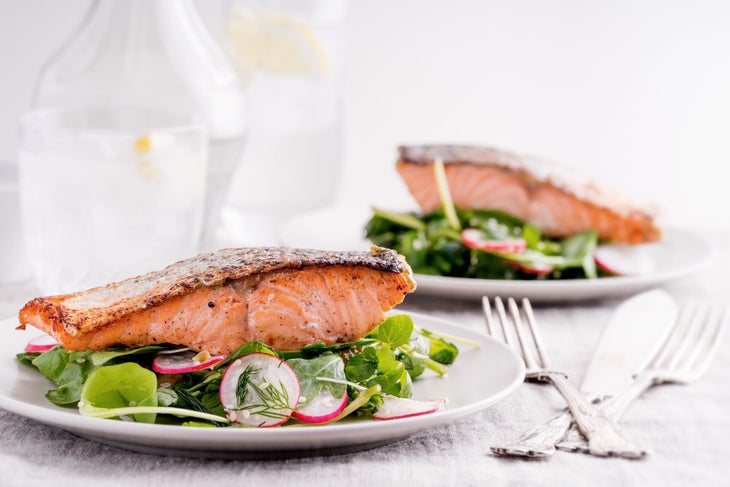 Omega-3 fatty acids — found in fatty fish like salmon, herring, sardines and mackerel — can reduce the risk of heart disease while helping to maintain healthy blood pressure and triglyceride levels. To achieve optimal levels of omega-3s, the American Heart Association recommends eating two servings of fatty fish per week, which provides the equivalent of 250 to 500 milligrams of EPA and DHA omega-3s per day.
Ingredients
Salmon:
2 (5-ounce) skin-on salmon fillets
¼ tsp kosher salt
½ tsp freshly ground black pepper
2 tbsp extra-virgin olive oil
Salad Dressing:
1 tbsp smooth tahini
4 tsp fresh lemon juice
2 tbsp fresh orange or tangerine juice (from about 1 small tangerine or orange)
2 tsp extra-virgin olive oil
¼ tsp honey
⅛ tsp kosher salt
1 small clove garlic, smashed (optional)
Salad:
2 cups arugula leaves
1 cup mâche leaves (or 1 additional cup arugula leaves)
4 radishes, thinly sliced
1 green onion, halved lengthwise and thinly sliced into 1-inch lengths
1 tsp sesame seeds
Directions
Season salmon with salt and pepper and heat a large skillet with olive oil. Place fillets skin-side down and cook over moderately high heat until skin is crispy and lightly browned, about 5 minutes. With a fish spatula, flip each fillet in pan and continue cooking on other side for another 4 to 5 minutes until cooked through. Keep warm and set aside.
Make dressing: In a small bowl, whisk together tahini, lemon juice, orange juice, olive oil, honey and salt until smooth and creamy. Add garlic clove (if desired) and lightly macerate into dressing. Set aside.
In a medium bowl, combine arugula, mâche (if using), radishes, green onions and sesame seeds. Pour dressing over salad and toss gently to coat.
Transfer salad to 2 plates and top with salmon fillets. (The salmon will keep well in an airtight container in the refrigerator for up to 2 days.)
Serves: 2
Recipe by Patricia Bannan, MS, RDN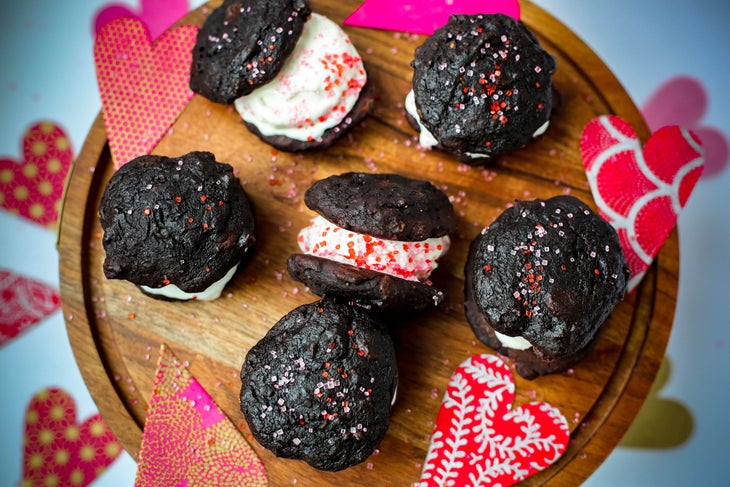 Dessert: Dark Chocolate Whoopie Pies
It certainly wouldn't be Valentine's Day without some chocolate. Thankfully, cocoa powder contains polyphenols, which studies show may lower the risk of cardiovascular disease. "While dark chocolate consumption has been associated with improved blood lipids, it's important to note that some dark chocolate products are high in fat and refined sugar, so portion control is still important," Fundaro says. "The avocado may increase HDL, or the good cholesterol."
Ingredients
⅓ cup avocado puree
1 tsp vanilla
½ cup unsweetened cocoa powder
½ tsp baking soda
⅓ cup liquid egg whites
6 tbsp coconut sugar
2 tbsp unsweetened applesauce
⅓ cup whole-grain pastry flour
3 tbsp stevia-sweetened dark chocolate baking chips
sea salt (optional)
12 tbsp nonfat whipped topping
Directions
Heat oven to 350 F. Line a baking sheet with parchment paper.
Combine wet ingredients (avocado puree with vanilla) in a small mixing bowl.
Combine dry ingredients (cocoa powder with baking soda) in a separate small bowl.
Stir dry ingredients into wet ingredients and mix just until combined. Fold in chocolate chips.
Drop by even scoops to make 12 mounds on prepared baking sheet. Flatten slightly with the back of a spoon, and sprinkle with sea salt (if using).
Bake 10 to 12 minutes until slightly firm when lightly pressed. Remove to a cooling rack to cool completely.
To make whoopie pies, sandwich 2 cookies together with 2 tablespoons nonfat whipped topping.
Yield: 6 whoopie pies
Lori Shaw, Renaissance Periodization cookbook author