Goal Setting, Progress and Success
How do you define success? IFBB pro Erin Stern shares her thoughts on setting goals and measuring success.
Heading out the door? Read this article on the new Outside+ app available now on iOS devices for members! Download the app.
How do you define and achieve success? I used to believe that winning a competition meant that I was successful. But after the high of winning wore off, I was left feeling empty and unfulfilled. How could a win not be a success? I experienced the same feelings when I didn't place well. I went back to the drawing board, so to speak, to assess my feelings and to refocus.
Motivational speaker Earl Nightingale defines success as, "the progressive realization of a worthy goal or ideal." But what is a worthy goal or ideal? I think it will meet a few key requirements:
It's objective: something tangible, and something that can be built upon
It requires a stretch: if it's challenging, it will change us for the better
It's attainable and in line with your lifestyle
It's something we really "want" vs. something we think we "should" do
With my new perspective, I redefined my goals. I don't think we ever lose the desire to win, but victories can be achieved on many different levels. For figure competitions, I wrote down specific goals, such as building shoulders, adding more shape to my legs, etc. I also wrote down specific objective goals for training, such as being able to run 100M repeats at 13 seconds. Career goals came next — one-year plans, and five-year plans. I didn't win my last figure competition, but I met my goals and felt surprisingly good about it!
What do you want to accomplish? Begin by writing down your dreams. It might sound silly, but if your mind can conjure it, you can accomplish it. The reason that I love Earl Nightingale's definition of success is that it encompasses the entire journey, not just the end. By writing down your dreams, they become more real – they become your goals.
It's not possible to climb a mountain with a single step, but it can be done over time. That's why, after you have spent some time on your list, you should break down each main goal into smaller mini goals. This could be anything from daily steps to monthly steps. The mini goals serve as check points. If anyone asked me about the improvements I've made to my physique over time, I'd have some difficulty explaining it, mostly because I see myself every day. Progress pictures can help us see our improvements and appreciate our efforts. See an example of mine: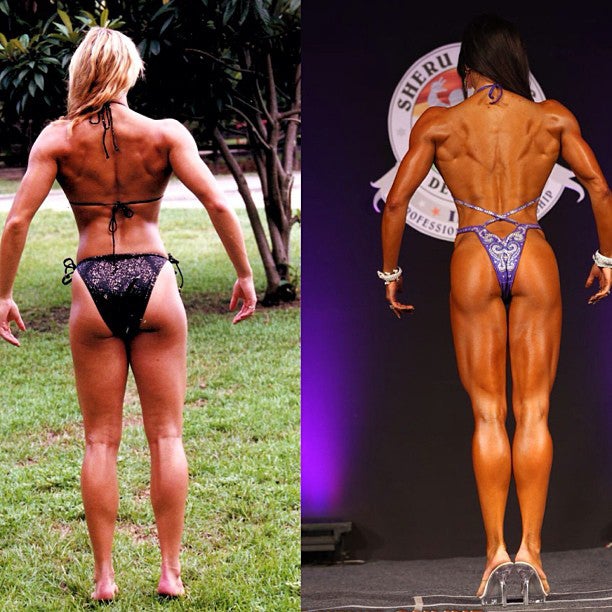 The photo on the left was taken about 10 years before the one on the right. I had just discovered figure competitions but was still running track exclusively. At the time, I thought I looked pretty good! It's amazing how progress pictures can capture our efforts and show us how far we've come.
Keep track of your progress, whether it's making changes to your physique, your 5K time, or measuring strength in the gym.
Employ the use of non-food rewards for achieving your goals. This can be anything you enjoy—a pedicure, a new pair of shoes, or time spent with friends. It's nice having something to look forward to after a job well done.
It's also important to surround yourself with a good support system. This can be friends, family, a coach, a fit-friendly forum, or even an app. Accountability is a key factor to staying on track, and it's also nice to know that others around you are striving to achieve their best, too.
Finally, I think it's important to limit the amount of time spent on social media. It can be a great source of inspiration, but it shouldn't be used as a yardstick to measure your own achievements. I have felt my worst when comparing my life to the sugar-coated, filtered, edited lives of people online. Just remember that it's a highlight reel, and you're the real deal!!
The moment you take your first step toward your goal, you're a success! Each step, each rep, each day spent making progress, gets you closer to the top of the mountain.
Change your life today. Join Erin's 90-day Challenge online course today!