Priority One: Don't Overdo It
I'm motivated and ready, but anxious about training around an overuse injury.
Heading out the door? Read this article on the new Outside+ app available now on iOS devices for members! Download the app.
When we began planning The Ultimate Oxygen Challenge, many of us on staff were excited to join in. We have amazing coaches in Amanda and Erin and training with them is a once-in-a-lifetime experience. And even though we work in the fitness industry, we face the same challenges you do: We're busy with jobs, family and other responsibilities, and exercise isn't always our first priority even though we know it should be.
But here's the thing: I'm nearly 46 years old. Now is exactly the time I need to make my health and fitness a priority, and this Challenge is the perfect "excuse" to get in the gym. Although as an Oxygen staffer I can't qualify for the cover-model contest, this program is just the motivation I need.
Here's a little bit about me. I'm the online editor for Oxygen (as well as for a few of our other magazines). It's pretty much a dream job because I get paid to do all the things I love: fitness, writing, editing and social media. Unfortunately, my job requires a lot of sitting. A lot. Even after buying Fitbit, I still sit hunched over my keyboard, only getting up to grab some lunch or meet with a colleague. At the end of the day my back, neck and hips are so tight that if I don't stretch out, I can't sleep.
In the past I was always fairly active. I think I got my first gym membership when I was 16, and I've worked out on and off since then. Yet after years of slinging iron I grew bored with the gym and yearned for something different. That's when I stopped weight training and discovered yoga. I not only fell in love with the physical practice but I was also drawn to the mental aspect. For a Type A like myself, it was the perfect refuge at the end of a long day; focusing on my breath while flowing through poses allowed me to forget about everything off my mat for 90 minutes.
About three years ago I took my yoga practice to the next level and signed up for yoga teacher training. Two years and 500 hours later, I became certified. But just as my teaching program ended, I noticed some pain in my left knee. It hurt under the kneecap and the muscles around it felt strained. My stability was impaired and my knee routinely gave out. It turns out I have what's called patellofemoral overuse syndrome. It develops when the bones in the lower legs aren't lined up perfectly, which created a gliding between the kneecap and thighbone. It wasn't caused by the intense practice of teacher training; it's a common overuse injury in women who do a lot of squats and lunges, which I've done for nearly 30 years.
After five months of regular physical therapy to strengthen the muscles around the knee and a month with a yoga therapist, I regained some of my strength but it's still painful on a daily basis, especially if I don't work out. And although I was told it was important to strengthen the hamstrings and glutes to stabilize my knee, I was afraid I would tear or break something so I babied it. I stopped practicing yoga and I haven't stepped foot in a gym since last year. Naturally, I put on weight, lost strength and flexibility and was in constant pain. I eventually eased back into my yoga practice, but I stayed away from the gym. I just didn't know how to start again.
For me, Monday was Day 1 of the Ultimate Oxygen Challenge. I decided to join #TeamErin and did my first workout on my lunch break on Monday. I'm not going to lie; it was ugly. I thought the yoga was improving my strength and stamina, but it didn't seem to translate to the weight room. By the second move in the first circuit, my legs were Jell-O, I was drenched in sweat and I was sucking wind like I had just run a marathon. I managed to get through two of the three circuits, but my form got sloppy and I knew I'd probably hurt myself if I pushed ahead. Instead, I did my cool-down on the recumbent bike and stretched.
I can't even talk about my nutrition because I haven't tackled it yet. Organizing my kitchen and my meals is my task for this week. (I keep hearing how amazing the Meatza and Hawaiian Chicken recipes are!)
My goals for this program are to lose some fat, but mostly to gain functional strength and build muscle. I've realized that to be healthy and fit I need to follow a well-rounded exercise program, one that includes yoga and weight training. My challenge will be to find a way to combine the two without overdoing it, and in the coming weeks I'll share my struggles and successes with the program. My co-worker, Julie Stone, Oxygen's Advertising Account Manager, is following Amanda's program, and she will be doing the same.
Whether you're #TeamErin or #TeamAmanda, I'd love for you to share your stories, as well.
My Stats
I have really struggled with posting my photos here for everyone to see, especially after I saw them. I'm super unhappy with what I see, all the soft, mushy parts make me want to cry. But even though I am mortified I felt I needed to post them in order to hold myself accountable.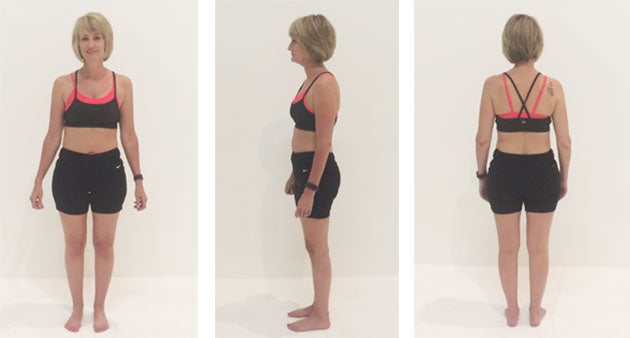 Height: 4 ft. 11 in.
Weight: 102 lb.
Bust: 32 in.
Hips: 36 in.
Waist: 30 in.
Thigh: 19.5 in.
Bodyfat: 27%.