Amy Manzanares Lost 53 Pounds After An Injury
When she no longer felt comfortable in her own body, Amy Manzanares kicked the crutches to the curb and lost 53 pounds. Now, she feels in control of her life!
Heading out the door? Read this article on the new Outside+ app available now on iOS devices for members! Download the app.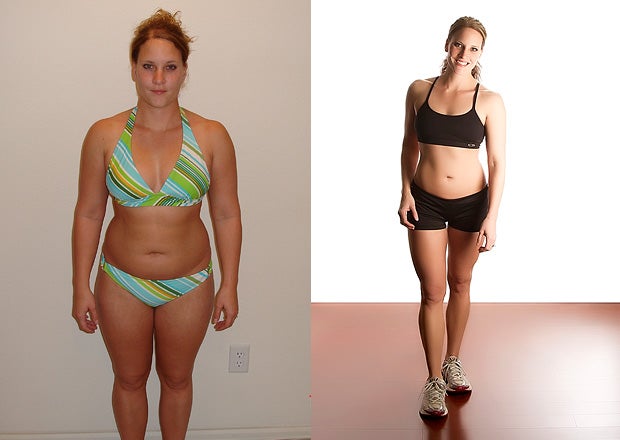 Name: Amy Manzanares Age: 34 Height: 5'2″ Location: Delta, CO Occupation: Educational Sign Interpreter Weight before: 168 lb Weight now: 115 lb Favorite exercise: Step-up lunges
After suffering injuries in a serious car accident, Amy Manzanares was stuck on crutches for four months, leading to a weight gain of more than 40 pounds. Before long, she no longer felt like herself and knew she needed to get back in shape. Setting small goals kept her motivated and helped her shed pounds.
Consistency is Key
Amy knew she had to stay on track in order to see results. Slowly but surely, eating clean and working out became a lifestyle that she grew to love. Her patience paid off so much that she signed up to compete in a physique competition just a year and a half after the accident. "Consistency was a huge part of my success! It just doesn't happen overnight, it takes time and patience," she says.
Grab and Go
Before her transformation, Amy made the same old excuses for not working out and cooking clean, often telling herself she was too tired. Now to make sure her meals are clean, she cooks several meals ahead of time so she has no excuse to grab takeout! "Cooking in bulk is important because I always have food that's prepared and ready to go. No excuses – just grab and go!" As for her workouts, Amy reminds herself how good she feels after she leaves the gym. "I get excited to be there," she says.
Reward System
It was important for Amy to reward herself after completing each of her monthly goals. This helped her stay focused on what she was trying to accomplish. "I didn't want to just keep working so hard with no end in sight," she says. "So once a month I'd go get a new pair of running shoes or a new pair of jeans." Her biggest reward? Getting her body into the best shape it's ever been in.
Amy's Workouts
Amy loves to tackle her muscles with a combination of weights and three to four sessions of cardio per week. Here's how she splits up her weekly training routine:
Monday: Chest & Abs
Tuesday: Back
Wednesday: Legs & Abs
Thursday: Shoulders
Friday: Biceps & Triceps
Saturday & Sunday: Rest Day
When the sun is shining, Amy would rather take her cardio workouts outside. Her favorite outdoor activities include going for a walk around a lake, hiking or hitting up the beach for a game of volleyball. "Doing cardio indoors can sometimes get boring, so it's nice to switch it up," she says.
Amy's Meal Plan
A tight, clean diet complements Amy's gym routine. And, like a classic clean eater, she eats six times per day. She focuses on eating high-protein foods that fuel her workouts and help keep her full between meals.
Meal 1: Egg white omelet and cinnamon/splenda oatmeal
Meal 2: Protein shake with a banana
Meal 3: Large grilled chicken salad with lots of different veggies
Meal 4: Protein shake
Meal 5: Apple with some almond butter
Meal 6: Baked Fish with rice and various greens