Consistency and Longevity
Read how one woman's insecurities about her body transformed into a daily commitment to healthier choices.
Heading out the door? Read this article on the new Outside+ app available now on iOS devices for members! Download the app.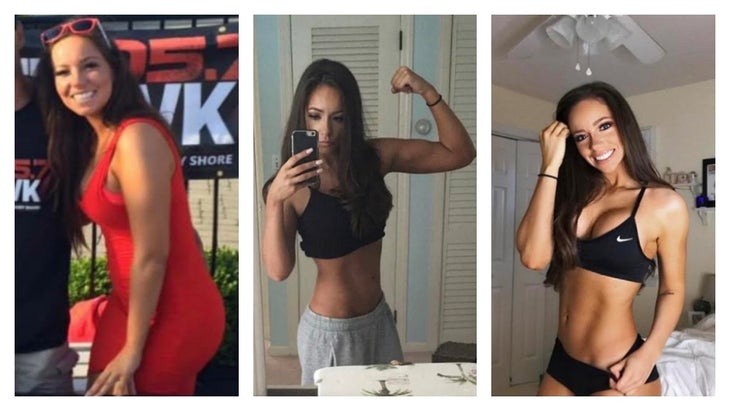 Team Gaspari athlete and fitness personality Jenny Rich discusses how her approach to fitness has shifted as she has gotten older.
The biggest misconception people have when it comes to fitness transformations is that there is a straight line of success between a "before" photo and an "after" photo and that the "after" photo is the finish line.
My love for fitness began at a young age with my love for sports and athleticism. I was captain of the cross-country team through middle and high school. I loved the sportsmanship, hard work, discipline, performing under pressure and the competition. All these traits translate to the bodybuilding competitions I love now.
At that age, I was able to eat whatever I wanted and see no physical body changes. As I grew older, I noticed my body changing and I became uncomfortable in my skin. I held fat in my stomach and arms that I never saw before, and I remember feeling so insecure and unhappy.
As I explored dieting on my own, I became obsessed and my uneducated dieting led me to being underweight, malnourished and unhealthy. I believe that the sport of bodybuilding and learning about proper nutrition saved me from developing an eating disorder and brought me to a place where I can love my body.
I have learned that through weight training, eating nutritional whole meals and eating often, I can enjoy life and see the results I longed for. I now realize that the "after" picture is not a final destination but a reminder of how far I've come.
Living a fit lifestyle requires a daily commitment to making healthy, smarter choices for my body. I have left behind the back-and-forth dieting and weight fluctuations for consistency and longevity.
My daily supplement routine:
Gaspari Anavite Multivitamin (3 tablets with breakfast and 3 tablets with dinner)
Gaspari AminoLast Pineapple (1 scoop with 8 ounces water while training)
Gaspari Glutamine (1 scoop with 8 ounces water while training)
Gaspari MyoFusion Peanut Butter Cookie
Gaspari Qualitine Creatine Monohydrate (1 scoop with 8 ounces water while training)
Follow Team Gaspari athlete and fitness personality Jenny Rich on Instagram here.