"I felt so empowered!"
After losing 85 pounds, Kristi Youngdahl has a new goal: Showing others that they can do it too.
Heading out the door? Read this article on the new Outside+ app available now on iOS devices for members! Download the app.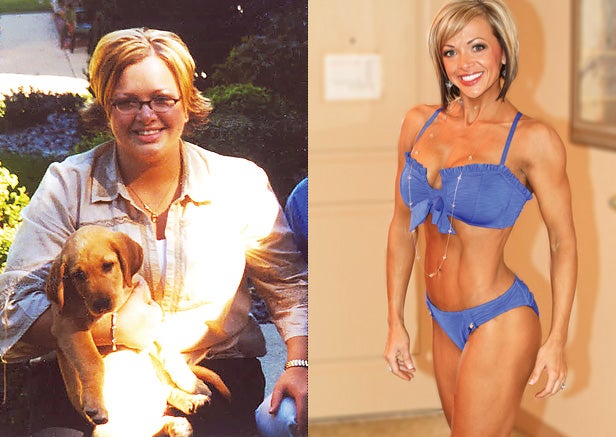 Weight before: 198 lb Weight now: 113 lb Age: 32 Height: 5'2″ Location: Becker, MN Occupation: Personal Trainer Favorite clean snack: Apple with almond butter Personal motto: "'Go big or go home!' My workouts are intense!"
When her clients doubt that they can be successful, Kristi Youngdahl, a personal trainer from Becker, Minnesota, has an interesting way of getting them pumped for fitness: she shows them old photos of herself carrying 85 excess pounds. Then she hands them The Eat-Clean Diet by Tosca Reno. "I want them to know they have the strength to make it happen," she says. "Because I did!"
Rocky Start
At 198 pounds, Kristi decided to make some changes. Looking for quick results, she opted to eat cereal for breakfast and lunch, plus a diet frozen entree for dinner. In the gym, she only committed to a 15-minute walk on the treadmill. Kristi thought this was the way to fat loss, but her low-calorie diet ended up working against her: After just three months on the plan, Kristi ended up in the hospital with heart palpitations. The doctors told her that her body couldn't handle what she was putting it through.
Getting Empowered
When Plan A (the "cereal diet") failed miserably, Kristi went to Plan B. "I got Tosca's book and I cleaned out my kitchen cabinets." Realizing that muscle was her friend, Kristi signed on with a trainer who taught her how to work out. "I was so excited not only to lose weight, but to gain the muscle definition that I admired in other fit women," she says. "I was discovering the 'me' I was missing and an entirely different woman I had never met before. I felt so empowered!"
Fit Inspiration
After her transformation, Kristi took the stage in a fitness competition and even completed a half marathon. It was a proud moment when she realized that she had not only changed her body and health, but that she had also become an athlete. A personal trainer today, she hopes that her success inspires her clients. "Knowing I'm setting an example gives me strength," she adds. "You get fit for yourself, but you find you make a difference in others' lives by setting an example."
Her Inner Athlete
When she started an active lifestyle, Kristi discovered that she loved sports! Here are some of her favorite ways to stay fit while honing her inner athlete:
Running
Kayaking
Biking
Snowshoeing
Real Rewards
When she reaches new fitness goals, Kristi pampers herself with fun rewards for a job well done. Her favorite ways to pat herself on the back? "I love workout clothes and shoes!" she says. "And I often reward myself with a shopping trip."