A Better Place
After losing 80 pounds and overcoming cancer, Susan Lamb decided to take on a new challenge: hitting the stage of a bodybuilding show.
Heading out the door? Read this article on the new Outside+ app available now on iOS devices for members! Download the app.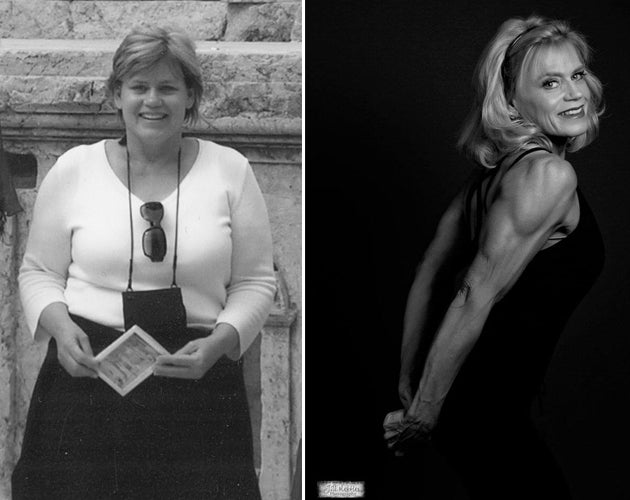 Name: Susan Lamb | Hometown: Plymouth, Minnesota | Age: 57 | Height: 5'3" | Old weight: 205 lb | Current Weight: 125 lb | Occupation: Sales & account management | Fave clean meal: Turkey scramble (ground turkey, peppers, spinach, egg white, spices)
The weight crept up on Susan Lamb slowly. A single working mother, Lamb spent years focusing on her children and career as the extra pounds slowly accumulated. Her knees were sore, she couldn't play with her grandson and at 52 years old, she tipped the scales at 205 pounds. Then came the breast cancer diagnosis.
"All of that just kind of made me take stock of where I was at and where I wanted to be. As I was finishing up radiation, I started doing a little bit of cardio, just to get some exercise into my day," she says. "I visualized in my mind that I was going to take care of myself and come to a different place. I was not going to stay this way. I had that vision and then I started taking steps."
One of those steps was to do some weight training. Feeling old and overweight, it took Lamb three months to find the confidence to approach a personal trainer in the gym. With the trainer's help, and blessed with a physique that always held a lot of muscle, Lamb made fast progress. When she eventually broached the idea of a doing a natural bodybuilding contest, her trainer thought it was a great idea. She has competed in five contests to date, with her best performance garnering her second place. But the offstage accolades dwarf any trophy or medal she could be handed on the dais.

"Any time I compete, women and men come up to me and hug me and tell me how inspired they are. When I say I weighed 205 pounds when I started, people can't believe it. That's why I say that anyone can do this," she says. "You just have to visualize being in a different place. Then you take steps every day to get yourself there."
Today, Lamb is in a decidedly different place. She recently hit the magic five-year mark after her surgery and radiation treatments, meaning that her oncologists consider her to be officially cancer-free. Expecting the arrival of another grandchild, she plans to take a break from competing in 2015, but she still hits the gym four to five days a week. She has become the fitness expert in her expanding family and recently wrote a workout program for her daughter.
"When my grandson, who is now in the eighth grade, wants advice on working out, he comes to me," Lamb says. "The other day he said to me, 'How can I get abs?' I am the one he asks! I think that is pretty cool."