Under Pressure?
These tips will help you stay on track when friends and family try to derail your diet.
Heading out the door? Read this article on the new Outside+ app available now on iOS devices for members! Download the app.
It's official: This is the trickiest time of year to eat clean. Even if you muster the willpower to say no to the sweets and spirits that are everywhere, there's a good chance your friends and relatives will try to tempt you into overindulging — and then look at you like you're nuts when you decline. Kristin Torkelsen, a fitness competitor in Rockville, Maryland, says she feels the struggle every year without fail. "It's already tough trying to avoid sugar and 'bad' carbs," she says. "Add to that family and friends who feel insulted if you aren't eating all the special dishes they make and it's a double whammy." To help you stick to your healthy-eating guns and sail through the season of temptation without caving to the pressure, follow this advice.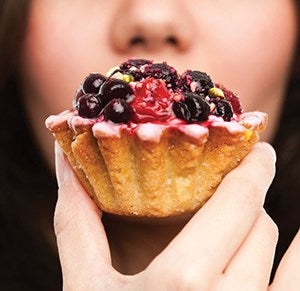 Talk about your goals — and your timeline.
If your great-aunt looks seriously insulted when you're the only one at the table not eating her legendary pecan pie, pull her aside and explain why, says Steve Hertzler, Ph.D., RD, a dietitian and bodybuilder in Columbus, Ohio. "If you explain that you're training for a competition or trying to reach a big goal by a certain date, it helps them see that you're getting close," he says, which will often inspire them to back off. "When you're open about why you're not indulging, it'll help people understand."
Have a pre-party plan.
When Candice Lewis, an IFBB pro in Chandler, Arizona, first started competing, she says she would go to holiday parties without a plan — and leave feeling down. "I would inevitably get pressured into having one slice of pie, which turned into a dozen cookies and a few cups of eggnog," she says. The antidote? Do some pre-party plotting. Maybe that means filling up on lean protein and veggies before you arrive so you can honestly say you're not hungry. Or perhaps it even means bringing your own food — a trick Lewis loves. "I bring healthy versions of snacks and sweets to parties," she says. "This way, I know there's a healthy option for me, and it introduces everyone to delicious alternatives to their high-calorie, high-fat favorite dishes."
Keep your eye on the prize.
If you start to feel yourself caving, call to mind what you're working so hard to achieve. Hertzler says he watches YouTube videos of bodybuilders he admires before he puts himself in potentially tricky situations. "It's a great way to psych myself up and take my focus away from the stuff that's out to derail me," he says.
Know yourself.
In the free-for-all that is the holiday feeding frenzy, it can be tempting to bank on a few "cheat" days. Many experts say an occasional detour from your diet is OK. "It's important to look at the big picture," says Chris Mohr, Ph.D., RD, a dietitian in Louisville, Kentucky. "One 'cheat' meal isn't going to make or break you." That said, others warn that the "cheat" mentality can knock healthy eaters off course, which means it's especially important to spend some time figuring out whether it's a good idea for you. "You really have to know yourself," Hertzler says. "If one 'cheat' turns into a snowball of cheats, don't do it."
Take the emotion out of eating.
Hertzler says this mindset can help you stay strong when the pressure to indulge builds. "I think about food scientifically rather than emotionally," he says. "When I'm training, I look at what I eat as a specific chemical ratio of carbs, fats and proteins that I'm trying to get in, which prevents me from obsessing about food."