Megan Harden: Promises Pay Off
When Megan and Matt Harden swore to one another they'd lose weight and get healthy, they meant it.
Heading out the door? Read this article on the new Outside+ app available now on iOS devices for members! Download the app.
Birthdays frequently conjure up uncomfortable feelings. Whether it's the realization you didn't achieve a goal or just the gloom of getting older, another trip around the sun can be depressing. Such was the case for Megan Harden and her husband, Matt, when in 2016, they celebrated their 40th birthdays together. They blew out the candles, cut the cake, cleaned up the confetti and made a promise to one another: to get their health on track.
Inside the Box
Step one was joining a gym, something Harden had never done in her life. She and her husband chose a local CrossFit box on a whim, mostly because of its proximity to their home. On Harden's first visit, she was taken aback by the atmosphere and the physiques of the other members. "I had never seen bodies that looked like theirs," she says. "All the women were so strong yet so feminine."
In Harden's first WOD (Workout of the Day), she caught her reflection in a window and compared her silhouette with those of the other CrossFitters. She couldn't help but wonder, What in the world have I gotten myself into? But before long, Harden found that she loved the supportive coaches and camaraderie of the members who motivated her to be better every day. And despite her lack of athleticism, Harden was a quick study. "I got all the powerlifting movements down rather quickly," she says.
Demystifying Macros
Because almost everything Harden was attempting was a "first" — she had never hung from a bar or climbed a rope — she was often extremely sore. In an effort to speed her recovery and maximize her results, she took a magnifying glass to her diet and discovered that she was eating mostly carbs and fat and very little protein and that she was hooked on sugar. "I would go out every day and get myself a treat," she says. "But then I'd feel awful about myself and would promise to eat better tomorrow."
Harden turned to her coaches for nutritional guidance. "If I wanted to look like them, I needed to eat like them," she reasoned. After picking all their brains, she decided she was most interested in counting macros. "I knew I needed a specific amount of protein, carbs and fat each day to [change] my body," she says. "Once I figured out what I needed, I kept track and made daily goals."
Harden upped her protein, adding almost 100 grams more to her daily diet than she was eating previously, and she split her daily macros into six meals and snacks. Little by little and month by month, her body began changing.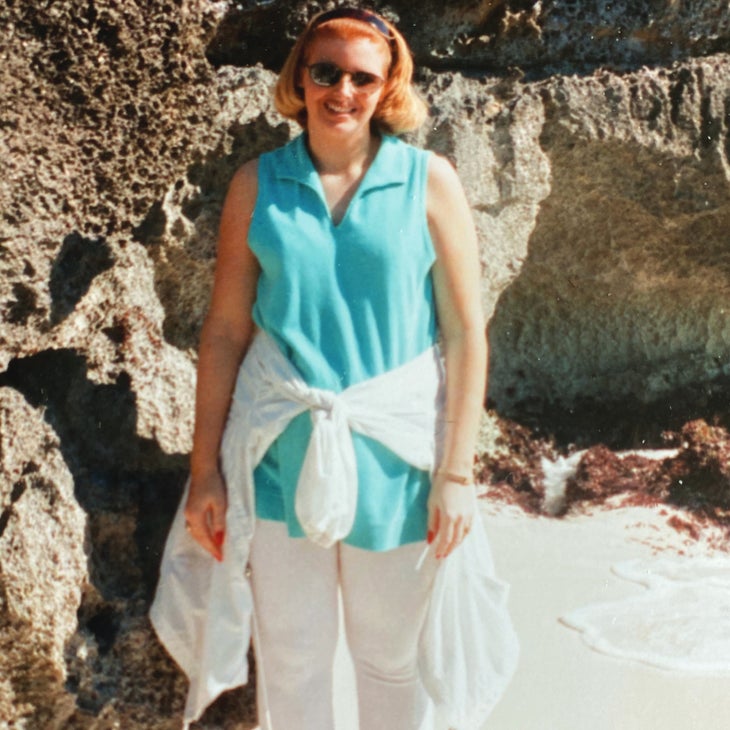 The Harden Class
Four years later, Harden is down almost 30 pounds and 10 clothing sizes. Hubby, too, had a transformation, trimming away most of his body fat and adding 20 pounds of lean muscle. They both still train at their same CrossFit box and attend the 9 a.m. class like clockwork. In fact, they are so regular that box members have renamed it "The Harden Class." Together with their kids, the Hardens are looking forward to their next several orbits around the sun.
Stats
Location: Chesapeake, Virginia
Age: 44
Height: 5'6"
Weight before/after: 167/140
Occupation: Nutrition coach and office administrator
Easy Asian Slaw
"We love this healthy Asian slaw recipe," Harden says. "I think my family could eat it every night of the week!"
Makes: 4 Servings
INGREDIENTS
3 scallions, thinly sliced
1 bag coleslaw mix
1⁄2 small red onion, thinly sliced
2 tbsp soy sauce
juice of 1 lemon
1 tbsp canola oil
1 tbsp grated fresh ginger
1 tbsp white vinegar
1 tbsp dark brown sugar
1 tsp sesame oil
1⁄2 tsp salt
1-2 tbsp powdered peanut butter
DIRECTIONS
Put everything in a bowl and mix well. Eat immediately.
Nutrition Facts (per serving): carbs 11 g, fat 5 g, protein 5 g
Follow Megan on Instagram and YouTube, visit her website here.