Visualize Your Way to Fat Loss!
By coupling her gym efforts with a positive attitude, Christine Case dropped 55 pounds.
Heading out the door? Read this article on the new Outside+ app available now on iOS devices for members! Download the app.
Name: Christine Case Age: 40 Height: 5'4″ Weight before: 185 lb Weight now: 130 lb Location: Cranston, RI Occupation: Owner of a graphic design firm Favorite clean meal: Chocolate protein shake with frozen berries and peanut butter Favorite move: Military press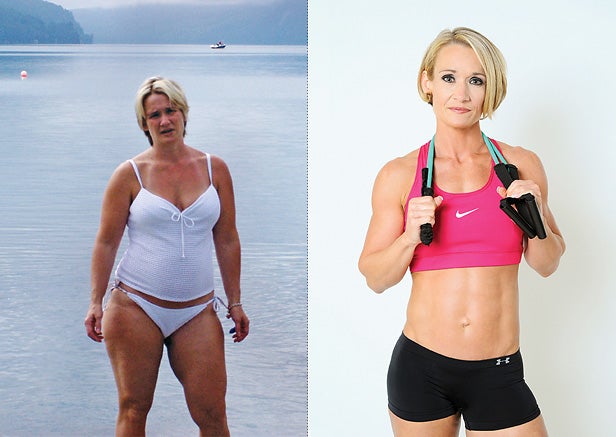 When she set out on her fitness journey, Christine Case relied on the power of her mind, not just her body, to get her through to the end. "To get motivated, I visualized myself at my goal and acted like I was already there," she says. With a fit image of herself, she found the confidence and drive to commit to a healthy lifestyle. It was the fuel she needed to get started.
Positive Self-Talk
Christine's biggest challenge? The scale, without question. "I would get on it and expect a big loss and see nothing, or worse, the number would be up," says Christine. Instead of getting defeated, Christine decided to stay positive, concluding that a "hunk of metal" was not going to make or break her. "I knew that my actions, my attitude and my determination would be what would bring me success – not the number on the scale." To keep her motivation high, Christine constantly spoke to herself with encouraging statements. In fact, she made it a point to say 10 positive things to herself every single day.
Hitting the Gym
In addition to improved self-talk, Christine started on the path to her new goal by eating clean, without drastically reducing calories since she was still nursing after her third pregnancy. Along with weight training, Christine incorporated a lot of interval cardio, including plyometrics, and body-weight exercises, which helped her become "well-rounded and athletic," she says. While she hit the gym at 6:00 a.m., Christine's husband, Andrew, took over morning duties with their three children. To push through difficult sessions, she reminded herself of how great she'd feel after her workout.
Focused on Strength
On top of losing fat, Christine knew that she also wanted to build strength. Unable to do a single pull-up, Christine decided to add them to her "get goals" list. She learned to boost herself up to chin level on the bar and really work the negative portion of the exercise, slowly lowering her body to build her strength. Now, she can easily perform 10 unassisted pull-ups. Not bad for a woman who, as she says, was "always overweight." Now 55 pounds lighter, she resembles the woman she once only imagined herself being: fit, strong and healthy.
Positive Reinforcement
"I'm convinced that a negative self-image and self-talk will sabotage anyone's goals," says Christine. She made it a point to change statements like "I'm so fat" or "I failed today" to statement like:
"I will feel so much better tomorrow!"
"I'll be ready to fit into this dress in a few months!"
"I can do this!"
Favorite Meal
When she's looking for a nutritious one-pot recipe, Christine turns to this vegetable medley: Saute onions in olive oil. Add chopped yellow squash, zucchini and eggplant. Add chopped celery, garlic and organic canned tomatoes. Cover and simmer till it cooks down to roughly half.
Christine's Get-Fit Tip
"'Winging it' doesn't work, especially for someone with a schedule like mine, including a full-time job and three small children. I look at the week ahead, forecast how and when I will get to the gym, exactly what I will do and plan ahead for everything."
Cardio Mix
In addition to weight training, Christine mixes up her training with these types of cardio:
Sessions on the stair master at her gym
Sprints at the track or treadmill
Plyometrics such as jumping rope