Whitney Changed Her Attitude and Lost 30 Pounds
Whitney Carlson shaped up her body by working on her attitude. "I built up my confidence with positive thinking!"
Heading out the door? Read this article on the new Outside+ app available now on iOS devices for members! Download the app.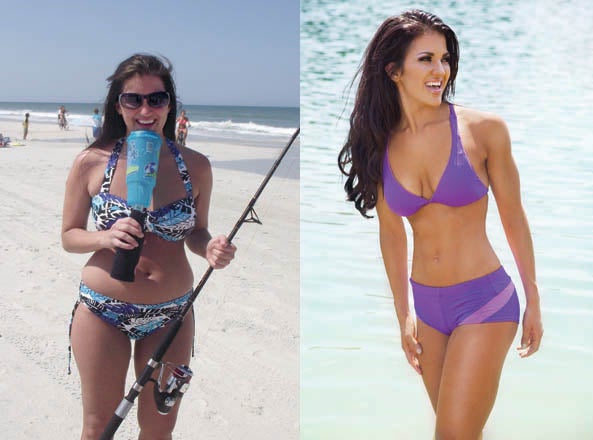 Before: 157 After: 130 Age: 27 Height: 5'6″ Location: Hoschton, GA Occupation: Insurance adjuster Proud moment: "Being confident enough to lift weights on my own." Success tip: "Turn off the TV. That show won't help you reach your goals."
At first, Whitney Carlson found it awkward to stand in front of a mirror and talk to herself. With bed head and sleepy eyes, she stared at her reflection that first morning. "I'm proud that I made it to the gym last night," she began saying out loud. It actually felt good to congratulate herself. "And I'm proud that I ate a clean dinner." Whitney continued her positivity bender. "I love being strong." And, finally, "I love myself."
Whitney hoped that adjusting her personal language would spark her confidence. At 157 pounds, it was a challenge to gather up the courage to rock it in the weight room next to all the fit bodies (she was so shy, she wouldn't even walk into a restaurant by herself).
Whitney's one-on-one positivity pep talks helped to build up her self-esteem, and to permanently shape her into a woman who sees the glass as half full. "I realized that when you hear something enough, you start to believe it," she says. "When I started to think of myself differently, I truly started to change my life."
Sweating on the Job
Transforming into a "skinny girl" was never on Whitney's agenda. Right from the get-go, she coveted a body that was strong and powerful, not small. "I wanted people to look at me and be able to tell that I worked for my body," says Whitney. "I wanted them to say, 'She goes to the gym,' not 'She never eats.'"
Whitney's strong work ethic motivated her during every rep, and even on the days when she felt off her game, she soldiered on. "I remember having a hard time finishing bench jumps one day (jumping onto the bench, jumping down and doing a squat, on repeat), and one of my best friends said to me, 'Do you want to leave here thinking that you could have done more?'" says Whitney. She returned to her workout, and knocked it out of the park. If there's anything that inspired Whitney more than her positive self-talk, it was the potential of copping out instead of buckling up.
Climbing Pride
When she checks herself out in the mirror today, Whitney still doesn't see a "skinny girl" – she sees a woman who's worked her butt off for her muscles, crediting weights, clean eating and help from fitness model Jamie Eason's online training program for her nearly 30-pound fat loss.
Whitney finally sees a woman who feels a sense of pride whenever she gets through a set of push-ups or straps herself to a backpack and hikes up a mountain with her husband, Scott. With a glass that's half-full, there's nowhere to go but up.
Cookie Dough Bites
To avoid caving in to her sugar cravings, Whitney whips up these gooey Cookie Dough Bites – right in her freezer. Makes 15 "bites."
Ingredients
1/2 cup quick oats
1/2 cup all-natural peanut butter
2 tsp vanilla extract
2 squares dark chocolate
1 tbsp honey
1/4 cup liquid egg whites (pasteurized)
1 tbsp unsweetened almond milk
Instructions
Process all ingredients in a blender.
Form dough into balls and place onto wax paper set on a plate.
Set in the freezer for at least 1 hour. "I find they taste the best after two hours!"