"You Are the Architect of Your Own Life!"
Tuning in to her inner strength, Traci Lee Helgerson found the drive to lose 33 pounds and become a fit example.
Heading out the door? Read this article on the new Outside+ app available now on iOS devices for members! Download the app.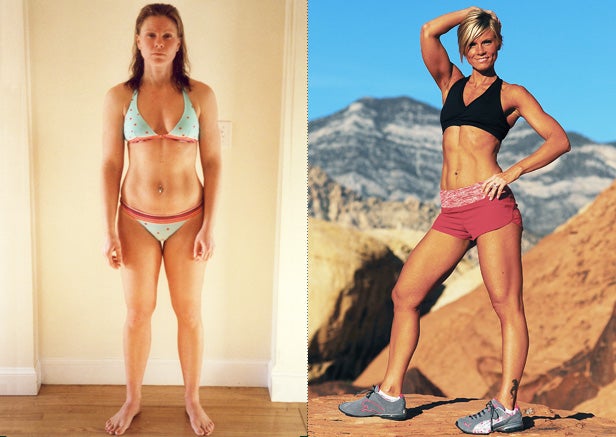 Name: Traci Lee Helgerson Age: 35 Height: 5'7″ Weight before: 158 lb Weight now: 125 lb Location: Jacksonville, FL Occupation: Personal trainer Favorite move: "Pull-ups! I love to work my back." Tip for newbies: Make just one new change every week.
Here's a visual: An overweight young woman on a high school track. Not far away, her small children amuse themselves with sidewalk chalk. Determined, Traci Lee Helgerson pushes herself to stay the pace, heart pounding, her eyes trained on her children. As she draws near them, the children cheer and register the lap with a bold chalk mark on the track. Another small victory.
Showing Her Strength
That was a decade ago. Darian and Madison Helgerson, now 14 and 12, are still cheering on their mom, but this time, Traci's shed her baggy tee and shorts for a bejeweled posing suit. And instead of running laps, she's doing quarter turns on the competition stage. "I love seeing a strong woman," she acknowledges. "Emotionally and physically." And that's the example she is setting for her children today.
Going from overweight to figure contest shape was an evolution. Eleven years ago, after seeing a photo of herself pushing 160 pounds, Traci Lee vowed to change her ways. She started small, mandating a daily half-hour of physical activity for herself. Now she's down 30-plus pounds and can knock out 10 pull-ups from a dead hang without breaking a sweat.
Planning a Fit Life
It wasn't that she was lazy back then. In fact, Traci Lee often spent 87-hour weeks managing retail stores like Target and Office Depot. A former "cardio queen," she even taught spinning in the early morning before work. But the diet part eluded her. "I tried: If you're not hungry, don't eat. That didn't work. Then: Keep the carbs low. That didn't work either." In September 2007, she began working with a trainer who gave her a no-nonsense clean diet. Four months later, Traci Lee ordered a posing suit and announced she was competing.
With her Navy officer husband, Aaron, spending months at a time in places like Bahrain and the United Arab Emirates, Traci Lee learned to get organized. Everything goes into her planner ("I'm visual," she says. "I need to see it written out.") There, she scribbles her children's activities, personal training appointments, spinning classes she teaches as well as her cardio and weight training workouts.
Motivating Others
Over the last three years, Traci Lee has ditched retail management, gotten certified as a personal trainer, tuned up her diet, added muscle, dropped more than 30 pounds and made continual tweaks to improve as a figure athlete. Still, she gets out there with her kids and the soccer ball. It's a lot, she admits, but she loves her new life. And she loves motivating others. You are the architect of your own life, Traci Lee believes. It's all up to you.
Traci Lee's Meals
Trading in drastic diets for clean eating helped Traci Lee drop 33 pounds! Here is a sample of her daily dishes:
7:00 a.m.: Oatmeal and egg whites with an apple
10:00 a.m.: Protein shake
12:00 p.m.: Chicken with a big salad; veggies with hummus
3:00 p.m.: Almonds and Greek yogurt
6:00 p.m.: Turkey burger wrapped in cabbage with brown rice and asparagus
8:00 p.m.: Protein shake
Hitting the Weights
Traci Lee trains six days each week, taking Sundays off to spend playing pool with her children. During the week, she teaches two weighted classes at the gym and performs a one-hour lower-body workout on Wednesdays, followed by a one-hour upper-body workout on Fridays.