Motivation Makeover
Here's what you need to know about willpower to start seeing results.
Heading out the door? Read this article on the new Outside+ app available now on iOS devices for members! Download the app.
Remember the day you found out the tooth fairy wasn't real? Well, we have another doozy for you: A lot of commonly shared truths about motivation are total baloney and could be the reason your scale is stuck. Thankfully, science is here to set the willpower record straight. Read on for a motivation — and body — makeover!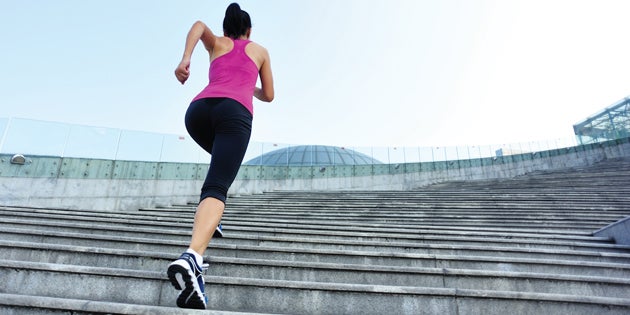 MYTH:Just write down your goals and success is guaranteed.
TRUTH:A general list is a good start, but adding specifics to your prepping and planning is essential.
"A key reason why goal setting works is that setting and committing to a challenging goal triggers plans to attain the goal," says Gary Latham, Ph.D., a professor of organizational effectiveness at the University of Toronto. Researchers call these "action steps." So instead of just saying, "I'm going to lose 5 pounds," list the specific efforts required to reach your goal: "I'm going to take the stairs instead of the elevator. I'm going to work out five times a week. I'm going to have one square of chocolate instead of five."
MYTH: Goals, even vague ones, are your best bet for success.
TRUTH:Setting the bar higher can raise your results.
Keep your eye on the big prize and you're more likely to succeed. Studies show that specific, high (hard) goals boost performance more than easy or vague goals. That's because ambitious goals increase your effort, focus and commitment. A study published in the Journal of Health Psychology found that setting high weight-loss goals meant more effort and better short-term weight loss. What's more, aiming high and succeeding makes you happier, whereas crossing easy goals off your list does little in the way of self-satisfaction, Latham adds.
MYTH:Rewards keep you revved.
TRUTH: Risking losing money for missed workouts trumps incentives.
Yes, tangible rewards can fire up motivation (complete 20 workouts in a month and score new lululemon tights!), but putting cash on the line for missing a sweat session can be even more effective. In one study, individuals who risked losing some of their own money if they failed to lose weight shed 14 pounds more than those with no penalty or reward, and they lost a pound more than a group that was promised an incentive.
MYTH:Fear is the best motivation.
TRUTH:Finding something you love to do is what really propels change.
Fear is a tricky motivator. "Too little and one can remain lethargic; too much and one freezes like a deer in headlights," Latham says. On the flip side, research says being positive can set you up for success, making you more likely to invest time and effort into pursuing your goals. That's why it's important to find a workout you love (aka intrinsic or internal motivation) and focus on the waist-slimming benefits, not the fact that you can't have a second serving of ice cream.
MYTH:Success is the only option.
TRUTH:Anticipating and planning for obstacles actually elevates success.
Studies show that thinking only positive thoughts — "Nothing bad can happen" — can sabotage success. "The key is to set the goal, list the obstacles and then plan ways to overcome the obstacles," Latham says. In a study of women wanting to be more active, the group who planned for upsets (for example, "If it rains, I'll run on the treadmill") was twice as active as those who didn't.
MYTH: You are your best motivator.
TRUTH: A support system is essential.
Keeping your fitness goals to yourself isn't doing you any favors. Studies prove that positive support can keep you motivated to exercise and lose weight. Plus, social support can keep your eye on the goal when the going gets tough, offering ideas for anticipating and dealing with setbacks, Latham adds. Social media can help, too. Researchers at the University of South Carolina's Arnold School of Public Health found that participants who regularly tweeted status updates such as, "I avoided eating a pastry this morning at a breakfast meeting" lost more weight.