Shake It Off
Didn't meet a fitness goal? Here's how to bounce back even stronger than before.
Heading out the door? Read this article on the new Outside+ app available now on iOS devices for members! Download the app.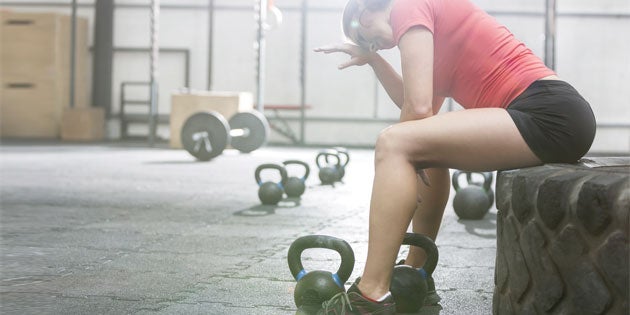 It happens to the best of us: You dedicate weeks, even months, of training for a fitness goal — whether it's placing in the top three in a fitness competition or logging a personal record in a half marathon — only to fall short. To say you're disappointed is an understatement. Yet how you handle this crushing defeat is key and can vault you back into the winning category. Here's how to recover from that letdown and move forward.
Try, Try Again
Failure is hard to accept. You've put yourself on the line, no doubt given up part of your life to train, and in the end, you hit the ground with a big thud. You've never felt more deflated.
Join the club. Every athlete, especially those who are successful, has failed. It's part of the game, after all. As Loren Fogelman, MEd, sports performance consultant in Medford, Oregon, and author of The Winning Point (Winning Performance Publications, 2012), says, "You have to be willing to fail in order to win." That's not to say failure shouldn't be disappointing, and you've certainly earned the right to be disappointed. But if you want to keep reaching for the next level, you need to see failure as a benefit. "Failure is feedback," says Rob Polishook, MA, CPC, author of Tennis Inside the Zone (Smart Cat Publishing, 2015) and mental training coach who's based in New York and Florida. "By failing, you learn what you need to do to change, which can turn you into a better athlete."
Five Steps to Recovery
Some athletes pick themselves up quickly after a loss and move on without much hesitation, while others take longer. The key is that you eventually do recover and resume your training. Otherwise, you could develop what Polishook calls an athletic hangover, in which you wallow in so much misery that your training, perhaps even how you function day-to-day, is affected. If that happens, seek help from a therapist, Fogelman says.
In the meantime, use these tips to help you recover — and ultimately become better:
1. Recognize that you're more than an athlete. If you define yourself by your sport, you're going to have a harder time recovering from a fitness disappointment, Polishook says. "The sport is what you do, not who you are," he says. Think about all your special gifts and talents and realize that they also help make you unique as an athlete.
2. Take a timeout. Forgo the urge to get right back into the grind and instead give yourself time off. "Even top athletes take a break because they know that by doing so, they come back fresher," Polishook says. Breaks should be a regular part of training anyway, but it's definitely key for giving you crucial mental relief from setbacks.
3. Hang around your support system. Surrounding yourself with people who love you unconditionally will help you quell the disappointment.
4. Trust in the process. Worried that this setback will cast a shadow when you do start training again? That's why you have to focus on what you can control. "You can't control whether you win or lose, but you can control everything in between," Fogelman says. That includes everything about your training, including your rest.
5. Celebrate your journey. Feeling ashamed that you weren't able to snag that fitness goal? Ditch the shame and instead be proud of your efforts. "By failing, you showed that you were willing to take a risk and push the envelope a little, and that's how new performance records are achieved," Fogelman says.