What to Know About the New Nutrition Facts Panel
By 2018, the Nutrition Facts panel will be getting a complete update. Get the 411 on what you can expect to see and why these changes will help you lead a healthier life!
Heading out the door? Read this article on the new Outside+ app available now on iOS devices for members! Download the app.
The Food and Drug Administration made the recommended changes discussed below after decades of research has identified the close link between nutrition and diseases such as obesity, hypertension, diabetes, heart disease and osteoporosis. There is no longer any question that what we put in our bodies directly affects how our body functions.
Though the FDA does a great job breaking down the changes, we've made it simpler and easier to understand.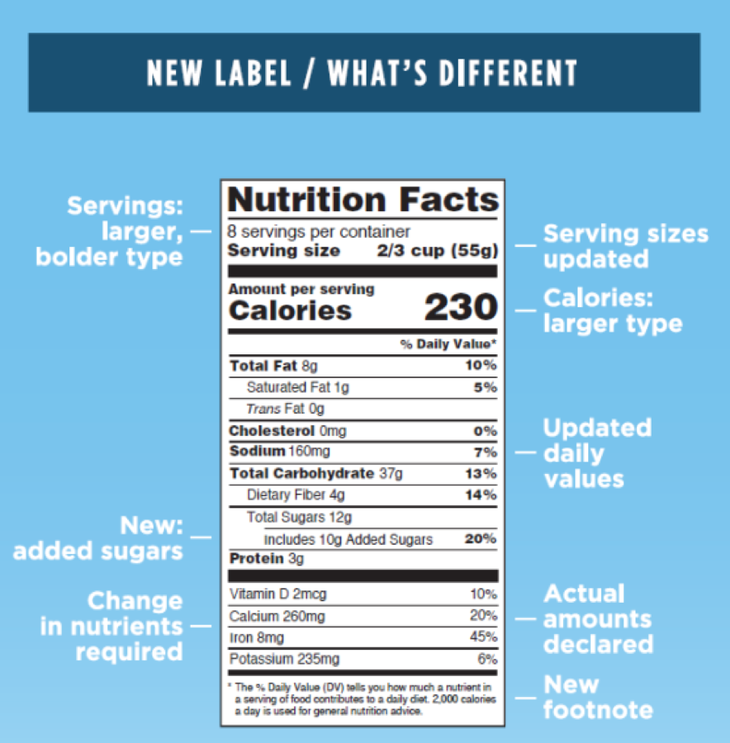 Added Sugar
This is without question the change that has received the most attention in the public eye. On the new label, added sugar sources (which include cane sugar, maltose, maple syrup, honey, high-fructose corn syrup, etc.) will directly be identified in grams under the total sugars category, nestled under the total carbohydrate count.
Why is this such a big deal?
Well, mainly because recent Dietary Guidelines for Americans limited added sugar to no more than 10 percent of one's daily calorie intake. Added sugar has directly been linked to excessive calorie intakes and preventative health conditions, such as obesity, diabetes and heart disease, so it's natural that the FDA has taken this a step further when reviewing the new label.
"For someone on a 2,000-calorie diet, that's 200 calories from added sugar max per day," says Toby Amidor, MS, RDN, nutrition expert and author of The Greek Yogurt Kitchen: More Than 130 Delicious, Healthy Recipes for Every Meal of the Day. "Without the proper support of food labels, how are individuals supposed to be able to follow these guidelines? Luckily, in the near future, you'll be better able to gauge your intake of added sugar. The parsing out of the added sugar is a way to empower buyers — now you really know what you're eating!"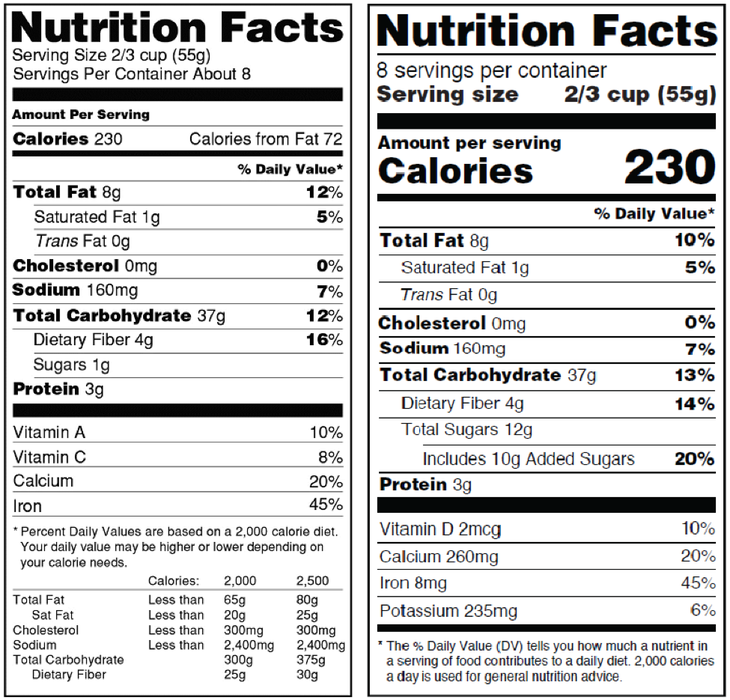 Bonnie Johnson, MS, RDN, a 20-year veteran to the food-service industry and vice president of scientific affairs for The a2 Milk Co., echoes Amidor's sentiment, stating: "It's finally time the stigma is broken surrounding added versus natural sugars. I've watched for years consumers confused when picking up dairy foods like milk, yogurt and cheese in the markets, wondering why these healthy items contain so much sugar. As much as I wish there was a dietitian at every aisle to help consumers understand the nutrition behind these products, that isn't an option. Including the change to allow added sugars to be placed on the label will hopefully aid consumers to understand [that] naturally occurring sugars, like lactose, can successfully fit into a healthy meal plan."
Nutrients Added
As you may have noticed, the current nutrition label states the percent Daily Value (based on a 2,000-calorie diet) of vitamin A, vitamin C, calcium and iron for the specified serving size. However, given that vitamin D and potassium are two nutrients identified as consistently lacking in the average American diet, the new panel will replace vitamin A and vitamin C with vitamin D and potassium.
Manuel Villacorta, MS, RDN, and author of Whole Body Reboot, strongly supports the addition of these two nutrients. "Given that vitamin D is present naturally in very few foods, it makes it challenging for Americans to achieve the recommended Daily Value," he says. "Showing consumers via the new panel the amount of vitamin D present (or lacking) in their food choices will hopefully help people eat more vitamin-D-rich or fortified foods.
"Also, potassium is key for cardiovascular health, especially to help regulate blood pressure. Since the intake of fruits and veggies for most Americans is low, potassium intake is also low. Adding potassium in addition to vitamin D onto the new label will help people recognize two things: One, they need to look for foods with higher sources of these nutrients or seek a multivitamin to assist with nutrient security, and two, foods not often associated with these nutrients, like dairy, are great additions to their meal plan."
Serving Size and Package Design
Have you ever picked up a product and wondered what the heck an ounce and a half of trail mix was?
As of 2018, packaged goods must state the common household measurement in addition to gram weight for the proposed serving size. Plus, the FDA is requiring manufactures to bold this, as well, specifically identifying the serving size for the food.
"I'm glad they're using common household measurements in the updated label and appreciate they are keeping gram weight, as well," says Sara Haas, RDN, LDN, a spokeswoman for the Academy of Nutrition and Dietetics. "This gives the consumer a better chance of 'getting it right' in terms of how much of that food is considered a serving. Empowering consumers this way is a positive step toward helping them make more nutritious choices in the future. I look forward to seeing how it all continues to evolve."
Daily Value Changes
On the new label, the percent Daily Value of a nutrient will now be presented with the actual amount present in the serving of that particular food item, as well as with the updated disclaimer that reads, "The % Daily Value tells you how much a nutrient in a serving of food contributes to a daily diet. 2,000 calories a day is used for general nutrition advice."
Furthermore, the percent Daily Value for dietary fiber, potassium and vitamin C has been increased, whereas sodium, total carbohydrates and biotin have decreased. In addition, choline has now been included as a voluntary addition to the panel, and the units for measuring folate, vitamin A, vitamin D and vitamin E have been modified.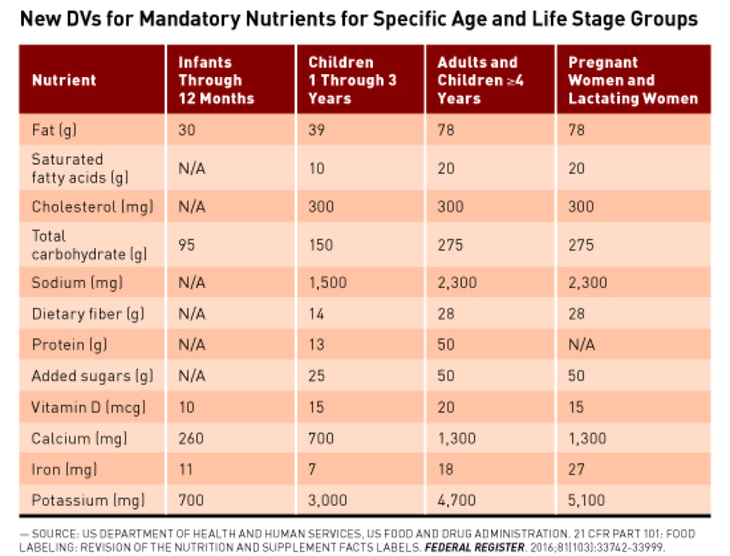 Shannon Garcia, RDN, owner of KISS in the Kitchen in San Antonio, feels these Daily Value updates are for the better. "It's no secret, Americans need to eat more fiber-rich foods. Not only is fiber found in fruits and vegetables but is also in our whole-grain friends, like quinoa, brown rice and whole-grain breads," she says. "Fiber keeps you feeling fuller for longer, helping to control blood-sugar levels while also providing you with energy from those b vitamins. However, not all Americans need 2,000 calories a day as stated on the current label. Identifying the actual amount of nutrients each food item provides will help guide consumers to make the best choices for their personal health."
As a registered dietitian nutritionist myself, I firmly believe these changes are definitely a step in the right direction to enable Americans to lead their healthiest lives yet. Though these changes are still in process, I encourage consumers to start now and flip that package over. Choose foods that are mindful of sodium (I recommend to aim for less than 600 milligrams for a meal and 250 for a snack) and higher in fiber (I recommend to aim for more than 10 grams per serving for a meal and more than 4 grams for a snack) while being mindful of your portion size.
Become an informed consumer and these changes will ultimately be for the health of it!
References
Changes to the Nutrition Facts Label. Food & Drug Administration website. https://www.fda.gov/Food/GuidanceRegulation/GuidanceDocumentsRegulatoryInformation/LabelingNutrition/ucm385663.htm#highlights. Accessed on March 21, 2017.
Levings J. The New Food Label: What RDs Need to Know. Today's Dietitian website. http://www.todaysdietitian.com/enewsletter/enews_0516_03.shtml. May 3, 2016. Accessed March 21, 2017.
Levings J. For Your Information: The New Food Label. Today's Dietitian website. http://www.todaysdietitian.com/newarchives/0916p24.shtml. September 2016. Accessed March 21, 2017.
Adapted from the Food and Drug Administration's Final Rule "Food Labeling: Revision of the Nutrition and Supplement Facts Labels," pages 903–906, and "Guidance for Industry: A Food Labeling Guide (14. Appendix F: Calculate the Percent Daily Value for the Appropriate Nutrients)."