Oxygen Challenge 7's Biggest Transformation: Carmen Pacheco
Heading out the door? Read this article on the new Outside+ app available now on iOS devices for members! Download the app.
Meet Oxygen Challenge 7's Biggest Transformation winner, Carmen Pacheco!
Age:

48

Location:

Brooklyn, New York

Occupation:

Independent Contractor/Entrepreneur

Team:

Both
When Carmen Pacheco signed up for The Oxygen Challenge 7, she hadn't properly exercised in over a year. For a variety of reasons, including the Covid-19 pandemic lockdown and poor nutrition habits, Pacheco had gained more than 20 pounds since the beginning of 2020. At the time, she was also dealing with the lasting effects of being a domestic violence survivor.
"Before OC7, I tried to do OC5 and OC6 — I actually completed about 1 month of OC5 but then could not finish it due to the mental, emotional and financial abuse I was going through inflicted by my ex-fiancé," she says. "I then attempted OC6, but again was not able to finish it. After OC6, I stopped working out completely and started eating unhealthy food. I gained over 20 pounds during the COVID-19 lockdown, and that's when I decided to attempt OC7."
The challenge came at the right time in Pacheco's journey, as she had repaired her financial and mental well-being, leaving her physical health next on the list. While she was still battling through abuse and difficult times, she pushed through it for the OC7 Challenge. 
One of Pacheco's main goals was to gain her stamina and energy back. At the time, she could barely get out of bed without huffing and puffing. But she wanted to go at her own, consistent pace. She got started utilizing both coaches' programming, but after a slight shoulder injury in late May, Pacheco slowed down and dialed in on Tara Laferrara's.
"I was doing Tara's and Venus' back-to-back everyday and it was just too much, which caused my shoulder injury," she says. "That's when I scaled back and continued with just Tara's plan as the main workouts and would do a Venus workout every once in a while."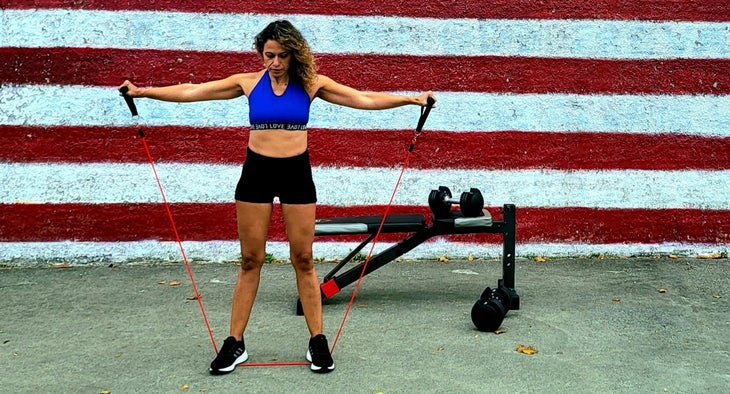 Pacheco believes proof is in the progress, so she documented her transformation through pictures, encouraging other participants to do the same. She saw the most obvious changes in her abs, legs and arms. Most notably, Pacheco lost eight and a half inches in her waist and gained a rock-hard six pack. 
Losing weight, sticking with the 90-day program and developing healthier eating habits was no easy task, especially as a single mother of two (Genesie, 20 and Bella, 4).
"This challenge was especially that: very challenging," she said. But she came out on the other side better than ever. "This challenge helped me mentally," she said, "proving to myself and to other women who are survivors of abuse that we can overcome, thrive past it and live a happier, healthier lifestyle."
Post-challenge, Pacheco is still consistent in following fitness challenges and maintaining her proper macros to gain muscle. Her plan is to bulk now, then cut right before summer.
Biggest Takeaway From The Challenge
"I am as strong as I set myself to be, not only physically but mentally. I can overcome any obstacle thrown at me as long as I keep a positive outlook and stay focused on my goals and dreams."
Nutrition Philosophy
"I was focused on losing fat and gaining muscle. I changed my macros numerous times during the challenge, and did not restrict any foods. I tried recipes from both Venus and Tara's programs."
Workout Buddy
"I recruited my friend and neighbor Alona to do the challenge with me. We worked out together at my mini home garage gym, and she completed the whole 90 days."
SOCIAL MEDIA
Facebook: Carmen C Pacheco 
Instagram: @carmencfitness
If you are a victim of domestic abuse, there is help … contact the domestic abuse hotline at 1-800-799-7233 and remember domestic abuse is not just physical abuse.