The Five Doctors I Proved Wrong
Amanda Webster healed, despite being told by numerous doctors that it was impossible.
Heading out the door? Read this article on the new Outside+ app available now on iOS devices for members! Download the app.
Trigger warning: This piece makes mention of attempted suicide.
It's fairly easy to find naysayers who don't believe in your potential. From birth to now, I've come face to face with many who have placed limitations on my abilities. More than three decades later, my challenges have yet to slow down, but I'm now able to believe in myself, and that cannot be underestimated.
The Struggle
Let's rewind to the beginning. As soon as the doctor who delivered me saw my fragile state and ran his analyses, he stood over my incubator with my parents and told us all that I would never walk. 
Of course, I don't remember this event firsthand, but my parents recounted the experience a hundred times over the years. Instead of adapting the mindset that I had proved the doctor wrong and could do anything, I used this assessment as an excuse. How could anyone expect me to be good at sports or to exercise when I wasn't even supposed to be able to walk? 
Fast-forward to my 20s when I was diagnosed with cervical cancer and then subsequently got pregnant before I had a chance to contemplate my options. In a time when I should have been rejoicing, one doctor pressured me with heavy medications and treatments, while another told me my tiny body couldn't possibly birth a baby naturally and I would have to undergo a cesarean section.
By the time my son was toddling his first steps, I was diagnosed with a serious mental illness (SMI) and told that I would struggle with it for the rest of my life. Countless professionals reiterated that people aren't "decertified" once they've been certified with an SMI. Some added that I would never be able to function again without medication. 
After surviving a suicide attempt, I was determined to be happy, only to be shot down by yet another doctor who told me that happiness "wasn't possible for someone like me" and that I'd never be able to lead a "normal life."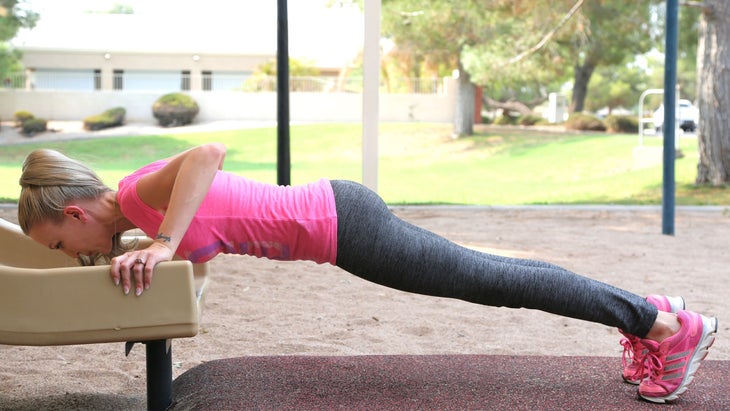 The Turnaround
Guess who ran 2 miles this morning? This gal. Guess who had that baby at a birthing center with no grandiose intervention? This mama. Guess who is cancer-free and living the happiest life imaginable, decertified SMI and all, with no medications? Yup, the girl who took control of her fate.
To share my story now from a point of confidence and victory might make it sound like I'm minimizing experiences like cancer, pregnancy, depression and suicide, but these were challenges that I accepted at the time as unmanageable at best and insurmountable at worst. They aren't to be taken lightly. 
I'm also not advocating that you ignore or reject medical intervention. Au contraire. While it's important to rise into your power and take control of your health, when necessary, you must find a medical health professional who compliments these efforts.
I see a doctor biannually to check my vitals and nutrient levels, and I still talk to a life coach or therapist if I find myself faced with a situation in which I can't see a viable solution.
The thing is, you can see the best doctors in the world, but if you aren't making the effort to aid your body in a healing process, there's only so much they can do. 
Health is achieved when the body is able to protect itself against imbalances, breakdowns and foreign invaders. Evolution has endowed us with powerful defense systems to maintain optimal physical and mental states. Research is revealing clear links between our innate health defense systems and our lifestyle choices that can activate or weaken them.
Here are four ways in which I work to maintain balance and nurture my physical, mental and emotional health.
Don't Tick Off Your Gut
A happy gut means a strong immune system, healthy heart and brain, improved mood, restful sleep and effective digestion, and it can help prevent and treat some cancers and autoimmune diseases. Staying on good terms with your gut means avoiding processed foods and environmental stressors that can unknowingly cause inflammation.
Eat the Rainbow
There are more than 30 vitamins, minerals and other nutrients that your body needs but cannot sufficiently produce. Deficiencies not only can contribute to everything from skin disorders and cancer to blindness and heart failure but also often show up as symptoms of anxiety and depression. While 30 might sound like an awful lot, nature conveniently gave us an easy hack by color-coding our food. To maximize your nutrient intake and in turn reduce your risk of deficiencies, your goal should be to consume servings of whole food from each of the main color categories.
Do Something
If you aren't going to the gym or slaying circuits at home, it might seem like you aren't "doing it right," but only 30 minutes of moderate exercise a day is needed to reap the benefits. We tend to think of exercise as preventive, but in reality, it has a vast range of healing influences on the body that can help reverse negative biochemical trends and improve our resiliency and immunity at virtually every level of our physiology.
Watch Your Thoughts
There's a reason optimism has reached record levels of notoriety. When I was struggling in the most intense part of my clinical depression, I was frequently sick, I couldn't sleep, my body ached constantly and I developed stress-induced cardiomyopathy. I have to admit, combating toxic thoughts was the hardest part of my healing journey, but it was crucial. I'm now able to cope better with stressful situations, which reduces the harmful health effects of stress on my body.
While some people might need further intervention or additional resources, these simple yet sometimes challenging action steps can bring about healing and promote optimal health in darn near anybody.
If the physical and mental benefits aren't persuasive enough, I will tell you that there is absolutely nothing in the world more satisfying than looking a doctor in the face (in my case, several) and saying, "I proved you wrong."
If you would like to learn more about Amanda Webster, her story and her offering, please visit her website.