A Taste of the Exotic
Produce aisle got you down? There's a world of unique choices out there that are yours to discover. Give these a try!
Heading out the door? Read this article on the new Outside+ app available now on iOS devices for members! Download the app.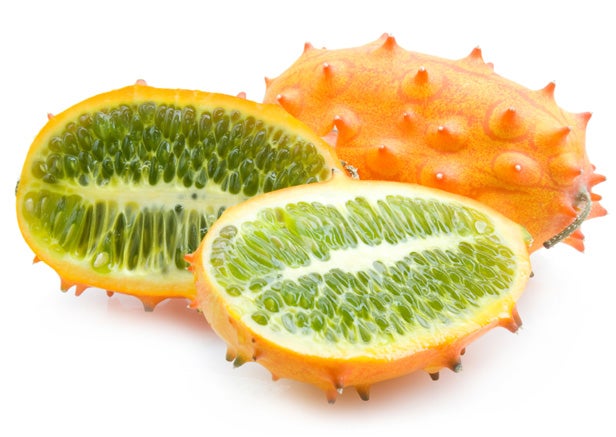 Burned out on broccoli and blueberries? Excite your palate with these less common alternatives – many of which taste like several foods all rolled into one. "Experimenting with a variety of fruits and vegetables not only provides you with a well-rounded diet of vitamins, minerals and disease-fighting phytochemicals necessary for optimal health, it also makes eating fun," says Felicia Stoler, nutrition coordinator for the New York City Marathon. If you're wondering where to get these foods, they can all be found at your local supermarket or specialty produce stand. So expose your adventurous side and dig in.
Kiwano
This New Zealand fruit is also farmed in California. Also known as horned melon, kiwano has a bright green, juicy, gel-like flesh with a sweet-tart flavor reminiscent of watermelon, cucumber and bananas.
At the market: Look for bright orange shells.
To store: Keep at room temperature.
To prepare: Cut in half and scoop out the flesh. Seeds are numerous and edible. Eat as is with a sprinkle of sugar, or toss in fruit salads. Use the shell as a bowl for serving soups and salads.
Health benefits: Iron is one of this melon's best assets – it contains over one milligram per average fruit, or about 12 percent of the daily requirement. Compare that to the same amount of watermelon (2/3 cup), which contains only a quarter of a milligram. "Studies show about 10 percent of women in their childbearing years are low in iron. This can lead to anemia, the symptoms of which include fatigue, reduced energy, and a decreased ability to fight infections," says registered dietician Joyce Vergili.
Nutrients per fruit (100 g): Calories: 25, Fat: 0 g, Carbohydrates: 3 g, Fiber: 1 g, Protein: 1 g[
Chayote
From Latin America, this squash-like vegetable with a pale crisp flesh combines the flavors of cucumber and zucchini.
At the market: Choose unblemished chayote with dark furrows. Color ranges from cream to dark green, but most are an apple-green. The smaller ones are more tender.
To store: Keep refrigerated.
To prepare: Remove the skin either with a peeler before cooking or afterward by pulling it off. Then cook as you would any summer squash – pureed, steamed, sautéed, sliced in salads or baked. The firm texture holds up better than many other squashes when stuffed or sliced. Seeds are edible and can be cooked along with the flesh.
Health benefits: The USDA says chayote is a very good source of folate, one of the B-vitamins known to help decrease homocysteine levels, a risk factor for heart disease. In fact, it has 40 percent more than the amount found in broccoli.
Nutrients per fruit (203 g): Calories: 50, Fat: 1 g, Carbohydrates: 11 g, Fiber: 6 g, Protein: 2 g