Asian Salad
This low-cal, tasty salad is chock-full of crunchy veggies and exotic flavors. Don't settle for the ordinary when you can create superb Asian cuisine in your own kitchen.
Heading out the door? Read this article on the new Outside+ app available now on iOS devices for members! Download the app.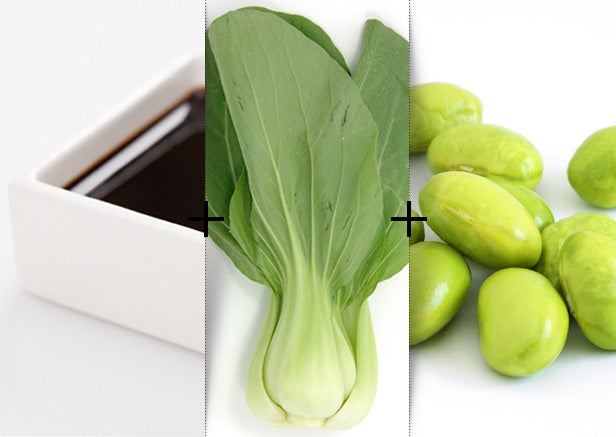 Ingredients
1/2 cup snow pea pods
1 cup edamame
1 handful green or yellow beans
1 large carrot, halved and cut into matchstick pieces
2 cups bok choy, whites only, well washed and thinly sliced
1/2 cup jicama or turnip, cut into matchstick pieces
1/4 cup fresh chives, sliced on the diagonal
2 tbsp rice vinegar
2 tbsp low-sodium soy sauce
1 tbsp fresh lemon juice
1 tsp roasted sesame oil
Sea salt and freshly ground black pepper to taste
Instructions
Fill a large pot with water and bring to a boil. Fill a large bowl with water and fill with ice cubes. Blanch snow peas and edamame in boiling water for 30 seconds. Transfer to bowl of ice water.
Add beans to the pot of water and cook for 2 minutes. Transfer them to ice water. Blanch carrot for 3 minutes and transfer to ice water. Drain all vegetables very well.
Place drained vegetables in large decorative salad bowl. Add bok choy, jicama and chives to drained vegetables.
In a small bowl, combine rice vinegar, soy sauce, lemon juice, sesame oil, sea salt and pepper. Pour over vegetables and toss lightly. Serve cold or at room temperature.
Nutrients per serving (Makes 4 servings): Calories: 98, Total Fat: 4 g, Carbohydrates: 10 g, Protein: 8 g