5 Foods To Boost Your Brain Power
Improve your mood, motivation and mental stamina with these five foods for your brain.
Heading out the door? Read this article on the new Outside+ app available now on iOS devices for members! Download the app.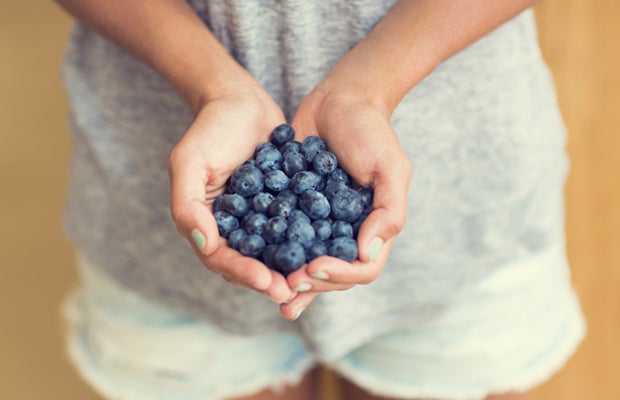 It's hard to get mentally prepared to exercise. But there are lifestyle or nutritional adjustments that you can make.
With a demanding schedule, it's normal to have some days when you don't feel as mentally charged, but the foods you consume play a critical role in ensuring your brain is fueled and sharp for each bout of exercise.
The first thing your brain needs to improve your mood, motivation and mental stamina is its preferred fuel source: sugar. An adequate intake of carbohydrates on training days will allow your muscles and central nervous system to function properly. Your body is equipped to create sugar for the brain from other substances, but nothing beats the carbohydrates found in whole grains and fruits. Most women who have tried to sustain a low-carb diet over the long term will attest to two main struggles: food cravings relating to a lack of satiety and poor mental well-being. Your brain will stay razor sharp if it gets a steady supply of nutrients in a balanced diet of carbs, proteins and healthy fats.
Structurally, about one-third of the brain and nervous system are made up of polyunsaturated fatty acids, so if you want to avoid that sluggish I-really-don't-want-to-work-out-today feeling, it's essential to keep your brain and body lubricated with these fats, which are found in nuts, seeds, olive oil and fatty fish. The amino acids in salmon proteins serve as the precursors for transmitters that help brain cells communicate with each other.
A diet high in antioxidants, plant flavonoids and other phytochemicals will also give you a mental pick-me-up. A study published in The Journal of Neuroscience found that blueberries increased mind power in aging rats by boosting brain cell-to-cell communication, which also helped improve coordination. Researchers also discovered that a compound found in blueberries, raspberries, strawberries and herbal teas has similar mood-boosting qualities as the antidepressant valproic acid.
Just as important as diet, exercise itself energizes your brain. A good workout routine creates a domino effect, with each session motivating you to start the next. A lack of exercise, by contrast, is linked to reduced mood, less gray matter, and overall cognitive decline in aging populations.
You also can keep your brain firing on all cylinders when it comes to exercise by managing your stress, getting adequate sleep and maintaining a healthy weight. Elevated cortisol from chronic stress and fatigue can put you in a bad mood and affect your overall mental health. A high-calorie diet loaded with sugar and fat not only will create a bulging waistline but also can reduce circulation in the brain and decrease cognitive abilities.
Boost Your Brain
Green Tea
What's so great about it?
Green tea is high in neuroprotective flavonoids.
It's an excellent source of antioxidants.
It boosts mood and cognitive function.
Green Tea contains compounds that have a neuroprotective effect on the brain.
Salmon
What's so great about it?
Salmon is rich in omega-3 fatty acids, which facilitate brain blood flow.
It maintains structural integrity of brain and entire nervous system.
Amino acids form precursors to brain neurotransmitters.
Salmon contains high doses of metabolic-boosting B vitamins.
Related: Walnut-Crusted Salmon
Spinach
What's so great about it?
Spinach contains folate that helps enzymes involved in adrenaline production.
Folate helps increase levels of mood-boosting dopamine.
It contains vitamin K, involved in nervous system development.
Spinach is shown to slow and potentially reverse signs of age-related decreases in brain function.
Steel-Cut Oats
What's so great about it?
Steel-cut oats are high in soluble and insoluble fiber.
They are slow-digesting carbs; perfect for fueling exercise.
They prolong the mood-boosting effects of post-meal satiety.
Blueberries
What's so great about them?
Blueberries are high in blood-vessel-protecting antioxidants.
They have mood-boosting effects similar to antidepressants.
Blueberries are a fuel source for the nervous system.
They contain vitamin C, a neuroprotective compound and antioxidant.
Blueberries are shown to reduce age-related cognitive decline.
They're a great source of nutrient-dense carbohydrates.