Freestyle Bison Meatloaf
Expand your protein horizons with this delicious high-protein bison meatloaf recipe.
Heading out the door? Read this article on the new Outside+ app available now on iOS devices for members! Download the app.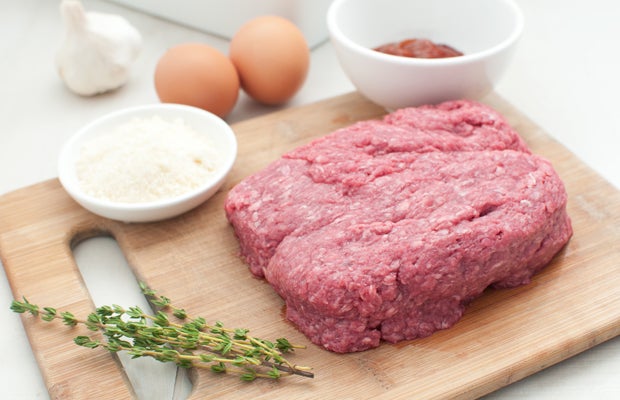 Long, lean limbs, tanned and gorgeous, need hard work to look that way, and when we get it right, there is no denying their glory. As fitness women, we strive to build flowing lines from hip to knee, with curving glutes, diamond-shaped calves, runway-sleek midriff, perky delt cap and buff arms. Ideally, we own the complete package.
The work we do to create that package involves training and nutrition. The arenas? A gym — or wherever you work out — and the kitchen. Eighty percent of your effort involves clean nutrition. If you ask me, building tight, full muscle can only be done using high-quality proteins, plant or otherwise, since amino acids are the building blocks of our fleshy parts.
Getting high-quality protein into your diet on a consistent basis is as simple as selecting those you love best. Whether vegan, vegetarian, Paleo or other, choosing proteins to fit your summer goal of sporting a cute bikini leads you to options as varied as bison, chicken, turkey, pork, fish, nuts and their butters, eggs, wild game, legumes, soy and soy products, dairy, seaweed and vegetables, whole grains and pseudo grains like quinoa.
I constantly mix it up, sometimes opting for a heavily textured kale salad loaded with cooked quinoa and chickpeas, organic free range eggs on a pile of steamed greens, a lentil curry or a bison steak. There is no shortage of recipes featuring any and all of these proteins, so what's on your plate is limited only by your imagination.
Women need about between 4 and 6 ounces of protein per meal. Women typically consume less than the ideal amount of protein, but generally we should consume about 46 grams a day. Protein is essential for repairing the body, the immune system, building muscle, stimulating the metabolism, boosting the immune system and balancing appetite. A gal who kills it in the gym with heavy weights, numerous sets and reps and rigorous training can't do it without the help of protein.
Freestyle Bison Meatloaf Recipe
Makes 8 servings
Ingredients
1 cup gluten-free oats, coarsely ground
2 garlic cloves, chopped
1 medium onion, chopped
1 celery stalk, chopped
1 medium carrot, chopped
½ cup flat-leaf parsley
12 ounces ground chicken or turkey, preferably pasture-raised
12 ounces ground bison, preferably grass fed
1 large whole, organic egg
½ cup cooked tomatoes
1 tablespoon Dijon mustard
1 tablespoon Worcestershire sauce
Coarse salt and freshly ground pepper
2 tablespoons Italian seasoning (dried leaves of oregano, basil, sage, marjoram)
Directions
Preheat oven to 375 degrees.
Prepare baking sheet by lining with parchment paper.
Combine all the ingredients except the meat in large mixing bowl. Mix until well combined.
Add meat. Using clean hands coated with a bit of oil, mix meat into seasoning mixture. Do not overmix.
Place mixture on baking sheet and shape with hands into a freestyle loaf.
Bake for about 1 hour and 20 minutes.
Remove from heat and serve hot, or let cool and refrigerate.
This meatloaf keeps well, and cold sliced meatloaf is delicious on my Eat Clean kale salad.
For more on training, nutrition and motivation, visit toscareno.com