Spicy Black Bean Taco
These tasty bean tacos provide protein and carbs in a perfect single-handed package
Heading out the door? Read this article on the new Outside+ app available now on iOS devices for members! Download the app.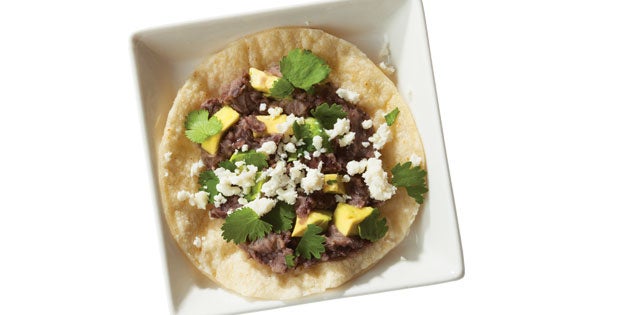 If you tend to shy away from beans, it's time to start embracing them and using them to your advantage. Beans are that perfect combination of protein and high-fiber carbohydrates that will provide fuel for your workout as well as serve as a balanced recovery meal. If it's the gas production that's keeping you away, know this: You have to eat beans if you want to tolerate them. In other words, the more beans you eat, the less gas you'll experience. We love using beans in tacos because you can make the filling and use it for a few days. Then just heat your tortilla, fill with the bean mixture, and top with fresh cilantro and cheese.
Spicy Black Bean Taco Recipe
Makes 1 serving
1/3 cup canned black beans, rinsed and drained
¼ avocado, chopped
1 tablespoon salsa verde
¼ teaspoon ground cumin
1 corn tortilla
1 tablespoon chopped fresh cilantro
½ tablespoon Cotija cheese
a few dashes of your favorite hot sauce (we like Cholula)
In a bowl, mash the beans with the hot sauce. Add the avocado, salsa verde and cumin and mix well.
Heat the tortilla over an open flame for 30 seconds per side (or in an oven). Fill with the bean-avocado mixture.
Sprinkle with cilantro and Cotija cheese.
Nutrition facts (per serving): calories 213, fat 8 g, saturated fat 2 g, sodium 349 mg, carbs 29 g, fiber 8 g, sugar 3 g, protein 9 g
Spice it up: A tablespoon of cumin provides 4 milligrams of iron (22 percent of daily value). The spice appears to stimulate the liver to secrete more bile, which aids in the breakdown of fats and the absorption of nutrients, leading to healthier digestion.
Double whammy: Black beans provide a valuable protein-plus-fiber combination. One cup of black beans yields 15 grams of fiber and 15 grams of protein.
Nutrient bonanza: The iron, calcium, magnesium, phosphorus, manganese, copper and zinc in black beans all contribute to building and maintaining bone structure and strength.