Spring Cleanse
Pump up your energy with a sports-specific detox.
Heading out the door? Read this article on the new Outside+ app available now on iOS devices for members! Download the app.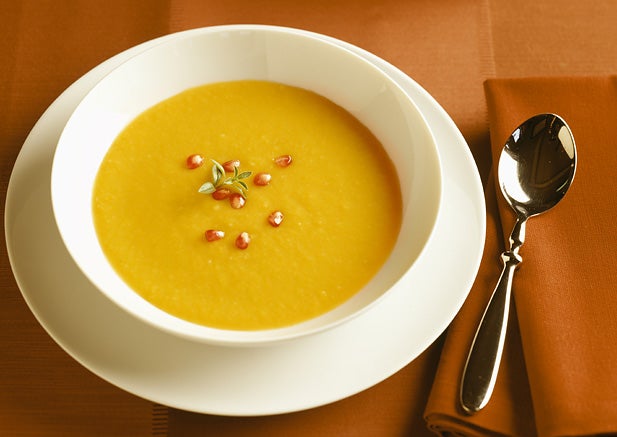 Winter can be hard on your body. But now it's time to get healthy again. So how do you drop winter's heaviness without feeling wilted in the process? "A detox diet, essentially," says Mary Beth Augustine, a registered dietician who provides nutrition counseling at New York City's Continuum Center for Health and Healing.
A detox plan can be the quickest way to shed bloat, improve your mood, and kick your food lust. It can put you on the right track, both physically and mentally. If you're wary of detoxification because you associate it with ingesting nothing but lettuce and water, you can relax. Augustine designed a program specifically for Oxygen readers — one that will suffuse your body with health-promoting nutrients while restoring energy levels and supporting your activity needs. needs. Unlike some detox plans that exclude foods such as animal protein or grains, Augustine offers a stepped-up yet sensible program with a three-pronged approach:
It's rich in low-glycemic foods that also reduce inflammation, water retention, and abnormalities like carbohydrate cravings and reactive hypoglycemia.
It focuses on anti-inflammatory compounds, with the goal of minimizing inflammation.
It's high in dietary antioxidants, with an emphasis on colorful vegetables.
Key clean-out ingredients
Bitter compounds: "The gastrointestinal tract can overburden the liver if you don't have good digestion," says Augustine. Bitter compounds, such as those found in burdock, chicory, and dandelion root teas, stimulate the flow of bile and help the gallbladder contract. They can also help suppress the appetite, Augustine says. Try sipping a bitter tea between meals.
Carminative spices: Compounds from these spices and plants help reduce gas and aid in peristalsis (the movement that results in the bowels being emptied). Carminative spices include fennel, anise, basil, and rosemary, as well as spices used in Indian cuisine, such as cardamom, coriander, cumin, and dill. Carminative teas, which include peppermint-ginger, fennel seed, or aniseed tea, are also useful in improving digestion.
Fluid-replacing foods that reduce water retention: "Often, when people are bloated and puffy they don't realize they need to push more water through them and do things that help diuresis," says Augustine. "Cucumber juice is a real whole-food approach to reducing water retention. I like little 'boosters' of juices, tonics, teas, and broths, even if you get in only one a day. For example, if you juice three cucumbers and use the juice in a gazpacho, you get a massive infusion of cucumber." Include diuretic foods, like asparagus, watercress, and parsley, in your menus.