Triple Melon Smoothie
Boost your muscle with this invigorating summer smoothie that's loaded with good-for-you nutrients.
Heading out the door? Read this article on the new Outside+ app available now on iOS devices for members! Download the app.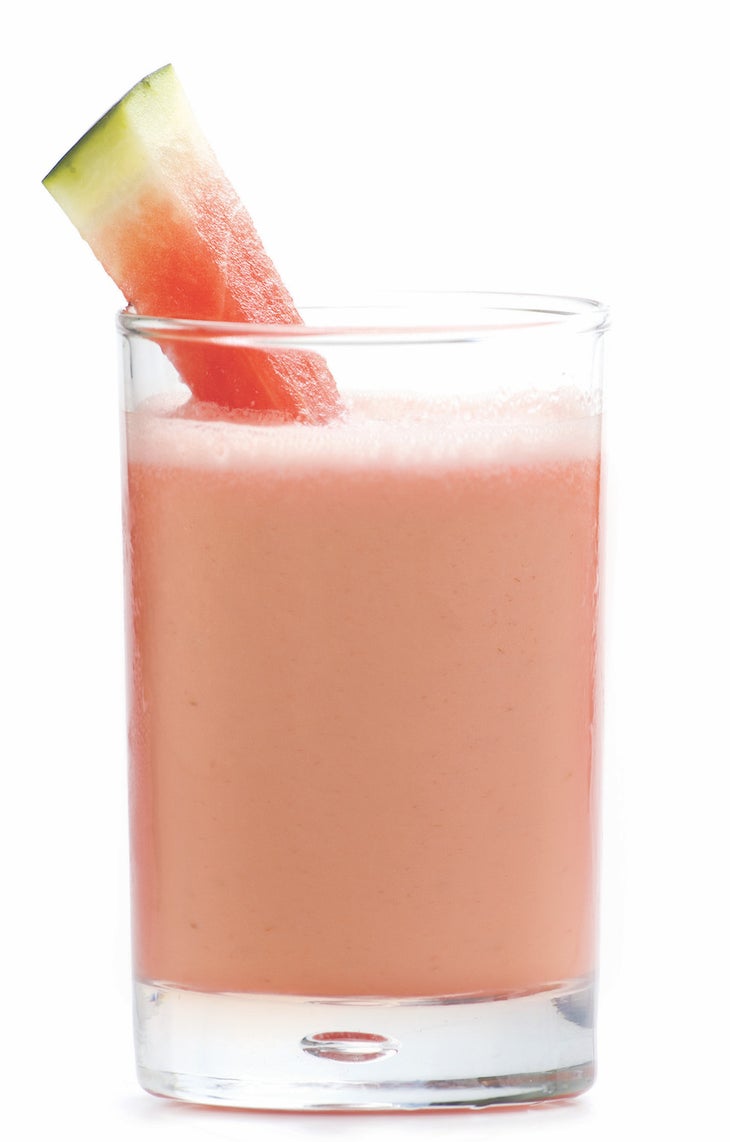 Makes 1 serving
½ cup cubed watermelon
¼ cup cubed cantaloupe
¼ cup cubed honeydew
1 scoop vanilla whey protein powder
¼ cup nonfat milk of choice
½ medium frozen banana
1 teaspoon fresh lime juice
ice (optional)
Directions
Combine ingredients in a blender and process until smooth. Add ice, if needed.
Nutrition Facts (per serving): calories 278, total fats 1 g, saturated fat 0 g, trans fat 0 g, protein 29 g, sodium 150 mg, carbs 38 g, fiber 3 g, sugar 24 g
Tip: For a thicker and creamier smoothie, freeze the melon in advance.
Yay Whey!
Did you know your body burns more calories when consuming protein than it does carbs or fats? It's called the thermic effect of food (TEF). Researchers compared the TEF of soy protein vs. whey protein to find out which one burns more. The study published in the journal International Society of Sports Nutrition found that whey protein had a 5 percent greater TEF than soy protein, which means you burn more body fat simply by choosing whey over soy. Hats off to another study giving us more reasons to love whey!
Body Benefits
1. Better Workouts With Watermelon: The juicy red flesh of this sweet fruit is packed with the nonessential amino acid l-citrulline (about 250 milligrams per cup!). Citrulline converts to the conditionally essential amino acid arginine in the body, which leads to increased nitric-oxide production and improved blood flow to the muscles. This means bigger muscle pumps in the gym and better results over time.
2. The Beauty Fruit: Cantaloupe provides 100 percent of the Recommended Daily Value of vitamin A and C, and it's loaded with beta carotene. Beta carotene converts to vitamin A in the body, which has been shown to help protect the skin from damaging UV rays, smooth wrinkles and promote healthy skin by thinning the layer of dead skin cells that can clog pores and cause blemishes.
3. Summer Sweets: A ½ cup serving of honeydew melon packs only 60 calories and a host of health benefits, including energy-boosting natural sugars, antioxidant vitamins, filling fiber and potassium for optimum hydration.