Upgrade Your Sandwich
Pack a lot more nutrition between those slices with some creative twists. Your PB&J … all grown up!
Heading out the door? Read this article on the new Outside+ app available now on iOS devices for members! Download the app.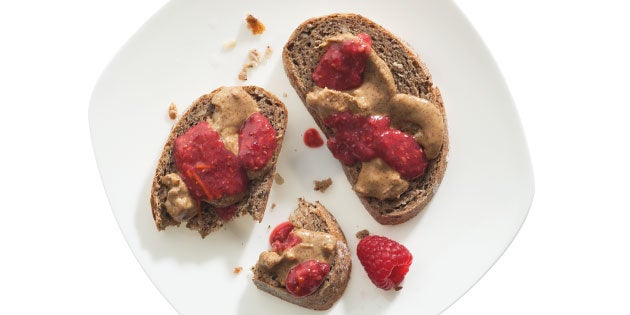 How many peanut butter and jelly sandwiches did you eat as a kid? There's nothing easier than taking two slices of bread and spreading one with peanut butter and the other with strawberry jam. Put them together and call it lunch. Nutritionally speaking, it's a decent meal — carbs, protein and healthy fat — depending on what kind of bread, peanut butter, and jam or jelly you choose. Our grown-up version is just as easy to make but is made from much cleaner food items. There's more protein, more fiber and healthier fats. Plus, you get to make your own jam that's jampacked (pun intended) with nutrients.
Almond butter & Raspberry Jam Sandwich
Makes 1 serving
1 cup fresh or frozen raspberries
1 tablespoon chia seeds
1 tablespoon fresh-squeezed orange juice
¼ teaspoon orange zest
1 teaspoon 100% pure maple syrup
1 slice sprouted-grain bread
1 tablespoon raw, unsalted almond butter (creamy or chunky)
Place the raspberries, chia seeds, orange juice, orange zest and syrup into the bowl of a food processor. Blend until puréed. Pour into a jar with a lid and set in the refrigerator for a few hours.
Place bread in toaster and bake until desired level of crunch is achieved.
Spread almond butter onto toasted bread. 4. Top with 1 tablespoon raspberry chia jam.
Nutrition facts (per serving): calories 198, total fat 9 g, protein 8 g, carbs 21 g, fiber 7 g
The recipe for the raspberry chia jam yields ½ a cup; use just 1 tablespoon in your sandwich and save the rest for later.
Tiny but strong: Don't be fooled by their tiny size and mild flavor — when it comes to nutritional content, chia seeds are big and bold. Loaded with fiber, chia seeds are also a great source of antioxidants, protein and omega-3 fatty acids. Add a teaspoon to smoothies, or sprinkle these tasty seeds over your morning oatmeal or yogurt.
Beautiful berries: Keeping raspberries in the freezer is an easy way to enjoy this flavorful fruit year-round. These delicate, tender berries are packed with antioxidants and flavonoids, and they're also a good source of fiber and vitamin C. Swirl a handful into plain yogurt, or tumble some into a fruit salad or a dinner salad.
Zesty and sweet: Orange zest contains cancer-fighting flavonoids and is also a source of fiber. Grate over granola or fresh fruit, stir into a batch of bran muffins or whisk a little zest into your homemade salad dressing.
Sprout that: Nutty and light in texture, sprouted-grain breads tend to be higher in protein and lower in carbohydrates than regular grain breads, and they are a good source of fiber. A variety of sprouted grains are used in breads, including wheat, barley, spelt, oat and millet. Experiment to discover which type of sprouted-grain bread tastes best to you.