Healthy Foods To Add To Your Cart
Eating clean means shopping clean. Get that fabulous body sooner with these healthy checkout tips.
Heading out the door? Read this article on the new Outside+ app available now on iOS devices for members! Download the app.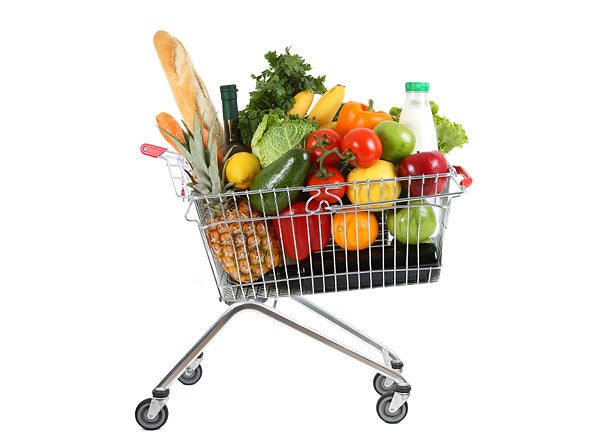 Making the decision to eat clean is momentous. The promise of what's to come – a fabulous body, loads of energy and improved health – is exhilarating. So where do you begin? To make room for the fabulous fat-burning clean foods you'll eat from now on, you need to clear out the junk food hiding in your kitchen cupboards, fridge and pantry – otherwise, if you allow them to lurk around, you'll find them when you are tempted to cheat. Be honest and ruthless. Toss it all – cookies, chips, Tostitos, Doritos, crackers, sugary cereals, doughnuts, pastries, cake mixes and any other hidden goodies stashed away.
Shop Yourself Strong
Your success with clean eating depends on you, the shopper. Whatever you toss in your cart eventually ends up in your stomach, so it's best to make good choices right off the bat. Let your good choices include an array of fresh produce. Select a rainbow of colors for full nutritional benefits. Greens are important for maintaining a healthy pH balance in the body and providing fiber, bulk and phytochemicals. Reds, oranges and yellows contain important cancer-fighting agents, along with enzymes and fiber. Whenever possible, buy locally grown, in-season produce.
See AlsoWhat Is Clean Eating?
When you're searching for protein sources, look for lean turkey breast, chicken breast, pork tenderloin, beef tenderloin, buffalo or bison, as these are the leanest cuts of meat. If you like venison or caribou, they too, are excellent sources. Exchange ground beef for ground turkey, chicken or bison. Make sure the mix is 100 percent ground meat, with no skin or fat. Unsure? Have your butcher grind lean cuts of meat so you know for sure that there is no extra fat.
If you have the option to buy meat in portion sizes, do so, and look for five- to six-ounce servings because this is the amount recommended for each clean-eating meal. Or buy family packs of meat because they are usually cheaper. They are a time-saver too, because instead of buying and grilling one chicken breast, for example, you can grill several and have planned leftovers.
Salmon, halibut, snapper, tilapia, cod, mackerel, water-packed tuna and sole are super sources of lean fish protein. Protein from fish is easily digestible and contains essential omega-3 fatty acids.
Versatile and inexpensive, eggs are the perfect complete protein. If you consider the whole package, there is one slight flaw: egg yolks contain cholesterol, so keep your consumption to two egg yolks a week. Otherwise, egg whites can be eaten every day in countless versatile ways.
Vegetable proteins like legumes, soybeans, lentils, chickpeas, black beans, kidney beans, pinto beans, black-eyed peas, quinoa and tofu are great options three to four times a week. These alternatives are less expensive than meat and taste delicious.
Love Labels
Since nutrition labeling is now available on most packaged foods, learn to pinpoint everything you could be eating. Look for and avoid hidden sugars, including corn syrup, dextrose, fructose, glucose, honey, molasses, maple syrup, maltose, sucrose and artificial sweeteners.
While you're at it, look for fats. The nutrition labels will list grams of total fat per serving, along with the amount of saturated fat and cholesterol. Watch for and avoid palm and palm kernel oil, shortening, butter, chocolate, milk chocolate, cocoa butter, egg and egg yolk solids, lard, tallow, suet, whole milk solids, glycerol esters, monoglycerides or diglycerides.
Remember to avoid trans fats at all cost. According to Lee Labrada, author of The Lean Body Promise: Burn Away Fat and Release the Leaner, Stronger Body Inside You (Collins, 2005), trans fats "are the worst artery-clogging, cancer-causing substances you can put in your body."
Also, try to avoid products that claim to be "reduced fat." According to Dr. David Katz, author of The Way to Eat: A Six-Step Path to Lifelong Weight Control (Sourcebooks, 2004), "If a product is labeled 'reduced fat,' you can be sure that it's not low in fat, or it would say so. Reduced-fat products are often still high in fat – they're just lower than the standard version of the particular product." Stick to healthy fats like nuts, nut butters and olive oil. And always look for the highest fiber-content products – especially in breads and cereals.
Prevent Persuasion
Now that your cart is full of clean-eating foods, you can head toward the cash register, excited about the positive changes coming your way. But while waiting in line, you see chocolate bars, chips and soda – these products are placed there to tempt you – and you think, what is one little chocolate bar? Just before you reach for the little devil, remember that this shopping trip and every other one after it is about you and your health. Proudly ignore the winking chocolate and push forward to pay for all of your fresh finds. Your body will thank you.
Your Checkout Checklist
Ground chicken
Fresh fruit
Egg whites
Turkey or chicken breast
Skim milk or low-fat soy milk
Low-fat cheese, cottage cheese or goat cheese
Low-fat or nonfat unsweetened plain yogurt
Clear or broth-based soups or broths
Unsalted nuts
Unsalted air-popped popcorn
Sliced chicken or turkey breast or fish
Flatbreads, pitas, wraps or Ezekiel bread
Muesli, whole grains or shredded wheat
Nonfat cooking spray or unsaturated oils
Lemon juice or balsamic vinegar
Brown, black or mahogany rice
Ground chicken
Fresh fruit
Egg whites
Turkey or chicken breast
Skim milk or low-fat soy milk
Low-fat cheese, cottage cheese or goat cheese
Low-fat or nonfat unsweetened plain yogurt
Clear or broth-based soups or broths
Unsalted nuts
Unsalted air-popped popcorn
Sliced chicken or turkey breast or fish
Flatbreads, pitas, wraps or Ezekiel bread
Muesli, whole grains or shredded wheat
Nonfat cooking spray or unsaturated oils
Lemon juice or balsamic vinegar
Brown, black or mahogany rice