From Dentistry to Dumbbells: A Q&A With Fitness Model Heather Schneider
APS Nutrition fitness model Heather Schneider feels just as at home in a dental office as she does in the gym—but what makes her tick?
Heading out the door? Read this article on the new Outside+ app available now on iOS devices for members! Download the app.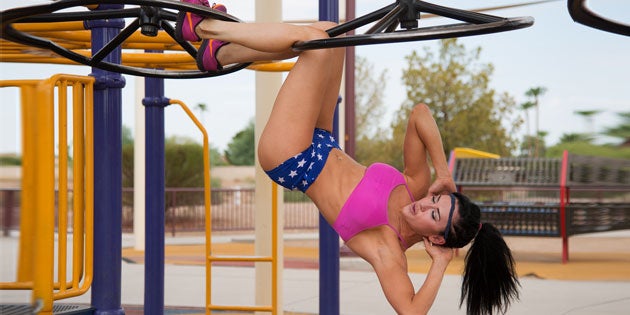 Oxygen: How did you get started in bodybuilding and bikini competitions?
Heather Schneider: My interest honestly started brewing as a child collecting Marvel Comics cards and watching the superhuman competitors on American Gladiators. I loved their superhero physiques—the muscle, curves, vascularity, strength, artistry—all of it. It wasn't until about four years ago it dawned on me that I could potentially sculpt my own physique to attain whatever appearance I desired.
From there I became intensely passionate about building the body of my dreams, and I discovered that it positively affected my mind, body and soul, as well. At this point I was hooked, and bodybuilding became my lifestyle.
Oxygen: What sets you apart from other athletes in your sport?
HS: One of the biggest differences is the fact that I am not a competitive person. I am someone who really wants to help bring forth the beauty in all people and to help others feel confident, strong and loved. Fitness is such a personal thing, and I compete with nothing beyond my own reflection. My only hope is that someone who needs some encouragement might look my way and find it.
Oxygen: What are some of your pre-competition rituals?
HS: Constant stimulation before a competition keeps my muscles full of blood and really pumping. This includes lots of flexing and posing in front of every mirror and window I can find!
Oxygen:What is the best advice anyone has ever given you?
HS: I've been given a lot of good advice over the years, but something my mom once said to me as a child has always stuck with me. She told me how important it is to love people for who they are because we each have something beautiful to offer this world. We can't help how we're born or what we look like.
This is a big reason why kindness and love are two things that really make my world go round. I am someone who celebrates the uniqueness and diversity I see around me, and I wish to build my best self while encouraging others to do the same.
Oxygen: Where do you see yourself in five years?
HS: I see myself opening my own practice and operating as a Doctor of Dental Medicine. I see myself married and traveling the world with family and the man of my dreams. I'd also like a greenhouse where I can grow my own vegetables and herbs while continuing to push myself beyond my greatest potential.
Life is precious and fleeting, and good health is something to be treasured and nurtured. I will continue to be committed to becoming my best self—mind, body and soul—on a daily basis. I may still be competing, or perhaps I will be helping others reach their own fitness and wellness goals in some grand way.
Oxygen: How do you remain focused and driven in such a competitive sport?
HS: I remove the "competition" aspect of it all. This sport is very personal to me—I simply focus on the ways in which I can personally grow. Balance is key.
By focusing on my own growth, I am able to propel forward with confidence that I am making the most of myself. I want my life to be about pushing myself beyond my limits and blasting through the ceiling of my greatest potential—all the while spreading love and kindness and injecting hope and courage in the world.
Oxygen: What's the one thing you always carry with you?
HS: All the way, gum. A nice full pack of sugar-free, saliva-stimulating, cavity-fighting goodness. I want my kisses to be fresh and my smile to glisten. I am such a dentist!
Learn more about Advanced Performance Supplements (APS) and their complete line of innovative, science-based nutrition products here. Follow APS Nutrition fitness model Heather Schneider on Instagram here.