A Q&A With Figure and Strength Athlete Genieve Sanchez
With roots in basketball and rodeo, Formutech brand ambassador Genieve Sanchez's athletic diversity sets her apart from her competitors.
Heading out the door? Read this article on the new Outside+ app available now on iOS devices for members! Download the app.
Oxygen: How did you get started in fitness and strength competitions?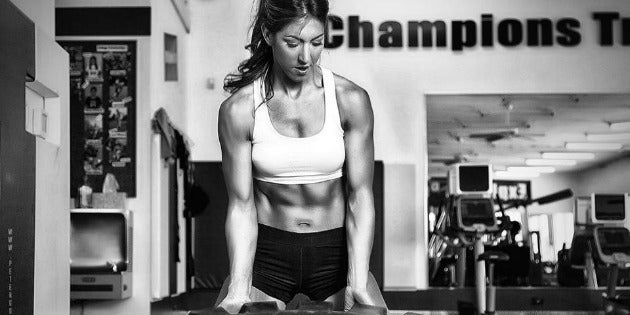 Genieve Sanchez: Being active has always been part of my life. I grew up on a ranch and participated in rodeos as a child, and I played basketball in high school and college. Once I started graduate school, the stresses of long studio hours and thesis writing began to take a toll on my body. In an effort to lose weight, I started running a ton, but I was frustrated that my body was not making any real changes.
I turned to Oxygen as a resource for training — I still remember being incredibly inspired by Francisca Dennis on an issue cover and thinking, That'swhatIwanttolooklike! After reading through the magazine, I was introduced to the world of female fitness and bodybuilding. Inspired by the strong physiques, I signed up for my first competition and went on to compete in over six shows. A few years later, I started incorporating powerlifting and strength training into my regimen. I was blessed to set several state strength records, and I won my first strongwoman competition in 2015.
Oxygen: What sets you apart from other athletes in your sport?
GS: Athletic diversity sets me apart. My true sporting love was basketball, but once I graduated, opportunities were limited. I moved forward by cultivating my athletic passion and embracing the challenges of learning new skills. Participating in basketball, distance running, powerlifting, strongwoman, boxing and CrossFit has given me an arsenal of mentally and physically empowering tools.
Oxygen: What's your post-competition routine versus pre-competition?
GS: Food, hands down. Most sports I have competed in over the past 10 years have required a weight cut in some form or another, so I am usually dieting down to make weight before a competition. My pre-competition routine includes tunnel-vision dedication and a focused mindset.
Naturally, my post-competition ritual is to enjoy some well-earned foodie favorites and lots of rest before jumping back into a balanced offseason.
Oxygen: What's the best advice you've ever been given?
GS: I learned two pieces of advice that resonate with me. First, don't be so hard on yourself. Setting goals for yourself is one thing, but continuous self-pressure and unreasonable expectations can wear you out quicker than you think.
Second, be kind. It's so simple yet so powerful if expressed as often as possible. It literally feels good to be kind, motivating and uplifting to other people.
Oxygen: What is one thing you would tell your younger self when you were first getting into competition?
GS: You need to love yourself first, and remember that true love has nothing to do with flesh and flair. The fitness world is oftentimes filled with smoke and lights, leaving many competitors dissatisfied with their "normal" selves long after the stage experience is over. Take the greatest things you can learn from fitness and make a lifelong commitment to better health — that's where the lasting beauty lies. The goal is to be fit, not just to look fit.
Oxygen: How do you remain focused and driven in such a competitive sport?
GS: Being an athlete is ingrained in me, so it is second nature to remain focused on training and diet. However, as I progress through life, I find myself focusing on other important areas such as career and family. That's OK because my passion for health and competition will always be a part of me — balance is the true key to any lasting success.
Oxygen: What's the one thing you always have to have on you?
GS: I just started wearing a Fitbit a few weeks ago, and it has really made me aware of my daily activity outside of set training hours. Movement is important to me because I have an office job and I'm sedentary during work hours. By embracing a healthy lifestyle and not necessarily a competition focus, I am setting a precedent of health for my future children.
Genieve Sanchez is a figure athlete, strength athlete and brand ambassador for Formutech (Lean-EFX, Endurance, Volatile) who lives in Albuquerque, New Mexico. You can follow her on Instagram here.