The New Protein on the Block: Wild Alaska Pollock
It turns out this mild, flaky whitefish, which happens to be the most abundant, certified-sustainable fish in the world, is one of the best protein choices for optimizing muscle growth.
Heading out the door? Read this article on the new Outside+ app available now on iOS devices for members! Download the app.
The global pandemic has many of us considering new ways to maximize our health and the health of our families. Fitness regimens are being reimagined at home, and the hunt for nutritious, affordable and easy-to-cook staples is on the rise.
When it comes to reaching our fitness goals, there is perhaps no more important variable to the nutrition equation than protein. But not all protein is created equal. When choosing a protein, considerations abound. Yes, it's important to ensure we're weighing nutrition qualities, but we also want to consider how the protein was sourced, its taste and ease of preparation.
It's hard to check all those boxes at once. Yet Wild Alaska Pollock does. It's a tender, flaky and mild whitefish that is incredibly versatile and lends itself to countless recipes. It's also one of the best protein choices we can make for the planet. Wild-caught in the pristine icy waters of Alaska, Wild Alaska Pollock is the most abundant, certified-sustainable fish in the world.
And it just happens to be one of the most consumed fish in the United States. Think yellow. That's right – the Gorton's Fish Sticks and Fish Fillets we know and love are made from Wild Alaska Pollock, a species with a nutritional profile that remains a best-kept secret.
Study Shows Wild Alaska Pollock's Better Protein Quality
When studying foods for their protein value, net protein utilization (NPU) represents the proportion of protein absorbed into the body. NPU is a critical factor for athletes and all fitness junkies looking for a better way to enhance muscle synthesis, aka muscle mass.
New data from an independent research study conducted by Nippon Suisan Kaisha in Japan shows Wild Alaska Pollock has a near-perfect NPU — outcompeting milk, beef and soy and rivaling that of the egg, often called the gold standard for measuring protein quality.
The study shows that consuming this fish increases the width of fast-twitch muscle fibers, the type of muscle that provides for both explosive movement and muscle mass. Remarkably, it also found that intake of Wild Alaska Pollock increases muscle mass even without additional exercise, particularly in the lower extremities.
Rounding out its nutritional merits, one 3-ounce serving of Wild Alaska Pollock provides 20 grams of protein, 90 calories, less than 1 gram of fat, 10 percent of the Recommended Daily Allowance of vitamin D and potassium, 22 percent of the Recommended Daily Allowance of omega-3 fatty acids and 130 percent of the Recommended Daily Allowance of vitamin B12.
Discover Easy Preparations and New Products
Naturally nutritious, Wild Alaska Pollock is available in fresh and frozen product varieties. And with more and more people searching for tasty frozen fish options to cook at home, as indicated by a recent increase in frozen seafood sales, Wild Alaska Pollock is the perfect choice. Wild-caught and processed within hours of harvest, wild Alaska Pollock is quick and easy to prepare, and it is a great vehicle for seasonal and ethnic flavors.
The Wild Alaska power grain bowl, recipe follows below, is a great summer dish to explore the versatility of this mild and tender whitefish. Discover the wide variety of tasty Wild Alaska Pollock products and try some of the newest offerings, including One for Neptune's White Fish Jerky — a great snack for active lifestyles — or the new burger in town, Power Packed Pollock Burgers.
If you're looking for a high-quality, sustainable protein that will help you achieve your health and fitness goals while satisfying your cravings, look no further than the planet's best-kept-secret: Wild Alaska Pollock.
Wild Alaska Pollock Power Grain Bowl
The summer greens and fresh herbs enhance simply prepared baked fish for a healthy yet protein-packed salad.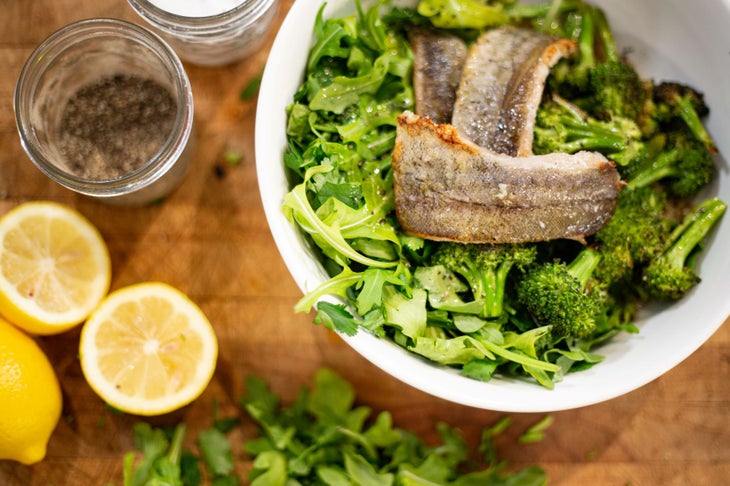 Ready in: 20 minutes
Makes: 4 servings
Ingredients
4 skinless Wild Alaska Pollock fillets
salt
pepper
olive oil
1 head broccoli, sliced into florets
1½ cups quinoa
2 ½ cups water
For serving:
4 cups fresh greens, such as baby spinach, baby kale or mixed greens
1 avocado, sliced
½ cup fresh cilantro, roughly chopped
1 lemon or lime
Directions:
Heat oven to 350 F. Pat Wild Alaska Pollock fillets dry and sprinkle with salt and pepper. Drizzle olive oil over broccoli florets and sprinkle with salt and pepper. Add broccoli to a sheet tray and place into oven to roast 15 to 20 minutes, or until beginning to crisp.
Heat ovenproof pan over medium-low and sear fillets on one side for 3 minutes. Transfer entire pan to oven for an additional 5 to 7 minutes, or until the fish is completely cooked through. Note: You can bake the fish at the same time your broccoli roasts!
While Wild Alaska Pollock finishes cooking, prepare quinoa. Combine quinoa with 2½ cups water and a pinch of salt and bring to a boil. Cover and simmer until cooked, about 11 minutes. Let stand at least 5 minutes, then fluff with a fork.
Once everything is complete, assemble bowls. Place greens at the base, followed by quinoa, Wild Alaska Pollock, broccoli and toppings. Serve and enjoy!