Anzan Alaimo: The Oxygen Challenge 7 Winner
For Anzan Alaimo, the second time is the charm.
Heading out the door? Read this article on the new Outside+ app available now on iOS devices for members! Download the app.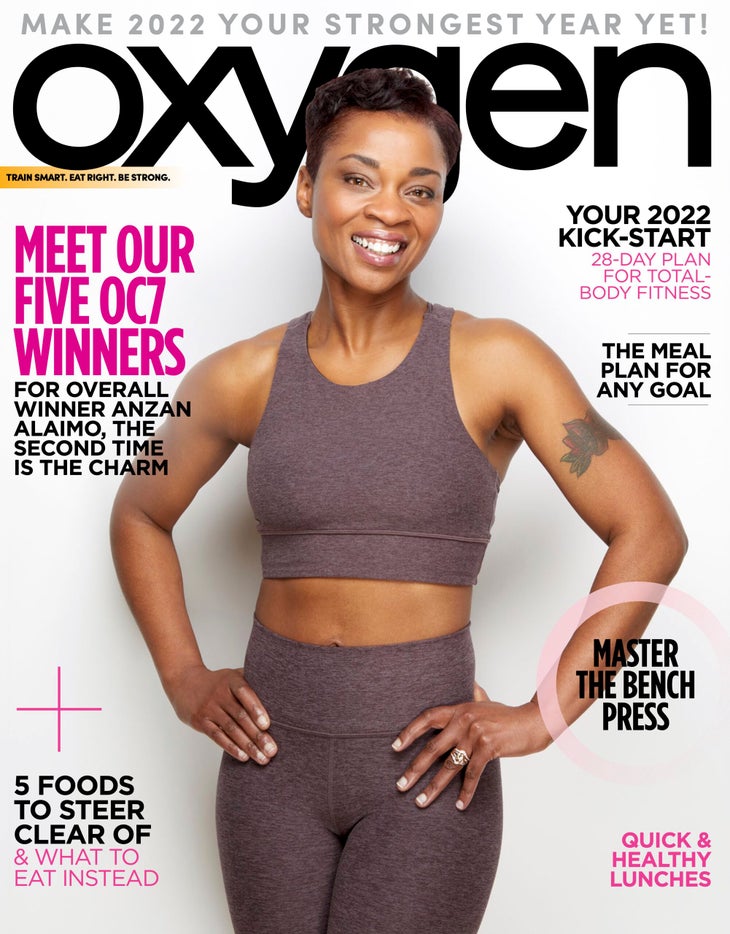 It wasn't until Kayla Sanders, the Oxygen Challenge 4 winner, stood front and center below the masthead, plastered across newsstands everywhere, that Alaimo thought maybe this is for her.
"Kayla was someone who looked like me," she said. "She was African American and had undergone an admirable transformation, but what she accomplished didn't seem unattainable." Alaimo recalled that she looked real, and after reading Sanders' story, she decided she'd sign up for the next Oxygen Challenge.
Right Place, Right Time
When OC5 registration opened back in 2019, Alaimo signed up and joined Amber Dodzweit Riposta's team. She completed the program and learned a lot, but didn't achieve "the ultimate reward," as Alaimo refers to it: The cover of Oxygen.
By the time this year's challenge rolled around — two years later — Alaimo was in need of a significant reset. Like many, she'd gained weight in a year of lockdowns and stress due to the Covid-19 pandemic. A schoolteacher, her work was also deeply affected by the pandemic.
"School was virtual, gyms were closed, food and alcohol had taken on a new meaning," she said. "I needed something that would pull me out of my unhealthy rut, and previous experience told me OC7 might be just the thing."
When the coaches were revealed, Alaimo immediately took a liking to Tara Laferrara's energy, attitude and physique. The progressive workouts incorporated weightlifting, but were designed with different variations, rep ranges and rest times. Alaimo, who has been an educator for the past eight years, would be able to complete the 30- to 60-minute workouts after school (until the summer) and could do so in her home gym since the only pieces of equipment she needed were bands, dumbbells and gliders.
She was also intrigued by Tara's nutritional philosophy, which centered on intuitive eating. One of Alaimo's biggest takeaways from OC5 was learning how her body responds to diet and exercise, so she was excited to explore Tara's nutrition handouts, and even try recipes from her book TL Eats. "From the beginning of OC7, I knew the manner in which I fueled my body throughout the process could be a game changer," she said.
Cultivating Consistency
Alaimo has been fascinated with muscles since she was a child. She recalls being enamored with characters like Popeye and The Incredible Hulk. "For me, being strong was the ultimate achievement," she said. A self-proclaimed tomboy, Alaimo spent her younger years playing basketball and running on the track team. In her late teens, she discovered weightlifting, fitness magazines and explored her local gym — a trio that propelled her athleticism and taught her the basics of healthy living and fitness.
The only issue was consistency. She'd have dedicated months of working out, then life would get in the way and Alaimo would fall off, also for a few months. The cycle continued as such, until about 15 years ago when Alaimo met her husband, Billy. "As a former natural bodybuilder, he was a wealth of knowledge when it came to exercise and nutrition," she said. With his help, Alaimo was able to establish a regular exercise routine.
In Good Company
So the challenge began, but Alaimo wasn't alone. Her husband took partnership to a whole new level as he embarked on the 90-day journey alongside her. The two worked out together, cooked together — though Alaimo says Billy did most of the cooking — and supported each other when the going got tough. "He adopted the 'let's get back on track' mindset right along with me," Alaimo said. "His belief in me never wavered."
Alaimo's challenge journey was focused and organized, yet flexible. She scheduled her workouts like any other commitment, slotting them into a calendar and creating a committed routine. She adopted a balanced approach to nutrition, saying "I ate healthy, but didn't do anything that was particularly extreme." That was, until the final phase of the program, where she practiced intermittent fasting on a 16:8 plan (fasting for 16 hours, only eating during an eight-hour window).
It was during that final phase of OC7 that the word "challenge" truly took form.
Although children aren't back in school until late summer, Alaimo begins preparing for the year in July. So, as Phase 3 of OC7 was in full motion, she was attending professional development meetings, setting up her classroom and preparing to meet the families of her new students.
"It's an exciting time," she said, "but it can be physically and mentally draining." In years past, this is a time when Alaimo would typically put working out on the back burner and fall back into that dreaded cycle. But this year was different, as she refused to lose her momentum and the progress she'd made thus far. She (and Billy!) squeezed in a training session every evening after work, no excuses.
By the time the 90 days were through, Alaimo had lost 17 pounds and nine inches — four and a half of which came off of her waist. But she gained a lot, too: strength, a newfound determination and a fresh mindset. One of her biggest takeaways was from her coach, Tara, who reinforced that, "people should strive to be their personal best, and it's okay to be vulnerable from time to time," Alaimo said.
Hard Work Pays Off
While Alaimo knew she'd made The Oxygen Challenge 7 Top 25, she lost hope of winning as several weeks passed following the voting conclusion. But one afternoon, as her students were outside for recess, Alaimo opened an email with the subject line "Congratulations…" She admits she almost deleted the message without reading it, but a glimmer of hope returned, and she nearly lost her breath as she came to the realization that she was the Oxygen Challenge 7 winner!
"I was so overcome with a sense of accomplishment and relief, tears came to my eyes," she said. "I called my husband, made him take an oath of secrecy, and we've been bursting with the news ever since."
Alaimo tells her story in hopes that it will inspire someone else to embark on a similar journey of bettering themselves — body and mind. And she's not done with her journey, either. "I hope to continue exercising and eating healthfully as I age," she said. "I want to enter each new decade of life looking and feeling 10 years younger than my true age." With that mentality, age truly is just a number.
5 Fun Facts About Anzan Alaimo
I hold a Master's Degree in curriculum and instruction.
My most prized possession is my car, a black Chevy Camaro.
I absolutely love to read. You'll find me with a book almost every day.
I used to fear roller coasters, but overcame that fear as an adult. Now I've gone so far as to ride the Big Shot atop the Stratosphere Hotel in Las Vegas, Nevada.
I once went diving with mini-submarine (like an underwater scooter) during an excursion in Cozumel, Mexico.
Winner Q&A
Q: What are your gym bag must-haves?
A: A towel, reading material and workout gloves.
Q: What's your go-to recipe?
A: Turkey Chili, and it's simple!
Ingredients:
Ground turkey
Onions
Bell Pepper
Diced Tomatoes
Kidney Beans
Chili Seasoning
Q: What are your favorite songs to workout to?
A: I work out to a playlist of 90's pop and R&B.
Q: What's one exercise you hate?
A: Burpees!!!!
Q: What is your proudest achievement?
A: Aside from winning The Oxygen Challenge 7…. Fulfilling a lifelong dream of becoming a teacher. I wasn't able to take the traditional route of becoming an educator, so I arrived at the profession in my thirties rather than my twenties. I have enjoyed several years of teaching fifth grade and hope to enjoy many more. It's the kind of job one hopes to get better at with each passing year.
Anzan Alaimo's Stats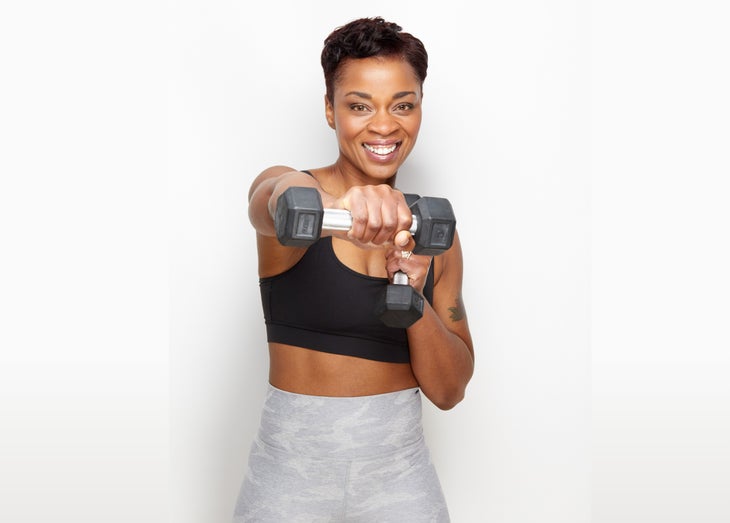 Birth date: June 26, 1979
Hometown: Bloomington, Illinois
Occupation: Fifth Grade Teacher
Height: 5'6"
Pounds Lost: 17
Inches Lost: 9
Family: Husband Billy, Ariana (24), Sierra (26)
Social Media
Facebook: Anzan Pointer Alaimo
Instagram: @azalaimo
Cover photo by Cory Sorensen, hair and makeup by Beth Walker.
Outfit: Vuori Clean Elevation Legging and Elevation Sports Bra.