Hybrid Yoga
Purists be damned —whether you want to tighten your butt, confuse your muscles or melt fat, the new fusion yoga will give the Oxygen gal exactly what you need. Here are six worthy options to try.
Heading out the door? Read this article on the new Outside+ app available now on iOS devices for members! Download the app.
Today more than 20.4 million Americans practice yoga, according to a study by Yoga Journal, a 29 percent uptick from 2008. And little wonder why it is on the rise — the health benefits have been widely reported for both body and mind. In fact, just 20 minutes of Hatha yoga has proved to significantly improve concentration and working memory, according to a study published in the Journal of Physical Activity & Health. As its popularity has surged, so have offshoot hybrid yoga classes — melding traditional yoga with a melting pot of activities such as ballet, kickboxing, boot camp and stand-up paddleboarding offering full-body strengthening, shape-shifting and cardio-pumping sessions.
Core Fusion
Exhale Spa, Santa Monica, CA
losangeles.exhalespa.com
310-319-3193
Cost: $25 single class, $120 for 5 classes, $230 for 10 classes
This soulful and athletic practice fuses flow yoga with intense core work. "Core Fusion Yoga uses your own body weight as resistance and balances your muscular strength and flexibility, with a particular focus on the core," explains Core Fusion co-founder Elisabeth Halfpapp. Sun Salutations and Warrior poses are woven with sequences of isolated thigh, arm, and ab work as you build the heat, then reward yourself with a cooling Savasana finish. This uplifting class will unleash your inner warrior, leaving you strengthened, stretched and sweaty.
"By strengthening your core, you increase your potential for a more advanced asana practice. This increased core strength reduces stress on all the major joints of the body and decreases injury. Yoga can act as the yin to their yang, offering focused breathing and a mindful practice," Halfpapp adds.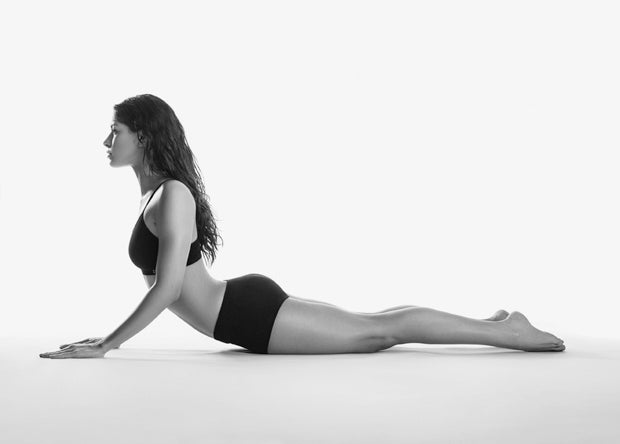 Koga
Koga, Long Island, NY
kogaworkout.com
Cost: $15-$25 per class (depending on Koga Fitness format)
Melding yoga with kickboxing, Koga is a fusion workout combining yoga postures with punches, plyometrics, isometric movements, music and meditation. Based in Long Island, NY, Koga Fitness was created in 2001 by Jon Koga, a black belt in martial arts and a master yogi. "We are not a cookie-cutter workout," says Koga, who holds a master's degree in physical therapy. "Every class is slightly different to create muscle confusion."
While some classes focus on lower body, others are more upper-body centric, including the signature Koga plank and pound — think core and bodyweight strength training. So as not to go from high-energy movements to static yoga postures, Koga created "Koganetics," converting standing yoga postures into "pulses" (eight to 16 count) to keep heart rate elevated.
As for mind-body connections, Koga says, "We challenge the mind to take control over the muscle."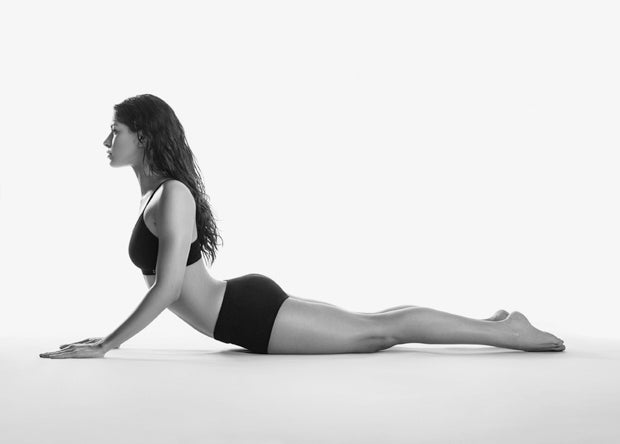 YogaHIT
Sol Yoga, Seattle
solyogaseattle.com
206-999-3693
Cost: $16 drop-in, $130 one month unlimited, 5 and 10 packs available
This one-hour flow and power class at Sol Yoga sandwiches 20 minutes of high-intensity training between traditional power Vinyasa, working your core, shoulders, triceps and legs. While yoga regulates breath and stretches and strengthens muscles, HIT's powerful explosiveness uses fast-twitch muscle fibers to crank cardio.
After a dynamic yoga warm-up, focusing on muscles to be used in the HIT portion, the 90-degree heat goes down and the music cranks up. Based on a series of eight rounds of full-out Tabata efforts (20 seconds on, 10 seconds recovery) — each round is followed by one-minute rest — the HIT intervals use dumbbells, bodyweight and plyometrics to work biceps, back, obliques, quads and calves.
Allison Barnes, owner and instructor of Sol, likes to start the HIT segment with slow weight-bearing movements, such as medicine-ball squats or dumbbell thrusters, to raise heart rate, which remains elevated throughout. The remainder of rounds pair dynamic movements, like jumping lunges or box jumps — to hit anaerobic threshold — with push-ups or dumbbell rows for active recovery. Heart-rate-elevating core work may include mountain climbers paired with burpees.
Using a variety of exercises tricks the body so it can't effectively adapt, which creates muscle confusion and helps you avoid fitness plateaus. "The Tabata sequence exhausts muscles while pushing participants above their anaerobic threshold," says Barnes, who explains that she wanted to create a complete strength-and-conditioning class for yogis
"I consider it a yin/yang experience."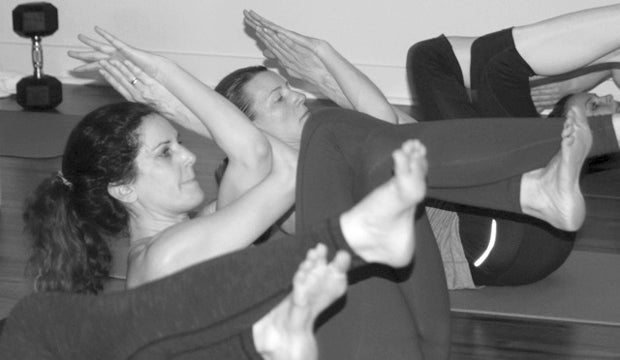 AcroYoga
Pacific Edge, Santa Cruz, CA
pacificedgeclimbinggym.com
831-454-9254
Cost: $12 drop-in, includes use of weight room, cardio deck, showers and sauna
AcroYoga is your chance to run away and join the circus — for 90 minutes. The invigorating partner class blends Thai massage with acrobatics, inversions and asana. In AcroYoga, participants work in groups of three — a base, flyer and spotter — who rotate roles throughout the class. Each role works different muscle groups.
"Newer students often find themselves doing something in class they once thought impossible," says Amy Impellizzeri, a certified Ashtanga and Level 2 AcroYoga instructor. "You have to be constantly present while working in partnership and not only trust your partner but yourself."
It's as much about physicality as it is about cultivating trust, communication and connection — while having little kid fun. "The instability of balancing on another human demands a lot of core engagement and trust," Impellizzeri says. She isn't kidding. During a basic Crow pose, the base lies on her back with her legs parallel in the air and the arches of her feet on the flyer's front hipbones, allowing the flyer to "fly like a bird" by balancing her torso on the base's feet. This not only works the base's legs and core, but the flyer also must keep her core, legs and arms engaged. All the while, the spotter is there for safety and does a lot of squats and lunges to strengthen her quads, hamstrings and glutes.
"AcroYoga is super fun while building strength and encouraging relaxation," Impellizzeri says. "The cultivation of trust in self and others is amazing, while the community aspect keeps people coming back."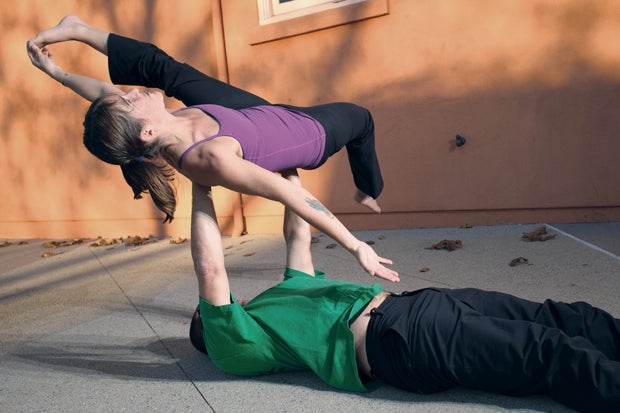 Pure PXT
Pure Yoga, New York City
pureyoga.com
212-877-2025
Cost: $35 nonmember drop-ins, $30 members (heated and unheated room classes)
This fun, rigorous 60-minute "barefoot boot camp" jams with groovin' tunes and high-intensity intervals. It's a one-stop shop, full-body workout, which combines yoga, cardio, strength training, plyometrics, calisthenics and core work. "The unique combo shocks the body with explosive movements and intervals that builds muscle, burns calories and ups metabolism while improving flexibility, strength and balance — and cranks calorie afterburn," says Loren Bassett, creator of Pure PXT at Pure Yoga, who is known for her butt-kicking glider intervals and stopwatch ways. "I want students to walk away feeling inspired, challenged and motivated."
Basset bookends the class with traditional yoga to warm up and cool down. But the bulk of the full-throttle session incorporates compound and multi-joint movements, working multiple muscles at once such as the chest press using a core ball with leg lifts to work pecs, anterior delts, triceps and core. She's big on squats for quads, hamstrings and glutes and back-targeting exercises, such as bent-over side raises to engage the rhomboids, medial trapezius and deltoids. "We work so much of the front body in our yoga practice [that] it's important to strengthen the back muscles," Bassett says.
Take the Badass Crawl: Drop facedown to the mat. Starting in the plank position with your feet on gliders at the back of the mat, crawl on your hands to the top of the mat, dragging your feet behind. Then on your forearms, crawl backward. Repeat!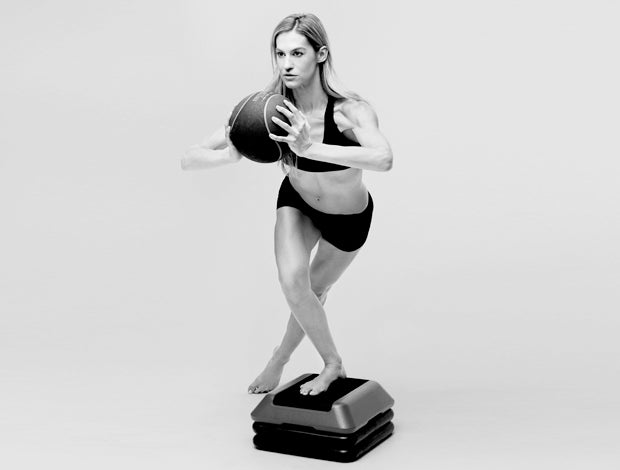 SUP Yoga
Chicago SUP, Chicago
chicagosup.com
773-575-4787
Cost: $35, includes the class (75 minutes) and equipment rental; $45-$75 summer workshops (1.5-2 hours). SUP Pilates also available.
SUP yoga, known as SUPyo, is a 75-minute on-the-water class that combines stand-up paddleboarding with traditional yoga on Chicago's Lake Michigan. "It is a gigantic floating mat that allows you to connect to the vastness and beauty of nature," says Kristin Osborn, instructor at Chicago SUP, who recommends wearing simple nonrestrictive garb like a sports bra and boardies. "You have water as far as the eye can see and a sky that spans to the universe! It's powerful and beyond fun!"
With a fisheye's view of the city's skyline, students practice traditional Downward Dog, Chaturanga and Upward Dog to sculpt shoulders, back and triceps. Comparable to using a balance board at the gym, staying upright on the unstable water requires constant core engagement that works deep abdominal muscles, like the transverse abdominis. Your psoas and tiny stabilizing muscles around feet, quads and calves help with balance. "Water is healing. Even if you're not a 'water person,' just being on it lets you dial in to the present moment. It strengthens you like you wouldn't believe but allows you to let go fully! Even if that means falling into the water a few times to do so!" adds Osborn.
Paddling from and to shore is terrific for strengthening obliques and lats, shaping deltoids and triceps — and cranking cardio. "And broken toe pose is crazy! You zip your knees together, bring your shoulders back, and feel the low belly balance as the water shifts. Then you surrender into breathing and feel your whole body open and strengthen."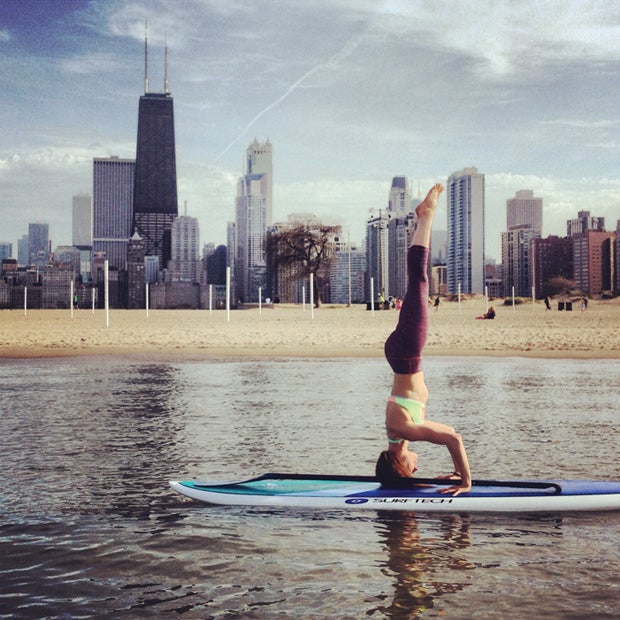 Check out our Perfect Practice for new yoga gear for your hybrid yoga classes.