Women Strong: Lexi Berriman's Metcon Workout
Challenge yourself and pick up your pace with this powerful metabolic conditioning circuit.
Heading out the door? Read this article on the new Outside+ app available now on iOS devices for members! Download the app.
For time, complete the following
21-15-9
Barbell Thruster: 65 pounds
Alternating Dumbbell Snatch: 35 pounds
Burpee Over Barbell
Flow: Do 21 reps of thrusters, 21 reps of dumbbell snatches and 21 burpees over the barbell. Then do 15 of each and nine of each and mark your time. Try to beat that time next time you do that workout!
Barbell Thruster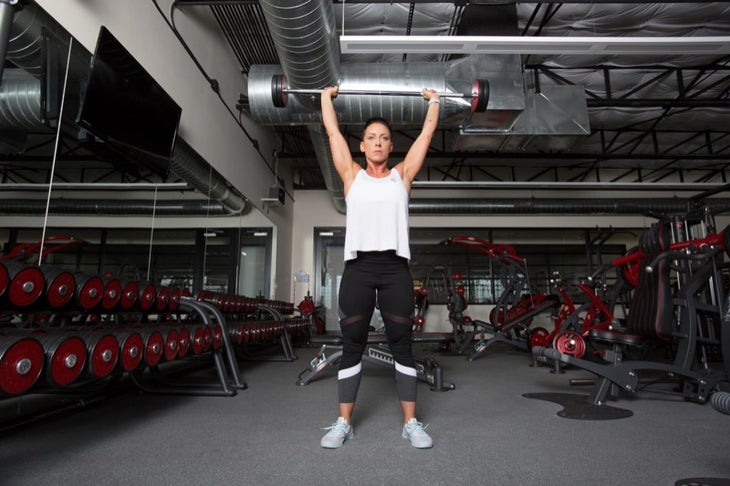 Stand with your feet shoulder-width apart, legs turned out from your hips, and hold a barbell in the front rack position — balanced across your clavicle and front delts, elbows lifted underneath, fingers lightly touching the bar outside your shoulders. Kick your hips back and bend your knees to descend into a deep squat, then explosively stand up, using that momentum to press the barbell overhead to full extension. Lower back to your front rack position and repeat.
Alternating Dumbbell Snatch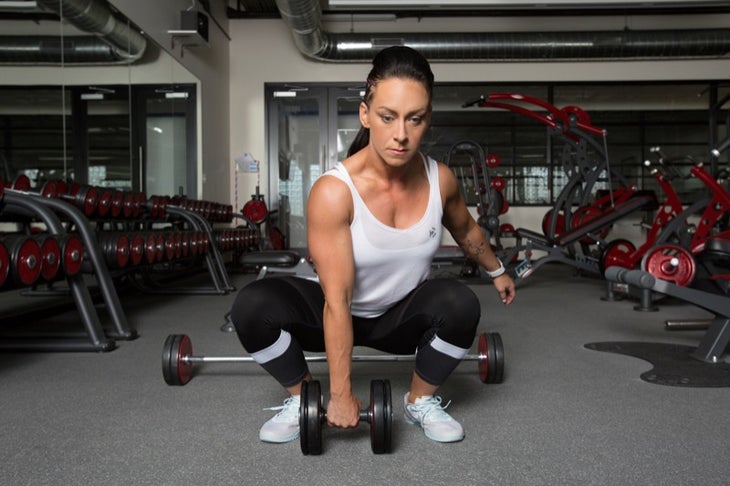 Stand with your feet shoulder-width apart, turned out slightly from your hips, and position a dumbbell on the floor between your feet. Drop your hips and bend your knees while keeping your chest lifted and grasp the dumbbell with one hand, extending the opposite arm to the side.
Explosively extend your knees and hips, bringing the dumbbell up along the front of your body, shrugging and pulling your elbow high as it passes your shoulder. Then flip your palm over to face the ceiling and punch the weight toward the sky, ending with your arm and weight straight up over your shoulder. Reverse the steps to return to the start, replacing the dumbbell on the floor and repeating on the other side.
Burpee Over Barbell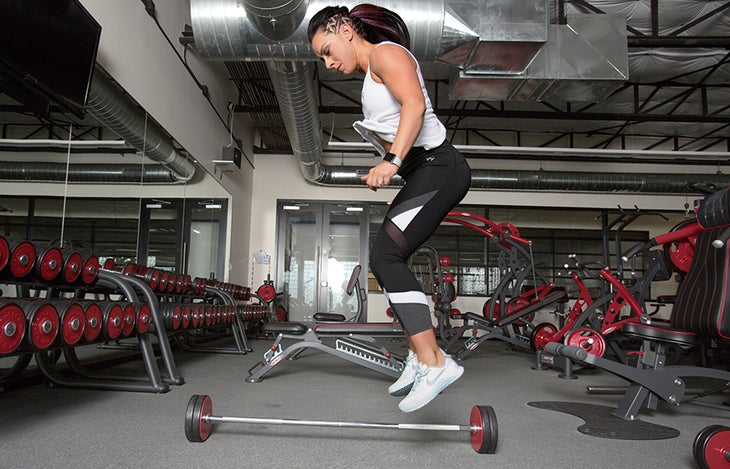 Stand sideways to a loaded barbell with your feet hip-width apart. Quickly crouch, place your hands on the floor and jump your feet back into plank. Do a push-up, jump your feet back underneath you, then as you stand, leap laterally over the barbell. Land softly and repeat on the other side.
If you're loving Lexi's workout, watch the full video demo and check out our exclusive online interview where she opens up about her fitness path and lessons learned in the industry.