3 Exercises For A Stronger Back
Sculpt a balanced physique and a sexy upper back these three moves.
Heading out the door? Read this article on the new Outside+ app available now on iOS devices for members! Download the app.
Thick, wooly sweaters are to your lats as a beanbag chair is to your living room décor: both are extremely comfy, but neither offers many positives when it comes to providing extra eye-catching appeal.
Thankfully, spring is in the air and you can shelve your skin-covering wardrobe for another six months. But when you reveal your back via tanks and tight-fitting tees, will your rear view be ready to shine?
Oxygen has your quick-fix solution. All you need are dumbbells and nine minutes, three times a week. With these tools, you can sculpt your way to a strong, sexy back in no time flat.
Targeted Training
Women tend to neglect their back muscles, says Lashaun Dale, creator and star of the Total-Body Toning with Lashaun Dale DVD and the national creative manager of group fitness at Equinox Fitness Clubs. Sitting at a computer, driving and cooking cumulatively increase the physiological load taxing the front of our body, causing our back to become weak. This is problematic, she explains, because core muscles — including the back, abs and surrounding muscles — will atrophy without proper use.
By bolstering these muscles with targeted workouts, you can create a V-taper while banking real-world benefits. As Dale explains, "Training your back improves the function of your hips and creates increased tone in your abdomen, while also drastically reducing your chances of future pain and injury." And as a bonus, the moves assembled here will also improve your posture, making you appear slimmer and eliminating the dreaded below-the-belly-button pooch.
Twisting Bent-Over Row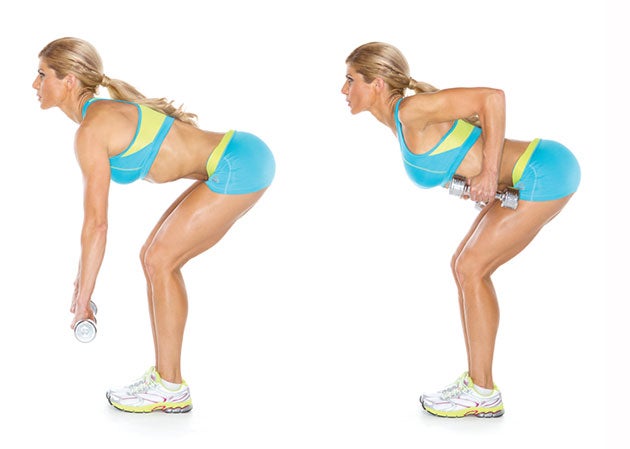 Target Muscles: latissimus dorsi, erector spinae, biceps brachii
The rotation in this move helps you concentrate on squeezing your shoulder blades together for better muscle recruitment.
Set Up: Begin by standing with your knees slightly bent, and hold a medium-weight dumbbell in each hand. Hinge forward from your hips until your torso is 45 degrees to the floor. Your arms should be extended below your shoulders, with your palms facing your body.
Action: Bend your arms to row both dumbbells. Allow your forearms to twist as you move, so that your palms face the sides of your ribcage at the top of your rep. Slowly lower back to the start and repeat for two to three sets of 12 repetitions.
Tip: To make this move easier, Dale suggests working one arm at a time and bracing your free hand on your thigh or hip. To up the difficulty, extend one leg behind you as you row.
Dumbbell Shrug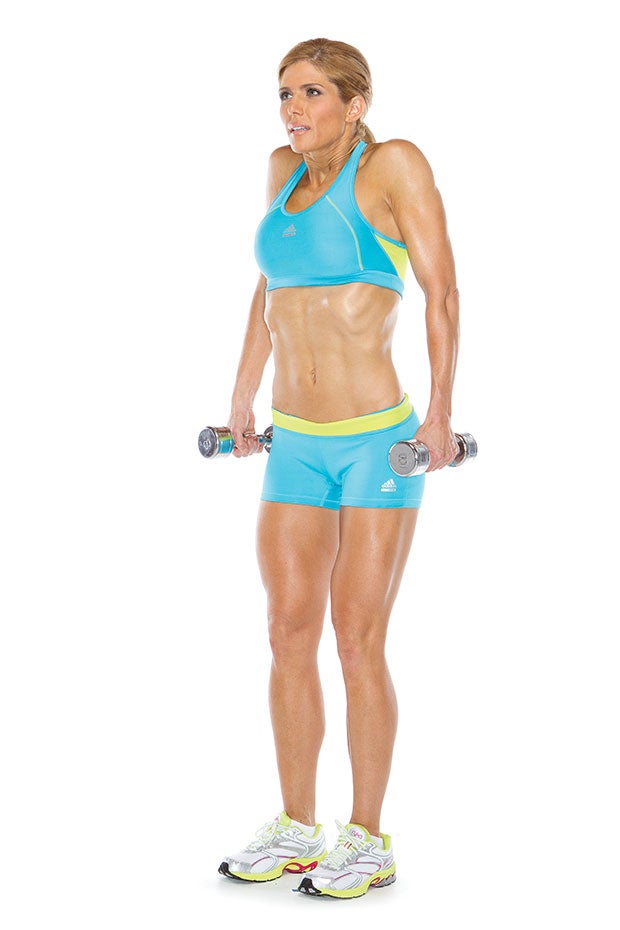 Target Muscles: middle and upper trapezius, levator scapulae
Set Up: Stand tall, holding a dumbbell in each hand and your arms extended at your sides.
Action: Raise your shoulders upward, straight towards your ears. Lower and repeat for three sets of 10 to 15 repetitions.
Tip: New to this move? Start with a light weight, but remember: this move is more effective if you challenge yourself and push your limits.
Scapular Push-Up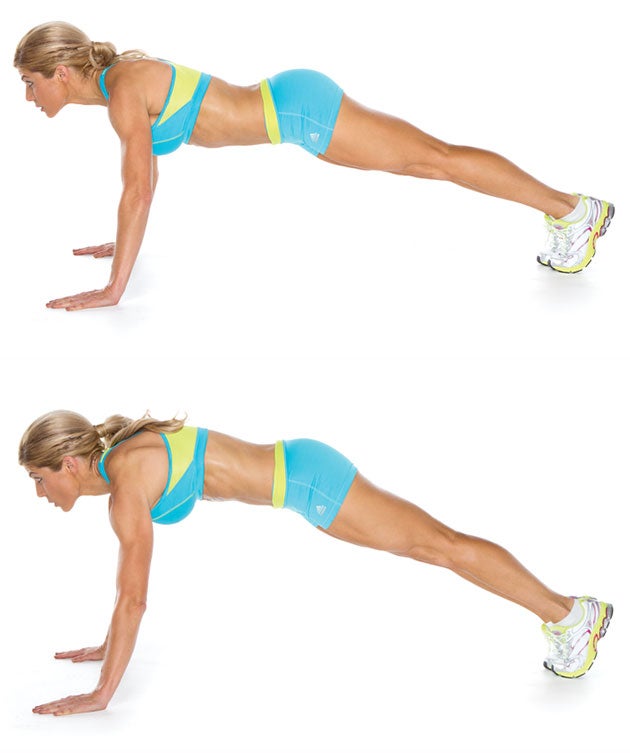 Target Muscles: trapezius, rhomboids, serratus anterior, pectoralis major
This push-up variation targets the hard-to-work serratus anterior. Building this muscle can help keep rotator cuff injuries at bay.
Set Up: Begin in a push-up position on your toes, with your hands slightly wider than shoulder-width apart.
Action: Squeeze your shoulder blades together to lower your chest slightly; do not bend your elbows as you normally would. Push through your palms and round your shoulder blades, moving them away from each other. Repeat for two to three sets of 16 reps.
Tip: To make this move more challenging, stack your feet on top of each other to introduce asymmetry, says Dale.