20-Minute Military Boot-Camp-Ready Workout
You are strong, but are you strong enough to make it in the military?
Heading out the door? Read this article on the new Outside+ app available now on iOS devices for members! Download the app.
When I joined the military right out of college, I knew basic training would be tough. But I never imagined just how physically demanding it would be. Only a few weeks after I put on my Army uniform, my body felt broken from endless amounts of push-ups, sit-ups, running and ruck marches. I neglected the physical preparation needed to be at my best, but I was thankful I had the mental strength to push past the fatigue and discomfort and not give up.
Military training is physically and mentally demanding. There is no time to rest when you're faced with the pressure to perform. Upper-body, lower-body and core strength are central requirements needed to perform daily tasks as a soldier — like climbing up hills and carrying oversized equipment that weighs almost as much as you do. If I had to do it all over again, I would have prepared much differently with training similar to this military-inspired workout that I'm excited to share with you.
Military Boot-Camp-Ready Workout
Complete four rounds of the following circuit for a total time of 20 minutes!
| | |
| --- | --- |
| Exercise | Time |
| Kettlebell Suitcase Deadlift | 1 minute |
| Push-Up | 1 minute |
| Goblet Squat | 1 minute |
| Push Press | 1 minute |
| Sandbag Walking Lunge | 1 minute |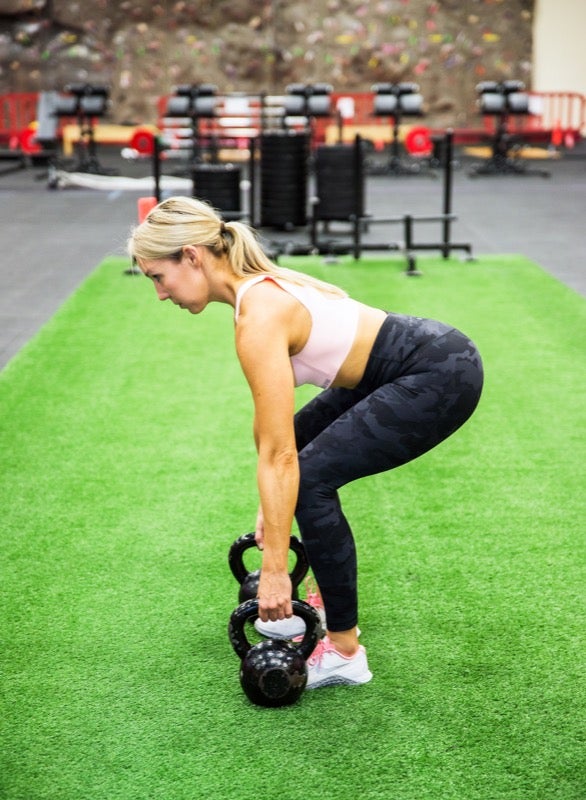 Kettlebell Suitcase Deadlift
Set two kettlebells at the midpoint outside of each foot. Hinge at your hips and start in a conventional deadlift position while keeping your chest high and neck neutral with your spine.
Grab the handles of each kettlebell and stand up in one fluid motion, making sure to keep all your weight pressed into your heels. Once fully erect, slowly return to the starting position.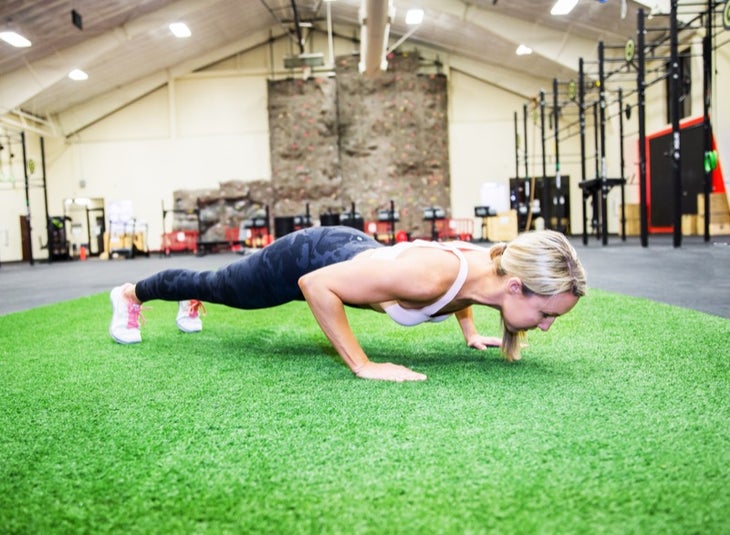 Push-Up
Get down on all fours and place your hands just outside your shoulders. Raise your knees off the ground and assume an upright plank position. Your elbows should be slightly flared out at a 45-degree angle. Lower your body down until your chest nearly touches the floor while maintaining a flat back and tight core. Once complete, pause and raise your body back up.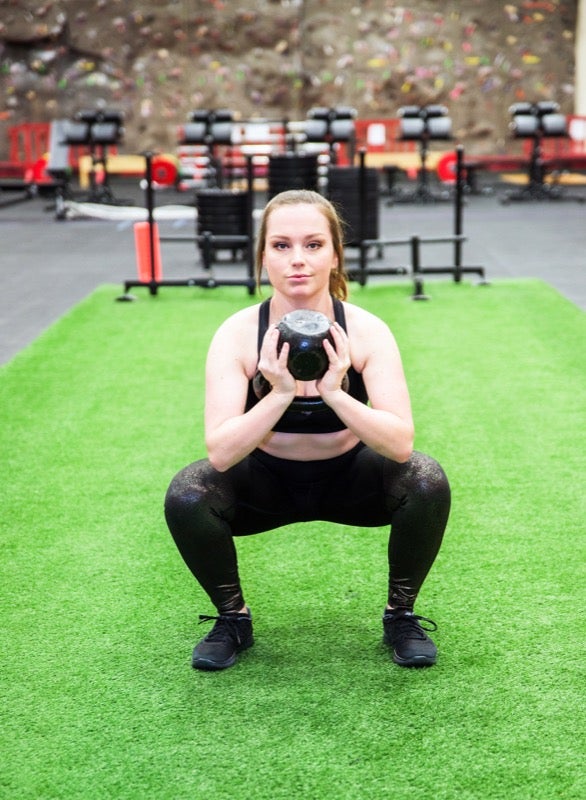 Goblet Squat
Start with your feet slightly wider than shoulder-width apart with a zero- to 30-degree foot flare. Keep the kettlebell close to the upper portion of your chest and your elbows tucked in.
Sink down into the squat, keeping your chest high and core tight. Make sure to push your knees out and keep your weight in your heels. Once you hit parallel or just below, stand back up and squeeze your glutes at the top.
If possible, use a 35-pound kettlebell, which is the load required to carry in a standard 12-mile ruck march.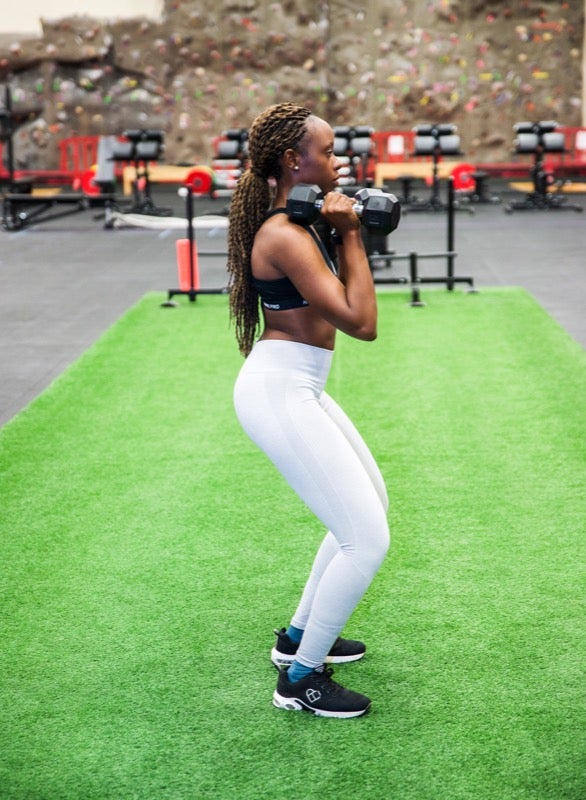 Push Press
Stand holding a pair of dumbbells just outside your shoulders, with your arms bent and palms facing each other. Slightly dip your knees and then explosively push up with your legs as you press the weights straight over your shoulders. Lower the dumbbells back to the starting position.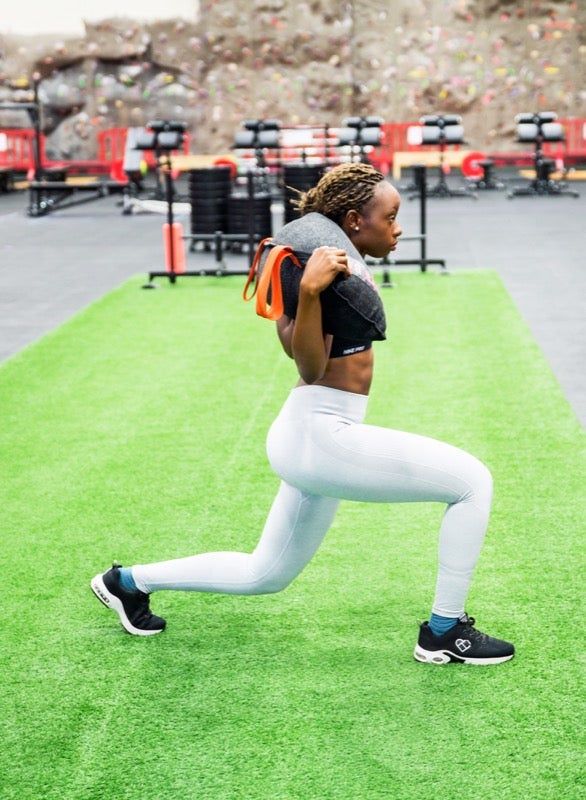 Sandbag Walking Lunge
Start by hoisting the sandbag on your back and wrap each arm around either side to hold it in place on your shoulders and behind your neck.
Take a large step forward, dropping your hips down and creating a 90-degree angle. Your back leg should slightly hover above the ground. Then push up with your front leg and bring your back leg forward to the next lunge position.