Oh, Baby!
Lisa Monroe proves it's possible to still have a rockin' body after babies.
Heading out the door? Read this article on the new Outside+ app available now on iOS devices for members! Download the app.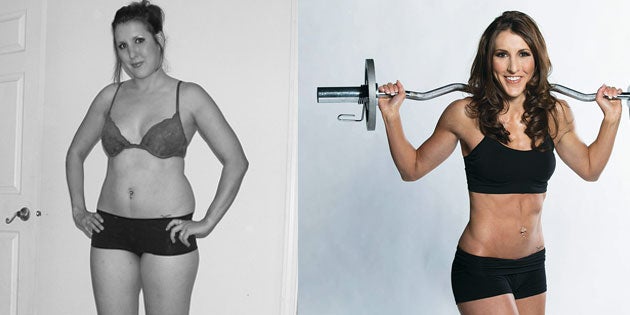 Name: Lisa Monroe | Hometown: Helena, Montana | Age: 33 | Height: 5'7" | Old weight: 190 lb | Current Weight: 130 lb | Starting Dress Size: 12/14 | Ending dress size: 4 | Occupation: Legal secretary | Best advice for others: "Take progress photos every two weeks. It's motivating and encouraging to see the changes your body is making!"
Sometimes change is a bad thing, especially as an adolescent. At age 14, Lisa Monroe moved from Montana to Washington state and was overwhelmed with the change. "I became introverted, stopped being active, struggled with depression and gained some weight," she says. "Over the next 10 years, I gained and lost weight intermittently through cardio and yo-yo dieting."
Years later in 2010, change struck again when Monroe became pregnant with her first daughter. "Being pregnant felt like a roller coaster — I wasn't in charge of my body, and it was overwhelming," she says. "I used food as solace to quiet myself."
Monroe subscribed wholeheartedly to the "eating for two" mentality during her pregnancy, and she ate fast food and a banana split (or two) almost every day. "I gained 50 pounds, and while I was tremendously proud of the beautiful, miraculous little person I had created, I was extremely unhappy with the person I saw in the mirror," she says. "I avoided pictures and didn't feel like myself anymore. I was desperate to make a lasting change."
Wisely, she did a little research before jumping in and came across Oxygen's popular cover model Jamie Eason's LiveFit trainer online. "I was enthralled by her program and tried to soak up as much information as I could on how to lose fat and gain muscle the healthy way," she says. She also did a complete overhaul of her eating habits. "The hardest part was learning a new style of cooking," she says. "But there are so many amazing, healthy recipes out there, I was excited to make them."
Monroe lost 30 pounds using her new nutritional know-how and Eason's program, then became pregnant with her second daughter. Fortunately, she had the tools to maintain a healthy weight during her pregnancy the second time around.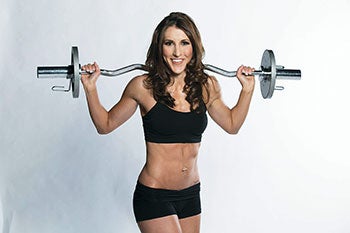 But she still had that lingering 20 pounds to lose, so in January 2014, Monroe joined a 12-week challenge that was coached by Jamie Eason and Kelsey Byers. Not only did Monroe shed that 20, but she also won the challenge and was awarded a cruise to Mexico.
"It took me three years to meet my goal weight and feel truly comfortable in my skin," Monroe says. "My overall goal is to continue this lifestyle because it makes me happy, and it sets a healthy, positive example for my daughters."
Do you have any role models from Oxygen?
Jamie Eason and Kelsey Byers have always been sources of inspiration for me. I believe these ladies really know what they are talking about, and are both such kind, helpful people. I am also inspired by Kathleen Tesori, Amanda Latona, Nathalia Melo, Bret Contreras and Jessica James.
What can you do now that you could not do before?
One of the best parts of becoming physically fit that I couldn't do before is pick my kids up and hoist them onto my shoulders. I can also complete several push-ups, and a couple chin ups, which I could never do before.
What do you do when you come face-to-face with some of your old food vices?
I'm human so I still struggle with temptation and motivation to eat healthy from time to time. I try to allow myself some treats without letting it get out of control. It is helpful to me that this lifestyle has become habit, so making healthier choices becomes second nature and easier over time.
What is one of your new favorite healthy recipes?
I love the beef stroganoff from bodybuilding.com and I eat it almost weekly with some whole wheat pasta and spring mix salad.
Do you have any mantras you'd like to share?
I remind myself that "this too shall pass" during life's hard times. One of my favorite quotes is from C.S. Lewis, "You are never too old to set another goal or dream a new dream."
What is your favorite bodypart to train and your favorite move for that part?
I can't pick just one! I love to train glutes and shoulders. I love hip thrusts for glutes and military and Arnold press for shoulders.
What is your weekly training split?
Monday: Glutes, legs
Tuesday: Chest, triceps, shoulders, glutes
Wednesday: Rest
Thursday: Glutes, legs
Friday: Back, biceps, abs
Saturday: Shoulders, glutes
Sunday: Rest
What do you do for cardio – how long and how often?
My favorite types of cardio are incline walking, incline sprints and the step mill. I will usually get 30 minutes of steady state cardio or 20 minutes of HIIT after training sessions.