Big Results
By simply changing her diet, Allison Moore lost 78 pounds in less than a year. Here's how she did it.
Heading out the door? Read this article on the new Outside+ app available now on iOS devices for members! Download the app.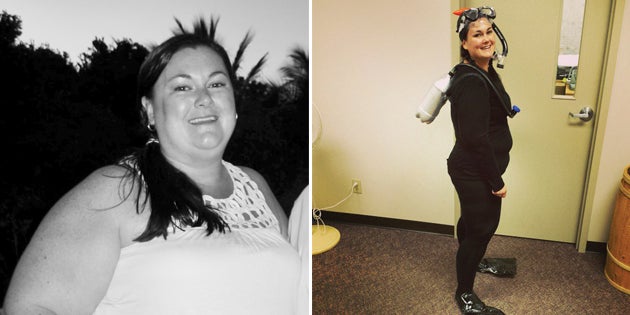 Name: Allison Moore | Hometown: Bancroft, Ontario, Canada | Age: 31 | Height: 5'6" | Old weight: 280 lb | Current weight: 202 lb | Occupation: Land Division secretary | Fave bodyparts to train: "Arms, shoulders and back — gotta look good in my wedding dress!"
Allison Moore fell into a common trap: She worked out at the gym for two years and played left defense in a women's hockey league once a week — and never lost a pound. "Diet had everything to do with it," Moore says. "I was training without changing my diet and didn't lose any weight or clothing sizes."
Her vices included chocolate, pasta, soda and whisky, and most of her meals were fast food. "Eating was a coping mechanism for me, and to date, I am still an emotional eater," she says. "I knew what I was eating was bad for me but didn't realize how bad until I started learning more."
See AlsoA New, Fit Life
Moore signed up for the app MyFitnessPal and started setting small, achievable goals with her nutrition, such as swapping out bowls of pasta for spaghetti squash and eating large, healthy salads. "As soon as I changed what I was eating, I was losing 2 to 3 pounds a week," she says. Moore also kept up with her training, taking Zumba and cycling classes at the YMCA, and before she knew it, she had dropped 10 pounds. "After that initial 10 pounds was off, I realized all it took was some determination, and before I knew it, I was down another 10," she says.
Moore also had an amazing support system. "I have the best family and friends in the world who support me, and even if they don't want to hear about me going to the gym, they pretend they do and seem interested," she says. "Every time I would lose 10 pounds, I made sure to tell people about it, like my mom, and that helped to motivate me."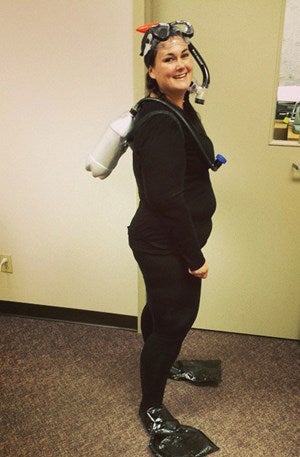 As she dropped her weight, she became more active, and in 2014, she participated in the Run or Dye 5K color run with seven of her girlfriends. "I wasn't the fastest one in our group, but I did complete it on a really hot day in August," she says. "It was a proud moment for me."
Eleven months later, Moore has dropped 78 pounds and says she now keeps up with her nephews, powers easily through a 45-minute cycling class and is a wicked force on the ice. "My next goal in my new, fit life is to lose another 20 pounds before my wedding in October."